Patriots
Tedy Bruschi thinks Patriots may play Jacoby Brissett during first four games of season
"[Bill] Belichick is not shy about putting in who he feels is doing best and gives him the best chance to win."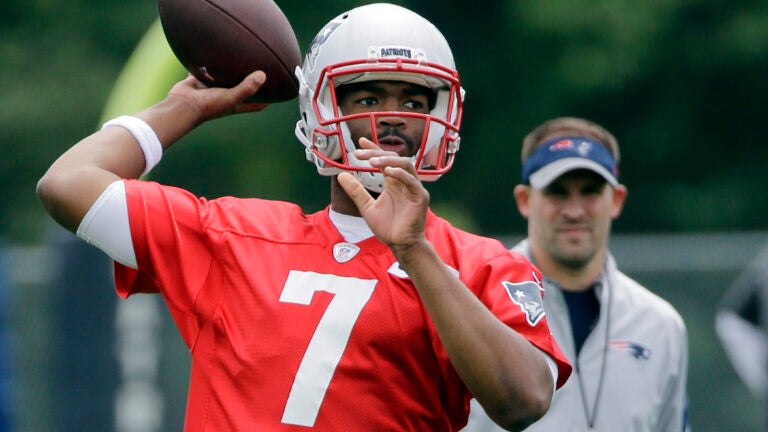 Tedy Bruschi wouldn't be surprised to see rookie quarterback Jacoby Brissett leading the Patriots' offense onto the field at some point during New England's first four games of the season.
All things held equal, Jimmy Garoppolo will be starter for those first four weeks, as Tom Brady is slated to serve his suspension for Deflategate until further notice from the Second Circuit Court of Appeals. But Bruschi, a former Patriots linebacker and current ESPN analyst, thinks Brissett could also see the field.
"Jacoby Brissett comes in — if Garoppolo struggles or Garoppolo gets hurt because the offensive line isn't on the same page, you may have Jacoby Brissett come in to play some reps, because coach Belichick is not shy about putting in who he feels is doing best and gives him the best chance to win," Bruschi said on an ESPN broadcast Wednesday.
In his senior season at NC State, Brissett threw for 2,606 yards, 23 touchdowns, and five interceptions. The Patriots picked him in the third round of the 2016 NFL Draft.
Garoppolo completed only one regular season pass during the 2015 season. During his two NFL season, he's thrown 31 passes for 23 completions, 188 yards, and a touchdown. He has also been sharp during voluntary and mandatory workouts this offseason. Brady has led all the drills, but the quarterbacks have split the reps evenly.
"I think [Garoppolo]'s going to have some difficulty in the first four games, not because of him lacking as a player but because of this coaching staff," Bruschi said. "They really believe that first month that September is an extension of the preseason. They're still really figuring out who they are, conceptually. All of these new additions that they have — the Martellus Bennett's, the Jonathan Cooper's. The offensive line that needs to adjust so much with the new [offensive line] coach Dante Scarnecchia coming back [from retirement]."
You can watch the full clip here.