Patriots
Aaron Dobson making plays in the face of second straight make-or-break year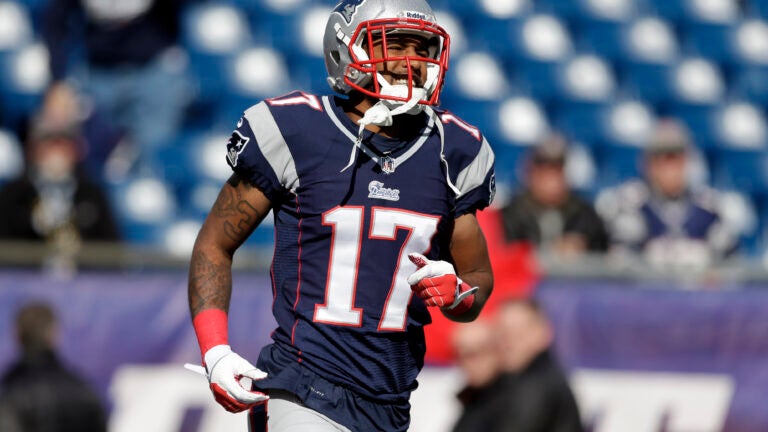 Aaron Dobson is Mr. June. Year after year, the young Patriots wide receiver makes big plays in the spring practice program. This year is no different.
Each day, Dobson has made at least one spectacular catch. He had the play of the day on Tuesday with a one-handed, left-handed leaping touchdown catch against two defensive backs on a long pass in the end zone. On Wednesday and Thursday, he made acrobatic catches on the sideline against Malcolm Butler in tight coverage. He had seven catches on Tuesday, eight on Wednesday, and 12 on Thursday, with just one drop over the course of minicamp.
Unsurprisingly, excitement is tempered. In the past, there's always been something that stands in his way on his path to asserting himself as a top wide receiver in the Patriots offense. Most recently, it's been injuries. A foot injury ended Dobson's rookie season, and cut into his preparation for his second season, which ended with a hamstring injury. In 2015, he went on the shelf with a hip injury.
With those injuries weighing him down, Dobson knows that staying healthy has to be his primary objective.
"I'm just trying to stay healthy to help my team and get better as a player," he said after practice on Thursday.
But it's not the only thing that will go into whether or not Dobson sticks around for 2016 — and yes, there is doubt that the former second-round pick will make it to September as one of the wide receivers on the final 53-man roster.
In order to make the final cut, he'll have to outperform the other wide receivers fighting to make the roster, and there are plenty. Keshawn Martin, Devin Lucien, DeAndre Carter, Chris Harper, and Nate Washington are among the receivers Dobson will be battling.
Making those big plays has been helpful for Dobson's confidence.
"I feel like you've always got to have confidence anyway, but that definitely can boost your confidence [when] you make a great play," Dobson said. "As a receiver, that's what we try to do, but be consistent and try to make all those plays."
Meet the Patriots' 2016 draft class
[bdc-gallery id="759535″]