Patriots
D.J. Foster's college coach says 'there's no doubt' he can make the Patriots
Foster signed with the Patriots as an undrafted free agent after the 2016 NFL Draft.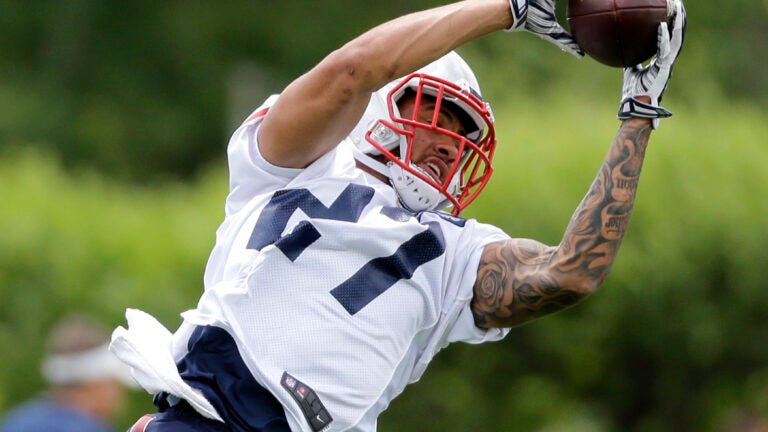 Like many of the Patriots rookies, it's not clear what position D.J. Foster will play for the Patriots.
The offensive weapon played at both running back and receiver at Arizona State. That versatility is why his college coach Todd Graham thinks Foster went undrafted — but it's also why Graham is so confident the 22-year-old will make the Patriots' roster.
"There's a no doubt in my mind that he can make it," ASU coach Graham said Wednesday. "And I do think that he's got a great chance to be very productive for the Patriots, because of how he fits in their offense. It's all about being versatile. … I think it couldn't be a more perfect fit for him. One of the most versatile players I've coached. A lot of coaches make that statement, but kind of what gives it validity is he had 2,500 yards rushing and 2,500 yards receiving [during his college career]."
Graham listed some of Foster's capabilities: "He's very physical in [pass] protection. … His ability to catch the ball. He's a physical blocker. He's going to be able to play on special teams. He can return kicks and punts."
Foster played running back for ASU for three years before moving to receiver for his final college season in 2015. But that final season was somewhat underwhelming, as he finished with 584 receiving yards, 280 rushing yards, and four total touchdowns. A season earlier in 2014, Foster racked up 1,081 rushing yards, 688 receiving yards, and 11 total touchdowns as a running back.
"Moving to receiver kind of helped me broaden my view and perspective of the game," Foster said on May 11 after the draft. "I learned a lot as a receiver. I learned a lot being in the receiver room, understanding defenses a little better as a receiver and overall it helps me as a running back, so they both correlate with each other and I definitely think it will benefit me in the long run."
Still, Graham said Foster's senior season season wasn't exemplary of his talent.
"What he had to do to help his team win didn't really help him as far as draft-wise," Graham said Wednesday. "He is a running back, slot receiver. He's not an outside receiver. He had to play outside receiver for us, because we didn't have anybody to play there."
The 5-foot-10 pass-catcher ran a 4.57 40-yard dash and a 6.75 3-cone drill, which placed him as fourth-best at the combine. That wasn't enough to catch the eye of teams during the draft, but in the hours following, he was in high demand. The Patriots signed Foster despite offers from the Arizona Cardinals and the Houston Texans.
During offseason activity with the Patriots, Foster has so far practiced with the running backs along with taking reps as a punt returner. He left the last practice of the team's minicamp with a hamstring injury.
Graham said Foster was "a complete rockstar" in Arizona. He'll have to be more of the same if he wants a spot on the Patriots' roster.