Patriots
Wes Welker is helping the Patriots' AFC rivals this offseason
The former Patriots pass-catcher has appeared at the Ravens and Dolphins' offseason activities.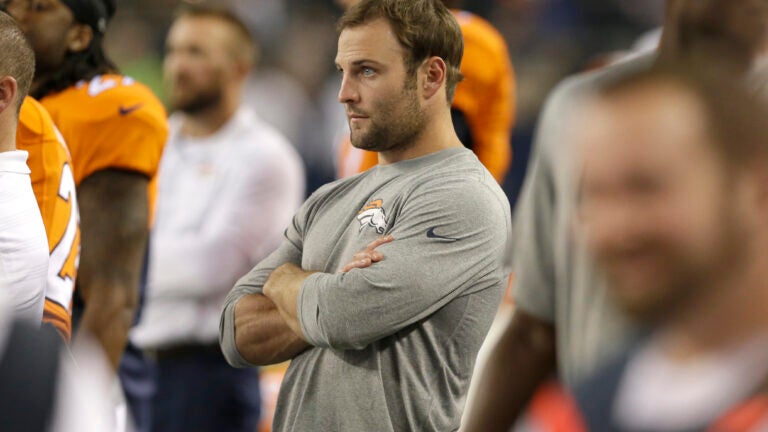 Wes Welker said in May he hasn't decided whether he intends to play more football in the upcoming season. Even if he did want to play, there may not be a lot of interest in the 35-year-old. But he's found another way to make an impact on NFL teams.
The former Patriots and Broncos slot receiver attended minicamp with the Ravens and Dolphins this offseason to help coach and advise receivers.
Welker first popped up in early June with the Dolphins to help Adam Gase, Welker's former offensive coordinator in Denver and Miami's current head coach.
"He lives, like, five minutes away," Gase said of Welker, via ESPN.com. "It's a good outlet for him. With my history with him in Denver, I love being around him. He's such a football guy. For him to come out there, and if our guys get one thing from him, I think that's a great thing for our guys to have."
Gase made it clear he had no interest in signing Welker, who has sustained at least six concussion during his career and has struggled to produce on the field in recent seasons. He had 1,354 receving yards in 2012, 778 yards in 2013, 464 yards in 2014, and 102 yards in 2015. He signed with the Rams in the middle of the season in 2015.
Less than a month after his first coaching gig with the Dolphins, he had another offer. John Harbaugh invited Welker to the Ravens' mandatory minicamp in June for a coaching trial, according to Ravens.com.
"It was an opportunity for him to get his feet wet," Harbaugh told Ravens.com Friday. "He obviously brings a lot to the table and can help our guys. He has a lot of insight with all his success and his style."
In two days with Baltimore, Welker logged significant time with Keenan Reynolds and Michael Campanaro. Reynolds played quarterback for Navy last season, but will move to wide receiver for the Ravens. Welker played four seasons with Julian Edelman, who also converted from quarterback to receiver upon entering the NFL in 2009.
"You learn a lot from a great player like Wes," Edelman said in 2013, acknowledging the Welker's role in his development. "I watched him for four years, and he's one of the best."
As a pass-catcher, Welker may no longer be of value to teams. His football IQ, however, appears to be a resource in demand.