Patriots
Julian Edelman reveals his go-to burger in Boston
Edelman is a big fan of Craigie on Main, and the restaurant's chef is a big fan of Edelman.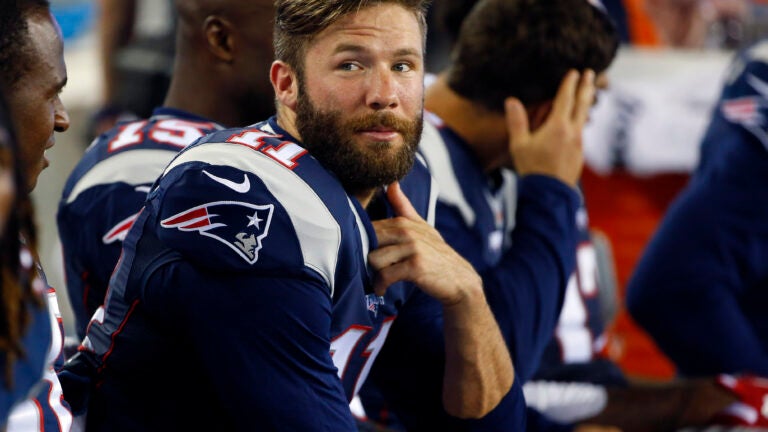 Julian Edelman is apparently a burger enthusiast and connoisseur.
The Patriots receiver told Bloomberg.com that he is always trying new burgers on his travels around the country, and has documented some of those burger conquests on Instagram. He loves In-and-Out Burger, a chain from his home state of California. But when he's in Boston, Edelman said Craigie on Main is "the one I always go to."
What makes that particular burger so special?
"There's a lot of love and care that goes into that burger," Craigie on Main chef Tony Maws said Wednesday. "We source impeccable meat. And I know everyone says that, but we do. It's grass-fed, it's from a small farm…it gets a ton of personal care."
Edelman has good taste. The burger appeared on the cover of Bon Appetit magazine in 2010, and was selected as one of the best burgers in Boston by Time Out in 2015 and Improper Bostonian in 2014. The restaurant makes only 18 of their iconic burgers per night.
The popularity of the burger draws interest from local celebrities. Usually when someone notable like Edelman dines at the restaurant, chef Maws tends to leave him or her alone to enjoy the meal. But Maws grew up in Boston, and is a huge Boston sports fan, so the chef said a quick hello to Edelman when the receiver first ventured into one of Maws' restaurants, The Kirkland Tap and Trotter.
"I did give him a high five just because he brought us a lot of joy — it was the summer after [New England] won a Super Bowl," Maws said. "So I thought that deserved one high five."
A high five, and one of the best burgers in Boston.