Patriots
Wes Welker and Kirk Cousins break down what makes Tom Brady so special
"It's like poetry in motion," Cousins said.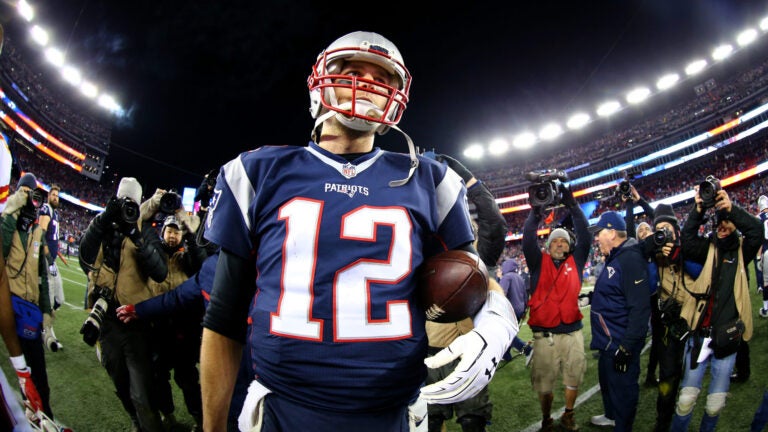 There's a lot of respect around the NFL for Tom Brady, who led the the league in touchdown passes in 2015 and helped the Patriots appear in their fifth consecutive AFC Championship Game.
For their "Top 100" series, NFL.com polled players to rank the league's best. Brady was voted the second-best player in football behind Panthers quarterback Cam Newton. In a video for the series, NFL players heaped on praise for Brady. Wes Welker, who played with Brady for six seasons, and Kirk Cousins, who studies Brady's game film, went into detail about what makes the 38-year-old quarterback so exceptional.
Former Patriots receiver Wes Welker:
"He does a great job of making sure they're in the perfect play in that formation or getting the perfect protection against what you're doing."
"We were playing against the Miami Dolphins in Miami, and I was supposed to run this in-cut. And we got quarters [coverage]. We talked about if they kind of play underneath, put your hand up. As soon as he saw, he was right there, ball [is] in the air, and we get a big play out of it. His ability to see that so quickly. And I feel like most quarterbacks would've waited and been like, 'what's he doing?'"
https://gifs.com/gif/NkooRL
Redskins quarterback Kirk Cousins:
"Although he's not considered fast, I consider him to be very mobile, because of the way he can slide, and keep his eyes downfield, and feel the pass-rush, and deliver the football, and avoid sacks. It's like poetry in motion."
"It's like the game is in slow motion for him when he's dropping back and reading coverages, because he's able to dissect things so well."
"Against Denver [during the second quarter of the Broncos' Week 12, 30-24 win over the Patriots], that touchdown pass he threw to Scott Chandler on the sideline right behind Von Miller, right in front of the safety. To be able to see that coverage, and get to that throw, and then put it in the exact spot it needs to be was special."
https://gifs.com/gif/tom-brady-to-scott-chandler-OYppRg