Patriots
How one Patriots fan made himself a salary cap guru
"I have no doubt that I've helped improve salary cap coverage of the Patriots."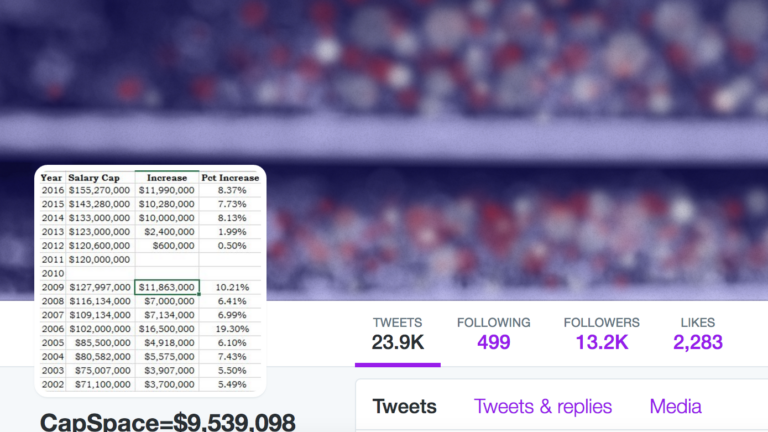 Long before Miguel Benzan was widely recognized as an expert on the Patriots salary cap, he was a fan like anyone else, happily consuming all of the information he could about his team in the newspaper. That was until one day when he spotted an annoying discrepancy.
"I was reading in the the Herald that it would cost X amount of dollars to cut a player and his contract was worth X amount," Benzan recalled. "The Globe the next day had entirely different figures. So I just said if I could keep track of it."
In one moment of frustration, Benzan began his path to creating what Patriots fans recognize today as Pats Cap, a website and social media presence that is revered by fans and media alike. Gathering information from both local and national reporters, Benzan prides himself on being able to regularly account for every dollar of the Patriots' payroll.
And yet, Benzan stresses that Pats Cap is "very unofficial" (words shown in title of his site in all-caps).
"I wanted to make it clear that I have no affiliation with the Patriots," Benzen said of his disclaimer. Still, in the view of the people who cover the Patriots, Pats Cap is on the mark.
"Most of my coworkers don't know I do this"
Benzan's work with Pats Cap has been regularly cited not only by fans curious about understanding the more intricate side of the NFL salary cap, but also by members of the media. Tom Curran of Comcast SportsNet has described Benzan as "my crutch in all cap-related matters since 2001." And ESPN's Mike Reiss called him a "cap wizard."
"For some fans (and most media), Miguel's website is the salary cap bible," said Ben Volin of the Boston Globe. "He's got the most loyal following of probably anyone who writes about the Patriots."
Still, despite his internet notoriety, Benzan has remained somewhat anonymous.
"Most of my coworkers don't know I do this," he said.
Since he formally began tracking the Patriots' salary cap info for the 2001 season, Benzan has kept the same job working IT for a company in Connecticut.
"I was born in Cambridge," said Benzan. "I've lived in Cambridge, Malden and Medford. Then about 20-plus years ago I moved to Connecticut and that's where I live now."
In his day-to-day, Benzan said that he doesn't do any Pats Cap work while he's on the clock at his day job. He'll be active on Twitter either before work or during breaks in the day, but is a devoted IT employee otherwise.
"I love the fact that the Patriots announce news late in the day," Benzan explained, since it allows him to analyze the numbers for Pats Cap without taking his focus off of his IT job.
Of course, there are times when his personal life and Pats Cap conflict.
"It happens and I'm just like, 'oh you gotta be kidding me,'" Benzan admitted. Over the years, he's gotten smarter about it. For example, he takes the first day of the new NFL league year off from work every March. His only complaint is that it never seems line up with the NCAA tournament (another passion of his).
"I was the first"
Fortuitously, his first year doing the site coincided with New England's first Super Bowl victory. Since then, the team has been the league's dynasty, winning three more championships.
"It's been pretty lucky in that sense," Benzan said, before jokingly adding, "It's a coincidence, no correlation."
When he was first starting Pats Cap, Benzan's approach was straightforward. Surprisingly, given the enormous internet presence of the NFL even in 2001, he was a trendsetter:
The CBA was online. I downloaded a copy of it and started studying some rules and put it in an excel spreadsheet. Then I put it on a website and I asked my fellow Patriots fans to let me know if they hear about any contract details. I was the first person on the internet to set up a website dedicated to any NFL team's salary cap.
In a surprisingly short period of time, Benzan began getting noticed.
"Pretty soon after I started doing it, I was getting known on the internet by Patriots fans."
Within a few years, he was part of a burgeoning fan group on Yahoo of other amateur "capologists." Football fans will recognize some of the evolved versions of this group (one of its members would found OverTheCap.com).
Benzan, meanwhile, has stuck to his Patriots-focused site, wavering in his devotion to Pats Cap only once.
"If he had done a better job…I would never have done my page"
In 2011, after doing his site for over a decade, Benzan took an unprecedented hiatus from Pats Cap. At his day job, a new role was more taxing than anything he'd previously done.
"Between my job and doing that, it was a lot of work," he remembered. "And my job was burning me out because of stress."
Benzan estimated that the total time had took off from Pats Cap was around a year and half. Finally, he'd had enough of the escalated role. And in 2012, he got a new position, allowing him to simultaneously return to his daily crunching of the Patriots' salary cap.
His passion for Pats Cap hasn't waned over the decade and a half since the site was founded.
"I love doing it," Benzan said simply.
Beyond his enjoyment of keeping track of the cap, Benzan said that he's prideful over his amateur status:
Some media, you hear that they look down on fans. Well, they can't look down on fans when the person who does the best job of covering the salary cap is a fan. The people who like to say the fans are stupid, they don't say the fans are stupid about the salary cap.
And when asked about local sports personality Michael Felger (who has famously said that the "cap is crap"), Benzan reiterates a point he's made in the past.
"Well I've said this several times, but if he did a better job of covering the salary cap, I would never have done my page," Benzan said.
Future goals
For Benzan, he's happy with his role running Pats Cap, but would definitely entertain the notion of turning his hobby into a full-time gig.
"That is the thing I am going to start pursuing," he said when asked if a career with an NFL team is a goal. The way he sees it, there's more to Pats Cap than simply collecting contract figures. When, in the past, Benzan has been labeled a "compiler," he's taken issue with the description.
"I wouldn't say it's accurate of all I do," Benzan noted. Pointing out his track record with the beat writers, Benzan believes he has a level of cap knowledge and expertise that goes beyond mere compiling. And when asked, Patriots reporters like Volin support that notion.
"He predicts roster moves and contracts better than just about anyone because of his knowledge of the salary cap and the NFL's salary structure," Volin said.
At some point, Benzan says, he wants to try and do an information interview with an NFL salary cap specialist in order to improve his candidacy of one day working in the industry. Until then, Benzan is content in knowing that his original purpose of helping the coverage of the salary cap has been fulfilled.
"I have no doubt that I've helped improve salary cap coverage of the Patriots."