Patriots
Some final thoughts on the key players in Deflategate
Tom Brady pays the price for Roger Goodell's absence of justice—but Robert Kraft is complicit too.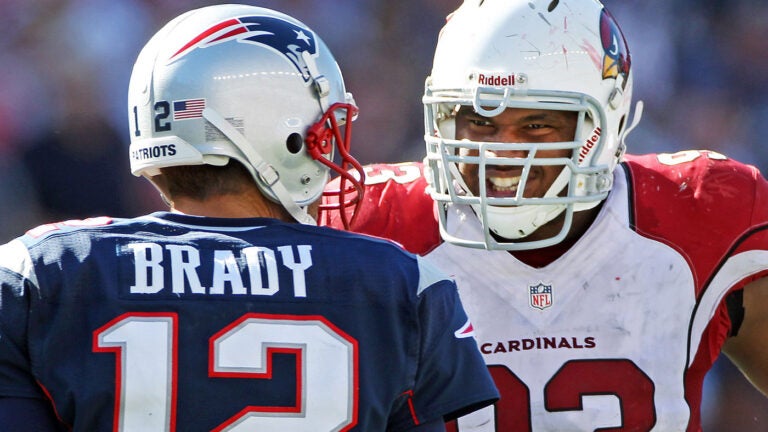 COMMENTARY
Deflategate lasted 545 days, or roughly 230 more days than another unnecessary mess of recent Boston sports vintage: Bobby Valentine's tenure as Red Sox manager.
It ended, theoretically at least, on Friday, when Tom Brady announced he would no longer proceed with the legal process.
Now that it's all over but the absurd punishment and perhaps a last wheeze by the NFL Players Association, here are a few thoughts on the key Deflategate players, some of whom I only hope to write about in a football context from now on, and others of whom I hope to never hear about again. You know who is who …
ROGER GOODELL
He's a steakheaded owner-puppet in an expensive suit fueled by the troublesome combination of unassailable power, outsized ego, and a volatile sense of justice. This has long ago been confirmed by the Ray Rice mess, and the Adrian Peterson mess, and the Greg Hardy mess, and the concussion mess, and … well, this was just the culmination.
This was never about the footballs. It was about Goodell's power — ignorantly ceded to him in negotiations by the players' union, which made the mistake of presuming he possessed a fraction of the honor of Pete Rozelle or Paul Tagliabue — and his right to maintain and use it.
Not only is he the judge, jury and executioner, but he's willing to abuse his power to the limits at the behest of a majority of agenda-addled owners.
JOHN JASTRZEMSKI AND JIM MCNALLY
Which one is Dorito Dink again? I can never remember which one is Dorito Dink. I feel bad for them in some way: I imagine they were proud of their jobs, their association with the team, and their proximity to Brady, and now they're both some combination of a punch line and footnote, perceived as the bumbling fools who got the greatest quarterback in NFL history suspended.
It's embarrassing, and also true, and it will be fascinating to find out whether they ever will come around to talking to a reporter about all of this.
I have to say, though, I don't feel total sympathy for them. They smack-talked Brady during their texts to each other like a couple of entitled, simpleton sports radio callers. I'd imagine that stuff becoming public was the most humiliating aspect of all of this for them, Dorito Dink nickname excepted.
THE NFL MEDIA
ESPN NFL reporter Chris Mortensen's tweet and subsequent story about 11 of the 12 footballs being significantly underinflated in the first half of the AFC Championship game is what turned this story from an ominous cloud at worst into a destructive tornado. That the information was wrong didn't matter, the storm was already wreaking havoc. (That the NFL and ESPN were in no rush to correct the mistake tells you something else entirely.)
Journalistically, it would be a career-ender for Mortensen or Peter King of Sports Illustrated to reveal the sources behind their damaging false reports during this process, and King, in particular, doesn't strike me as someone in a rush to destroy his particular cash cow. But we cannot forget that they know something that remains a key piece of missing information: who, specifically, fed them the wrong information, and what was their agenda. They know more truths than they've reported.
This not meant as an indictment of everyone who covers the league, but I've always thought that collectively the members of the NFL media are more in lock-step with the league as reporters in any other sport. Big events can often feel like reporter auditions for NFL Network. This process has only strengthened that suspicion.
TED WELLS AND JEFF PASH
The Wells Report was a meandering mess, full of junk science, redundancies, contradictions and aborted attempts to reach preconceived conclusions seemingly demanded by the people paying for the "investigation."
In terms of quality, it fell somewhere between a neglected Wikipedia page and my sixth-grade project on the Great Wall of China that read suspiciously like the Encyclopedia Britannica write-up.
And we saw the polished version, presumably. Just imagine what it looked like before Pash, the NFL's legal counsel and thus, of course, a totally objective observer, edited the thing.
BILL BELICHICK
So many questions remain: How does he feel regarding Robert Kraft's handling of this? Why didn't he stick up for Brady more at that press conference in the week before the Super Bowl? Did he advise Brady to stand down now, wary of risking a suspension later in the season? How many times has he really seen My Cousin Vinny? We'll probably never know until his memoir, which he'd damn well better write someday.
ROBERT KRAFT
If you're a Patriots fan in your late-20s, your worst memory of the franchise is … what, losing a Super Bowl to finish a season 18-1? Pete Carroll's 8-8 season in '99? Bill Belichick's first year in 2000, when he weeded out the overpaid roster-filler and won just 5 games and we weren't quite sure if he was any good yet?
I mean, it's an exceptional run for more than 20 years now, dating to the arrival of Bill Parcells, Drew Bledsoe, and yes, Robert Kraft. He's been a hell of an owner, one who has had a keen business sense, learned from his mistakes, and has had extraordinary luck. But his conduct during all of this should diminish him to some small degree in the eyes of his patrons.
He wanted to have it both ways, and he tried to have it both ways by playing the Patriots fan for a fool. He shook one fist at the injustice of it all while his other hand was patting Goodell on the back for an overall job well done. His decision to trust Goodell, to believe that the NFL commissioner would put a sense of fairness ahead of the demands of the other owners who wanted to see the Patriots burn, at the very least cost the team a first-round draft pick. His willingness to be seen publicly with Goodell while the commissioner was in the process of railroading his quarterback was not a good look, either.
He's been a terrific owner. But he put the NFL above his team — and his quarterback, and you — during this whole process, even when he was railing against it. He's complicit in this out of loyalty to his fellow owners who weren't loyal to him, and he deserves to hear about it.
TOM BRADY
It's 99.9 percent certain in my mind that he didn't do anything or have knowledge of anything going on with the footballs. That 0.1 percent of doubt is there only because there's a long, amusing history of obsessive quarterbacks trying to manipulate the footballs to their precise preferences and satisfaction, and Brady is rather the competitive sort.
At worst, the 0.1 percent of doubt is an acknowledgement that Brady might have committed a petty misdemeanor of gamesmanship, and thus should have been hit the with the standard $25,000 fine for an equipment violation and we all could have moved on with our lives.
Even if you are a fan of another team or a former peer who is jealous of Brady (hello, Chris Simms), explain to me how any of this has been just? Even if you think his awkward initial press conference and the leak to ESPN's Stephen A. Smith about his destroyed cell phone (a naïve decision on Brady's part) suggests a modicum of guilt, how is a four-game suspension reasonable punishment? Anyone who can put aside his or her rooting interests on Sundays in the name of justice knows he got hosed.
Through all of this, Brady carried himself with his usual dignity and professionalism, even winning a fourth ring during the process. But his name is tarnished because the league — or at least good portion of Robert Kraft's peers and Roger Goodell's bosses — turned envy into opportunity. A damn shame, is what it is. A damn shame, all of it.