Patriots
Patriots training camp will open with the hopeless realization that Roger Goodell has won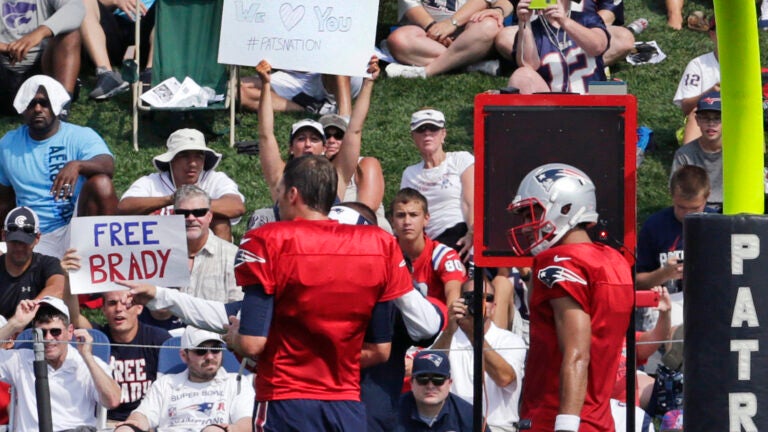 COMMENTARY
Well, Patriots training camp ought to be a hoot.
Not that the scene on the grounds of Gillette Stadium will look any different than it did a year ago, when thousands of New England football fans descended upon Route One clad in "Free Brady" t-shirts, poster boards, and middle fingers directed at a plane that flew overhead with a tailing banner that read, "Cheaters look up."
There's probably little question that the same group of New York Jets fans that pulled off that stunt in 2015 will be back with a similar, new message next week when the Patriots kick off their second-straight camp with their star quarterback facing a four-game suspension. Which is funny, considering Tom Brady will be back for both contests against the AFC rivals, who are in their usual QB flux, embroiled in a contract battle with Ryan Fitzpatrick.
The aura in Foxborough, however, will shift a bit from last year, when Patriots fans held Judge Berman's pending ruling as hope that Brady would return for Game 1 of the season against the Pittsburgh Steelers. That was the night the team raised its fourth Super Bowl championship banner, while fans mocked NFL commissioner Roger Goodell for losing his league's ridiculous witch hunt against Brady, even as team owner Bob Kraft played to a crowd that ferociously wondered why he had caved.
Goodell 1, Patriots 1.
One year later, the commissioner is 2-0 in the Deflategate tug-of-war, even more despised than ever on the New England sports landscape, and has established a dangerous, all-powerful disciplinarian regime than only the U.S. Supreme Court can whittle down to sensible measures.
So, while it won't be a training camp defined by hopelessness (look to Cleveland and Buffalo for that, if you're into those sorts of things), there will be an even greater sense of defiance peppering the hot metal bleachers aligning the practice field. Finally, mercifully, the battle is over. But if you thought the "scorched earth tour" mantra was a bit overdone last season, you might want to prepare yourself now.
This time, the Patriots are definitely, positively, no questions preparing to play the first quarter of the 2016 season without Tom Brady.
Hope is lost.
But just wait.
There's a sense of finality that won't necessarily breed angst, but rather a forlornness of something already decided. Fans will rightfully display their feeling for the commissioner, hand-in-hand with their endless admiration for Brady's plight. They'll buy $14 yearbooks to accompany their renewed their season tickets, helping to once again make the Patriots the most influential team in the most powerful sports league in the world.
Exactly what has Goodell lost here besides the ability to safely waltz up the ramps and into his own high chair in the owner's box at Gillette?
Maybe it is "The Patriots against the World," but every little success that comes from New England only provides more interest and soapy material for the league's front offices. It's not like this is some little team that decided to secede from the league and go on its own against the big boys. The Patriots may be the most rebellious of Goodell's 32 minions, but they still eat under the umbrella family plan.
Every win for Brady from here on out is one that matters to his team, his owner, and his fans.
And yes, his despotic ruler sitting on high on Park Ave.
There are no more court rulings to worry about, that is, unless you take a keen interest in the NFLPA's impending plea to the Supreme Court on Brady's behalf. This training camp will be spent charting Jimmy Garoppolo in his first step into what will be an overwhelming spotlight. In Brady you trust, sure. That doesn't make the first four games a wash for this always-vindictive group under Bill Belichick.
If the Patriots win the Super Bowl, Brady will smile. Belichick will smile. Kraft will smile.
Goodell will smile, or at least as close as his signature smirk can manage.
There's another Middle Finger Tour on tap here for 2016. For sure. But if Brady wins the Super Bowl MVP and we all finally get to witness the anticipated sight of Goodell handing him the trophy after all the animosity, the commissioner can still fine him for the entirety of next season for nothing more than spitting on the turf, if he so chooses.
That's the power Goodell won, the oppressive nature of which Brady fought against while seeking to clear his name of some silly accusations.
Like Goodell is going to care he has to shake the man's hand? He already treated the guy like the Yankees did Pedro in '04.
Brady will never call the man his "daddy," of course, but even a fifth Super Bowl ring won't beat the Empire in this long, drawn-out charade.
There will be a certain sense of that next Thursday in Foxborough, when the practice jerseys come out in preparation of a season that begins Sept. 11 in Arizona. Prime time on NBC.
Welcome to the big time, Garoppolo.
Brady lost his battle, but his employers had already given in a year ago. There's a clearer understanding than ever now that Goodell has any power he so decides to have in the NFL.
"Free Brady."
"Fire Goodell."
It doesn't matter this time. Not at training camp. Not during the regular season.
Not ever, anymore.
That Fan Zone thing will be fun though.
Meet the 2016 draft class
[bdc-gallery id="759535″]