Patriots
13 notable newcomers Patriots fans should know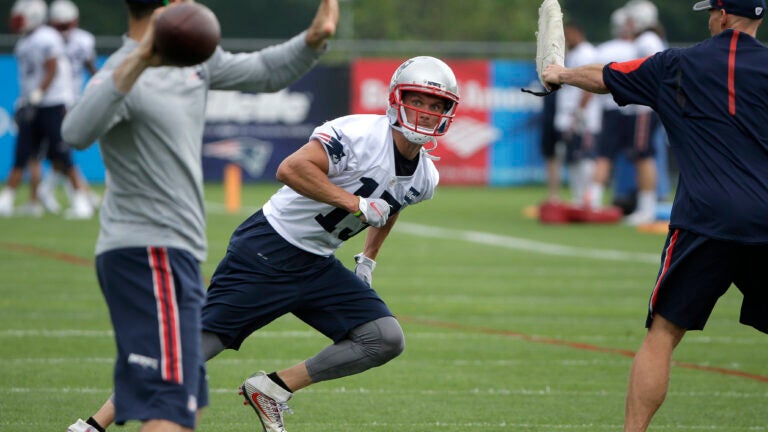 The Patriots didn't take the offseason off.
They added nine rookies in the draft, and restocked talent on offense and defense through free agency and trades. They added potential starters at tight end, wide receiver, defensive line, and offensive line.
Here are some notable newcomers for the Patriots.
Veterans
Martellus Bennett, TE — At 6-foot-6, 273 pounds, Bennett has eight years of NFL experience with the Cowboys, Giants, and Bears. In 2014 with Chicago, Bennett had the third-most receiving yards among tight ends behind Greg Olsen and Rob Gronkowski. He also had an absurd touchdown grab during the Bears-Patriots 2014 matchup.
Shea McClellin, LB/DE — McClellin's position on the Patriots defense is still unclear after he spent time at linebacker and defensive end with the Bears. During his four-year career, he recorded 161 tackles and 7.5 sacks. He has yet to play more than 14 games in a season.
Chris Hogan, WR — The Patriots will be without their top two receivers Julian Edelman and Danny Amendola at the start of training camp. Hogan, who received a $12 million, three-year deal this offseason, should have ample opportunity to establish a role in the Patriots offense.
Jonathan Cooper, G — The former 2013 seventh-overall pick came to New England in the Chandler Jones trade. He suffered a broken leg during preseason of his rookie season. Due to the injury, he has played 24 games, and started 11 in his first three years in the NFL.
Terrance Knighton, DT — Over the last three seasons, the 6-foot-3, 350-pound defensive lineman has recorded 90 tackles and 7.5 sacks. In the Broncos' win over the Patriots during the 2013 postseason, he recorded a sack on Tom Brady.
https://gifs.com/gif/mZmOAr
Nate Washington, WR — The 12-year veteran spent the 2015 season under former Patriots offensive coordinator and current Texans head coach Bill O'Brien. He played 14 games, and had 658 yards and four touchdowns. According to Spotrac.com, he is guaranteed $60,000 of his $1 million, one-year deal.
Donald Brown, RB — The UConn product has not topped 700 rushing yards in his eight NFL seasons. Last season with the Chargers, he rushed for 229 yards and one touchdown on 3.9 yards per carry. However, he has fumbled the ball only three times on his 815 career touches (.4 percent).
Clay Harbor, TE — At 6-foot-3, 240-pounds, Harbor has 1,151 yards and eight touchdowns during his six seasons with the Jaguars and Colts. In 2015 with the Jags, he had 14 receptions for 149 yards and a touchdown.
Rookies
Cyrus Jones, CB — The second-rounder was the Patriots' top pick in the NFL draft. He's a converted wide receiver, and finished his college career with five interceptions. He'll compete for the starting job at slot cornerback, kick returner, and punt returner.
Joe Thuney, OL — Thuney was a three-year starter, and played a every position along the offensive line for NC State. As a senior, he was second-team All-ACC. Patriots offensive line coach Dante Scarnecchia said in May he anticipates Thuney will play at guard or center in the NFL.
Jacoby Brissett, QB — Brissett will compete with Jimmy Garoppolo to back up Tom Brady. In doing so, he'll also compete for the starting job for the first four weeks of the season while Brady serves his Deflategate suspension. Brissett threw for 2,662 yards, 20 touchdowns, six interceptions, and a 60 percent completion rate.
Vincent Valentine, DT — The former Huskers defensive lineman recorded 16 tackles for loss and seven sacks during his college career. During his junior season, he suffered an injury and played in 10 games. Still, he managed to notch three sacks, the same total he recorded in his sophomore season where he played 13 games.
Malcolm Mitchell, WR — The 6-foot-1 wideout impressed in minicamp after getting drafted in the fourth round out of Georgia. He suffered an ACL injury in 2013, missed all of the 2014 season, and some of the 2015 season. He played a complete season his senior year, and averaged 14.9 yards per reception for 865 yards and five touchdowns.