Patriots
With or without Tom Brady, Julian Edelman is most crucial piece to Patriots' success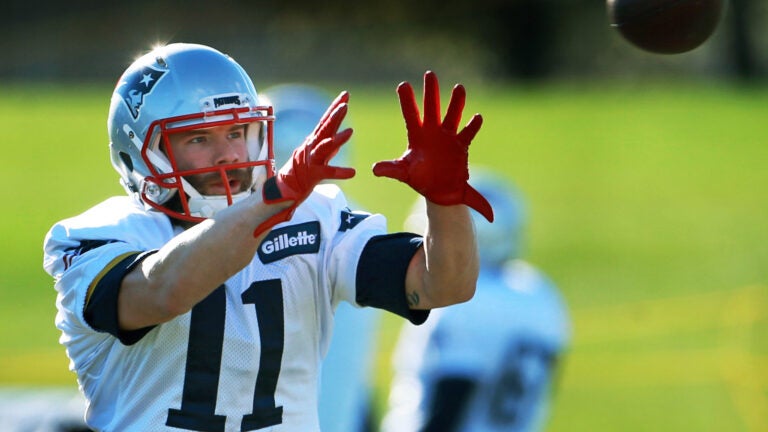 COMMENTARY
Julian Edelman can hit batting practice-speed pitches over the Green Monster. He can dig his heels in the infield dirt while taking some grounders at shortstop at Fenway Park. He can hold hands, and navigate the cobbled walkways of a wharf in Nantucket, with Brazilian supermodel and apparent love interest Adriana Lima.
Nevertheless, Edelman was placed on the physically unable to perform list as the New England Patriots get back to work with the beginning of minicamp, meaning the wide receiver won't be on the field with his teammates when the first practice gets underway on Thursday.
No matter. Edelman is fine.
The anxiety that might otherwise exist surrounding the Patriots entering the 2016 NFL season without both quarterback Tom Brady — suspended the first four games of the season for some reason or another — and Edelman is likely foolhardy. Jimmy Garoppolo will have Edelman at his disposal when he gets the call for the first quarter of New England's season, along with Rob Gronkowski, Danny Amendola, and Martellus Bennett.
It was, of course, only back in May that Edelman underwent a second surgery on the same left foot that he broke last November, forcing him to miss the final seven games of the regular season. The Patriots, 9-0 before losing Edelman, went only 3-4 the rest of the way, gagging away home-field advantage in process, and ultimately leading to an AFC tile game loss in Denver that went down to a missed extra point kick via Stephen Gostkowski.
Edelman returned in time for playoff games against the Kansas City Chiefs (Andy Reid is still trying to call timeouts) and the Broncos, but caught only 17 balls for 153 yards and no touchdowns. One hundred of those yards came against the Chiefs, as the Broncos rendered him useless for Brady with a relentless quarterback attack that ultimately rewarded Peyton Manning and friends with the Lombardi Trophy.
Without the shifty Edelman, Brady threw for a 59.45 completion percentage, with 12 touchdowns and four interceptions. His quarterback rating was 89.1.
In the nine games prior, Brady threw for a 67.84 completion percentage, with 24 touchdowns and three interceptions.
Try telling Garoppolo he's not going to have that during his time at the helm. Good luck, kid.
It is Edelman's steady presence that helps round out the Patriots' receiving game, so dependent on tight end Gronkowski and his ability to dominate plays. But Edelman is the man underneath who moves the chains, and despite the desperate claims of some that it was a job Amendola would be able to handle in his absence last fall, the fluidity and dependability never surfaced for Brady and the Patriots.
He also just turned 30, which isn't exactly an ancient age for wide receivers in the NFL. But it's also only one year younger than the Patriots gave up on his predecessor, Wes Welker, who jumped to the Broncos in 2013 after a 1,354-yard final season with New England. Welker never had another season quite like that one, which either meant one too many concussions, or he never found the fit with Manning that he had with Brady. Probably a little bit of both.
It will ultimately raise the question as to how much time Edelman has left in his role, but it's probably one in which Scrappy Doo won't outlast his idol, with the soon-to-be 39-year-old Brady primed to play into his 40's, and, really, who knows how much longer after that.
Edelman's contract runs through 2017, which means by 2018, Edelman will probably be a memory in Foxborough.
But for September? Oh, he's fine.
"I'm feeling a day better than yesterday, and I'm feeling a second better than the last second," Edelman said earlier this month at his youth football camp in Reading. "Hopefully when that time's up, that time's up."
Time's up.
Soon, at least.
If Edelman weren't ready to go, there's little way in the chance of hell descending upon Patriot Place that head coach Bill Belichick would have allowed him to play around in in the infield at Fenway Park last week, ride a unicycle at a charity event, or log into Photoshop (hey, we could hope, right?)
But once the team takes the wide receiver off the PUP list, an intriguing schedule of events will present itself. Will Edelman play during the preseason in order to get on the same timing patterns with Garoppolo? Will Belichick try and limit his playing time during the first month, perhaps as a way to slowly dip him back into the fold, while saving his best work for when Brady returns?
Among the things we learned last season when Brady, Gronkowski, and Edelman were playing together, at a healthy level, is that this is quite possibly a 19-0 team in the making, a goal that isn't remotely an aspiration in 2016 with the loss of Brady, yet one that might not ultimately be the surprise it should be. But the Patriots might be on even footing with Garoppolo in lieu of Brady, at least for September. Without Edelman, we've already seen the effect it had on Brady last season. Give Garoppolo Amendola and Aaron Dobson to work with and, well, we're probably talking something different other than a 3-1, 2-2, or 4-0 first month of the season.
But if he can take grounders at short, he can take running routes at training camp.
Garoppolo needs him just as badly as Brady will.
Now let's see whether or not Belichick thinks it's worth it.
2016 Patriots schedule
[bdc-gallery id="1154578″]