Patriots
Rob Gronkowski says he and Martellus Bennett are coaching each other
"He's football smart."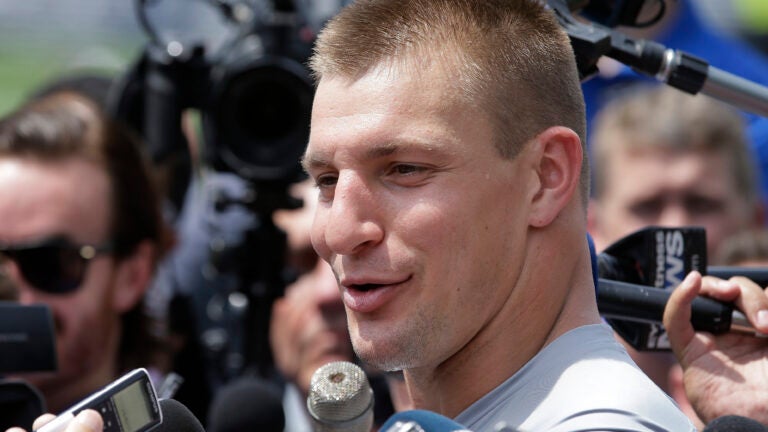 At training camp on Thursday, Rob Gronkowski said Martellus Bennett is still a "rookie" in the Patriots offense, as Bennett joined the Patriots by trade this offseason. But that doesn't mean Gronkowski wasn't impressed by his position mate. Gronk has already studied Bennett's strengths.
"Just take things from his game, seeing his athleticism, how he gets off the ball," Gronkowski said after the first day of training camp. "I can bring it in my game, use some of his routes. He can use some of mine, so it's great to work off each other."
During drills Thursday, Brady targeted Bennett with his first pass during seven-on-seven drills. In 11-on-11 drills, Jimmy Garoppolo found Bennett in the end zone for a touchdown.
"He's a great guy to work with," Gronkowski said of Bennett Thursday. "He's football smart. He came in. He's picked up the playbook well, which is super, super beneficial here for our offense. That's super good to see, and it's fun working with him. It's another guy that's just super talented, and wants me to push harder."
Bennett, 29, is no stranger to learning new playbooks — he's played on three NFL teams with the Cowboys, Giants, and Bears. His production declined during the 2015 season, as he missed five games with a rib injury, and finished with 439 yards and three touchdowns. In 2015, he finished with 916 yards and six touchdowns.
In the middle of practice Thursday, Brady, Bennett, and Gronkowski took a moment to practice together — just the three of them and coaches. The trio chatted briefly before Brady threw passes to Gronkowski and Bennett, who took turns running routes in the end zone. It was an easy game of pitch and catch.
Moments like that are about "getting on the same page," Gronkowski said.
"It's the first time we truly get our feet wet," he said. "Get our chemistry together, get our body flows, get our body movements, see how fast we are, see how Tom throws the ball.
"I mean I've been doing it with [Brady] seven years now, so we kind of have the same chemistry right when we hit the field," Gronkowski said. "I know where he's going to put it, where I'm going to be. And obviously, my rookie year, I didn't know that. So [Bennett] is kinda a rookie here in this offense. It's cool to see everyone work together and help each other out, and just go get some extra work, because … there's no such thing as too much work, so you can always get more reps."
https://twitter.com/McKennAnalysis/status/758669652012695553