Patriots
Patriots' running game takes focus in first padded practice of training camp
Observations from practice on Saturday.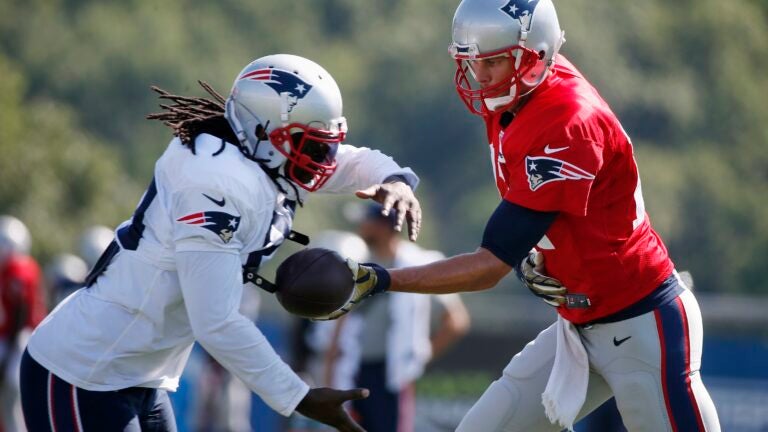 LeGarrette Blount and Donald Brown were busy on Saturday in the Patriots' first padded practice of training camp, as the running backs became a focal point.
The Patriots' drills seemed to emphasize a clean exchange between the quarterbacks and running backs. There was also an emphasis on between-the-tackles and goal-line running plays. At one point, the offense ran a drill against the defense with just a quarterback, running back, and offensive line (no tight ends or receivers).
Attendance
Duron Harmon, Logan Ryan, Tom Brady, Jimmy Garoppolo, and Jacoby Brissett wore red non-contact jerseys.
Rookie wide receiver Malcolm Mitchell and rookie defensive tackle Vincent Valentine did not attend practice.D.J. Foster, Nate Washington, Julian Edelman, and Danny Amendola were on the field without pads but did not practice.
Guard Jonathan Cooper left practice with an apparent leg injury. Center Bryan Stork did not finish practice for unknown reasons, according to multiple reporters.
Still can't believe this. Prayers to the Foltz family as they lay their son to rest today. #RIP27 pic.twitter.com/3sUWBUoRcb

— Vincent Valentine (@TheRealVRVJ) July 30, 2016
Observations
After signing with the Patriots on Wednesday, tight end Bear Pascoe was the first Patriots player on the field.
Brady continues to make a discrete arrival to the field in the morning. Instead of entering from the northeast corner of the practice area with the rest of the players, he entered from the south. He also waited to put on his shoulder pads and red jersey until he was with the rest of the team.
Patriots director of player personnel Nick Caserio joined head coach Bill Belichick to chat for about five minutes at the beginning of practice.
The biggest "Brady, Brady, Brady!" chant of training camp erupted around a half hour into the practice. According to the team, there were more than 21,000 fans at Gillette Stadium on Saturday.
#PatriotsNation was out in full force today for #PatsCamp: 21,781 fans attended Day 3! pic.twitter.com/KFmpqdA9d6

— New England Patriots (@Patriots) July 30, 2016
Receiver Chris Hogan continually locked down defensive backs in a blocking drill.
Donald Brown made a one-handed grab in position drills. During team drills, he got a lot of work running between the tackles, including some first-team reps.
During a position drill, cornerback Malcolm Butler elevated for a nice back-shoulder grab by high-pointing the ball. It came after a larger number of drops from the defensive backs. The two defensive backs who followed him then made similar plays.
Brady and Hogan had a quick conference in position drills before they linked up on 15-yard back-shoulder fade over cornerback E.J. Biggers.
On the next play, Brady worked the same back-shoulder play to receiver Aaron Dobson, though they didn't chat beforehand. The Patriots' quarterback cheered for Dobson after the play.
Patrick Chung brought some aggression to the padded practice. With players attempting to strip the ball from him during a ball-handling drill, Chung threw a fellow defensive back to the ground with a stiff arm.
Dobson joined a small group that included Brady, Garoppolo, Rob Gronkowski, and Martellus Bennett. Brady and Garoppolo alternated throwing to the pass-catchers in the end zone.
Hogan continues to excel catching the ball in the middle of the end zone, particularly in traffic. While covered by Butler during 7-on-7 drills, Hogan nabbed a jump ball that just flew over a linebacker's fingers.
The paddles at the line of scrimmage, which look like massive tennis rackets, continue to dominate at training camp. The assistant using them got yet another block of a Brady pass. He swore loudly after the play.
Rookie cornerback Cyrus Jones continues to get a lot of work on kickoffs. Justin Coleman, however, has gotten most of the first-team slot cornerback reps.
In team drills, Brady finished the day 8 of 9. Garoppolo was 6 of 8. Brissett was 4 of 7.
Brissett carried Garoppolo's and Brady's shoulder pads off the field after practice.
7-on-7 drills
Brady to Gronkowski.
Brady to Blount.
Brady gets blocked by the paddles at the line of scrimmage.
Brady to Keshawn Martin.
Brady to Hogan.
—
Garoppolo to Harper.
Garoppolo to Devin Lucien.
Garoppolo incomplete to James White on a deep throw with linebacker Kevin Snyder in coverage.
Garoppolo to DeAndre Carter.
Garoppolo to Harper.
—
Brissett intercepted by Vinnie Sunseri on a tipped ball.
Brissett to Lucien.
Brissett incomplete to Steven Scheu.
Brissett to Lucien.
Brissett to Brown.
11-on-11 drills
11-on-11 drills included contact, but not a lot of tackling. Therefore, there was no way of knowing what sort of yardage each running play would have gone for. Here's a log of the quarterback completion stats and running back carry totals.
Brady: 4 for 4
Garoppolo: 2 for 3
Brissett: 1 for 2
Donald Brown: seven carries.
LeGarrette Blount: six carries.
Tyler Gaffney: four carries.