Patriots
Rookies Cyrus Jones, Kamu Grugier-Hill turning heads at Patriots camp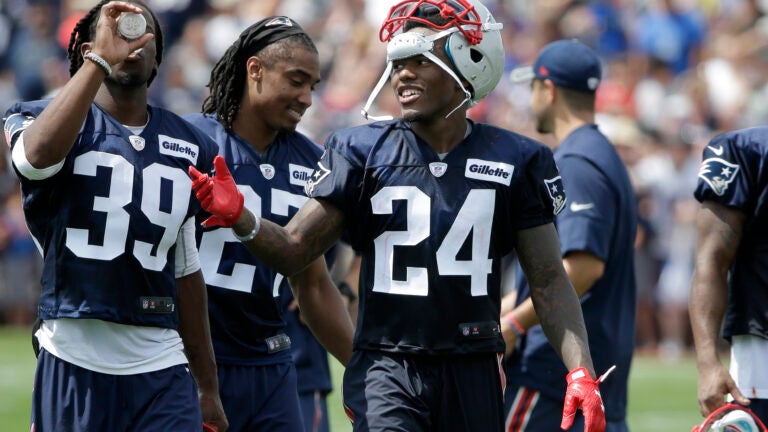 FOXBOROUGH, Mass. (AP) — Despite not having a first-round draft choice as a penalty in the Tom Brady "Deflategate" case, the New England Patriots have a group of rookies already opening eyes at training camp.
It starts with cornerback Cyrus Jones.
"I'm not one to grade people, I'm not coach (Bill Belichick). But I can just tell, the kid's an athlete," fellow cornerback Logan Ryan said of Jones, the 60th pick — and New England's first — in the 2016 draft.
"The kid's a competitor. You see that in the locker room. You see that on the field. He fits right in with what we're trying to do, and I think the whole bunch of rookies and (second-year corner) Justin Coleman and all those guys are doing a great job of just competing every day."
They're doing an impressive job of trying to inject life into a veteran squad, a team trying to add rookies even though its first-round pick was taken away by Commissioner Roger Goodell.
Camp is still young, and there is plenty of media attention being paid to Brady and Jimmy Garoppolo, his apparent replacement for the first four games. But this is a time rookies really start making their case.
So far, so good. Sixth-round pick Kamu Grugier-Hill has been singled out by Belichick for his early work. Grugier-Hill, a college teammate of Garoppolo's at Eastern Illinois, is listed as a linebacker but really is a hybrid linebacker/safety who doesn't care where he plays — and has also been part of special teams in camp.
"It's going good. It's just a learning process every day, you have to learn something new and execute it," Grugier-Hill said after Sunday's rain-soaked practice. "It's going good so far."
Jones, out of Alabama, has been impressive running back punts, putting on a couple of dazzling returns in non-tackling work Sunday, in addition to being part of the defensive back package.
"Football is always fun. That's what makes it great," he says. "When you're not having fun out there, it's a problem. But this time of year is definitely super intense. It's training camp. Everybody's out here fighting for a job and trying to do something to catch the coach's eye, and separate themselves.
"You definitely feel the intensity out there, but it's still a game. You gotta enjoy it. Just come out here and work hard and everything else will take care of itself."
Grugier-Hill says he's "just been trying to do my thing every day and trying to execute as best as I can, getting to learn the playbook and just go day by day."
NOTES: NFL Network reported Rob Gronkowski's representatives, Drew and Jason Rosenhaus, were in camp Sunday and are working on a new deal for the tight end. Nothing is imminent. Meanwhile, Gronkowski put on a show for the thousands sitting in the rain — some of it heavy at times.. After catching one touchdown pass, Gronkowski high-fived a group of fans located under a tent near the corner of the end zone. "I scored right there, ran by, saw them all cheering, so I was like, 'Why not go high-five them?'" he said. "They're all excited so it's cool to get the crowd involved, get the energy up." He said his "cleats were probably 20 pounds each or more" from the rain, making the day more of a challenge but still fun, and that will help the team prepare for such weather in the regular season. … Gronkowski also charged onto the field in celebration after a TD catch by new teammate and fellow TE Martellus Bennett, one of many Gronkowski celebrations on the day. … Former Pats running back Kevin Faulk will be inducted into the team's Hall of Fame in a Monday night ceremony. "Kevin Faulk? He's a beast. Congratulations to him," Gronkowski said of his former teammate. "He definitely deserves the honor." … WR Chris Hogan left practice with a right shoulder injury.
___
AP NFL website: www.pro32.ap.org and www.twitter.com/AP_NFL