Patriots
Garoppolo to give glimpse of inevitability we choose to ignore: Life without Tom Brady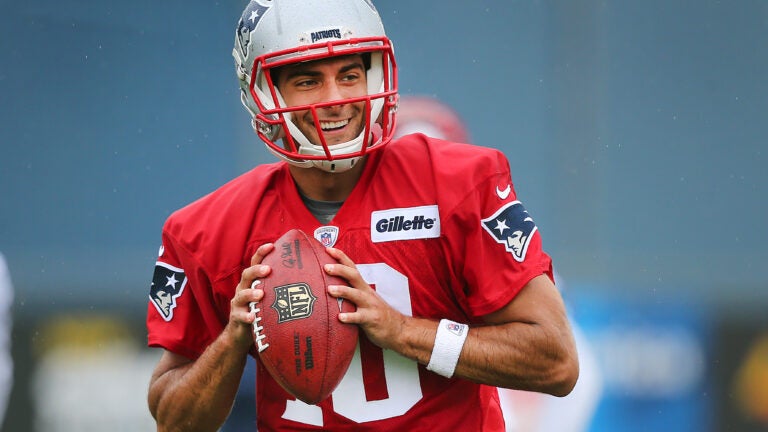 COMMENTARY
The way poor Dave Brown was skewered during the afternoon drive time last Friday, one might have thought he revealed to Patriots coach Bill Belichick how nobody likes those Bon Jovi DirectTV commercials.
The Concord Monitor writer's prodding about New England's quarterback situation led Belichick to drop a muffled "Jesus Christ" during his press conference Friday morning, one that reverberated through the Patriots media mafia with immediate repercussions. WEEI's Dale Arnold took to the WEEI airwaves to lecture Mr. Brown about the infallibility of Thomas Edward Brady, who already, definitely, has a seeming ability to re-claim his starting job as Patriots quarterback, even if four-game replacement Jimmy Garoppolo lights the football world on flames. Over on 98.5 The Sports Hub, fill-in host Trenni Kusnierek sounded as if Brown had kicked her dog through the uprights on the Gillette Stadium practice field, and even went as far as to call the man a "nincompoop."
This was all while Brown's colleagues in Foxborough quickly took to the task of anonymously chastising him in the eyes of the Patriots faithful, a desperate attempt to distance themselves from someone who dared make Belichick angry with his persistence. How can they ever expect to get anything worthwhile from the head coach now?
While there's a part of Brown that was playing the role of press conference hero, asking the question more in vain than any real desire for information, the predictable reaction of the Patriots' media acolytes ended up overshadowing the core of the query.
Brady is getting his starting job back after he's finished with his suspension for something or other. But does it have to be such a slam-dunk certainty?
What if Garoppolo plays perfect over the first quarter of the 2016 season? What if he is, in fact, a throwback to what Brady meant to the team in 2001, when he took over for an injured Drew Bledsoe and never let go of the reins of the position? What if Brady returns in Week 5 against the Cleveland Browns and looks rusty, the after-effects of conditioning in his backyard for a month, while the backup sits, ready and waiting with an arm that has looked all the ready to lead a team in the National Football League?
What if Brady looks none the different and takes over for an overmatched Garoppolo five weeks into the season, putting the Patriots back in tune for a Lombardi run?
That's certainly the more definitive outcome. But let's not play dumb and denounce the lingering wonder about Garoppolo.
Brady will be 39 years old on Wednesday. That's a number that doesn't apply itself to much when it comes to Patriots quarterback, thanks to a workout regimen and diet that have his body treading the aging pool. But he'll still be thirty-nine years old. We've long since learned that age is not a determining factor with Brady. But until when?
And what if "when" transpires just a couple months from now?
It won't, but to treat the possibility so delusional that the mere mention can't be summoned in the Church of Belichick is an arrogance that has trickled down from the top.
September is going to be a strange month for Brady, being forced to stay at home while his teammates work out game plans and get to work inside the Gillette bubble. He'll have to watch Garoppolo take his normal spot when he watches his team play from his couch, listen to the kid hit the airwaves during a weekly radio spot for which he's been paid for more than a decade. He'll have to root for Garoppolo to show greatness in competition, while, at the same time, possessing the natural desire to witness a normalcy that he can make the Patriots forget with one game under his Hall of Fame arm.
Whether he, Patriots fans, Belichick, or the local media brigade likes it or not, Brady will be watching the future of the New England Patriots, perhaps with or without Garoppolo, but definitely one without him.
Two years? Three? Seven?
Brady has said he wants to play into his mid-40's, which, realistically, only gives him six more whacks at pulling in a fifth Super Bowl win. Garoppolo will be 30 if the incumbent plays until he's 45, playing somewhere else with the Patriots hoping he simply slithers into his Matt Cassell skin.
As great as Brady is, has been, and will be, just how much longer do you keep denying the inevitable? If for whatever strange reason, Garoppolo is the better option, doesn't Belichick owe it to his team and the players that helped make that happen over the first four weeks to re-think his cemented decision?
Garoppolo may or may not be the long-term answer for the Patriots, but somebody, someday, has to be eventually. New England will go on without either David Ortiz or Tom Brady one day soon, a crossroads that nobody wants to experience after a decade-plus of athletic magic.
But it's coming.
Forgive Dave Brown for instilling a little reality into the controlled delivery of Patriots camp.
For Christ's sake.
Patriots training camp through the years
[bdc-gallery id="1171869″]