Patriots
These are the best Martellus Bennett quotes from his ESPN interview
"I feel like I'm the Kanye of the NFL."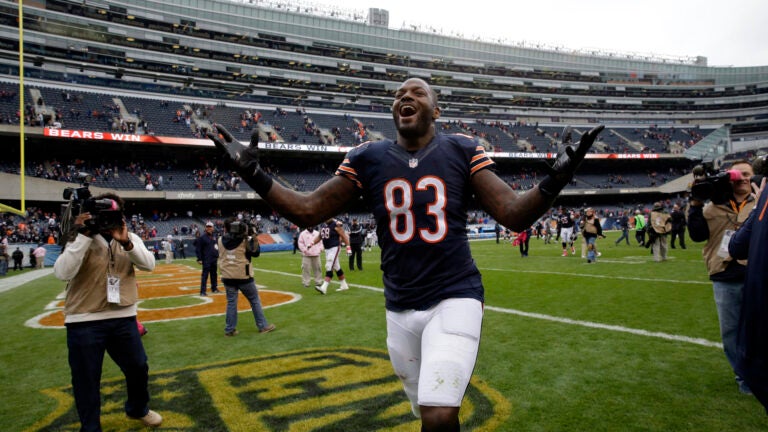 In a recent interview with ESPN, Martellus Bennett showcased exactly why he's the antithesis of the normal Patriots player soundbite. Instead of bland cliches, Bennett offered quotes that were striking for their humor and also striking honesty.
The 29-year-old tight end, who was traded to the Patriots in the off-season from the Chicago Bears, sat down for a lengthy interview with his brother, Michael (who Patriots fans probably remember as the terrifying Seahawks defensive end from Super Bowl XLIX).
The two discussed an array of subjects with ESPN's Mina Kimes, including their childhood, the unique nature of playing against each other in the NFL and their thoughts on post-football life.
Here are a few of the more amusing Martellus quotes:
"I feel like I'm the Kanye of the NFL."
On fights when he was a kid: "It was never one-on-one. If you fought Michael, I'd appear out of the smoke like Batman."
When his brother was in the hospital for months as a 10-year-old: "It was tough on me because I never really had — to this day, I don't really have friends, because I never needed friends. I always had my brother."
On Jay Cutler: "Worst quarterback in the NFL. I'd be open and he'd throw into double coverage."
On Tom Brady: "The silver fox you never get to see but you hear about. You only get to take one photo, and you have to stay outside for a year just to get it."
On the movie Frozen: "In Frozen, there's not one black character in Arendelle. I don't even know where Arendelle is, but there's gotta be a black person somewhere. One of us made it over there, goddamn it."
On how well he works with coaches: "I've always been very coachable. I mean, there was that one time I made the song 'Throw Me the Ball, Coach' … but that was just the chorus."
The best NFL situations he's been in: "I've been in the league for nine years now, and I've only been on two teams where the guys were a team: the New York Giants and now with the Patriots."
For more, read the interview in its entirety.