Patriots
Willie McGinest explains what makes Jamie Collins and Dont'a Hightower so good
"When you put them together, man, they're dangerous."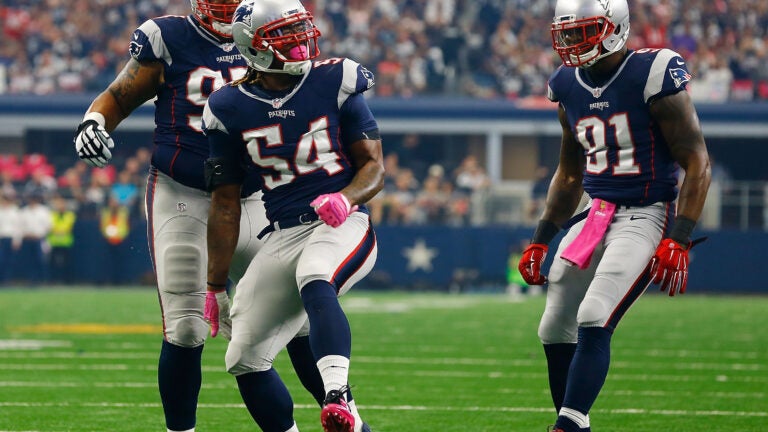 Willie McGinest knows good linebacking play when he sees it. And he apparently appreciates the play from Patriots linebackers Jamie Collins and Dont'a Hightower.
The former Patriots linebacker played alongside Mike Vrabel and fellow Patriots Hall of Fame linebacker Tedy Bruschi. With the Patriots, McGinest and Vrabel each had one season where they surpassed 10 sacks. Bruschi and Vrabel each had at least one season where they topped 100 tackles — Bruschi had three 100-tackle seasons.
McGinest has every reason to be picky about which linebackers he praises, but he expressed adulation when asked about the linebackers on Monday night following Kevin Faulk's Patriots Hall of Fame induction.
"Versatility," McGinest said of Collins. "He's a guy that can cover anybody in the league. He's focused, he's tough as nails in the run game. They bring him in the blitz to get after the quarterback. For a guy his size, he's strong. He can attack linemen. He's fast, he's versatile. And he's still learning the game. He plays at a high level. Very underrated in the league, but I think he's one of the best linebackers in the NFL. He can do so much — he never comes off the field. He's a three-down guy."
Collins has been the Patriots' tackles leader for the past two seasons with 89 in 2015 and 116 in 2014. Before that, Hightower was the tackles leader with 97 in 2013. Collins has accounted for 9.9 sacks, nine forced fumbles and three interceptions in his three years in the league. Despite missing four games in each of the last two seasons, Hightower has 307 tackles, 14.5 sacks, and one forced fumble during his four-year career.
Hightower, an alumnus of the University of Alabama, also has worn the Patriots' "green dot" since his second year in the league. That means he calls the defensive huddles and relays the defensive play calls to the rest of the defense. In many ways, he's the defense's quarterback.
"Hightower's smart," McGinest said Monday. "He's the captain — at Alabama, he used to call the plays. He's the captain and anytime you come from [Alabama head coach] Nick Saban, you've gotta be smart. He's smart. He can do a lot of different things, too. I like his energy. They use him to rush the quarterback, too, and covering [running] backs. But most of all, diagnosing plays and putting guys in the right positions. I think he's one of the best."
And what happens when they're on the field at the same time?
"They just complement each other. They communicate well," McGinest said. "They feed off each other, definitely. Very athletic, so you can switch job descriptions with them. … They can do each other's job, so you really can't — as an offensive coordinator, you really can't say who is doing what every single play, because they do so many different things."
He added: "When you put them together, man, they're dangerous."