Patriots
Bryan Stork returns to practice, Duron Harmon no longer in non-contact jersey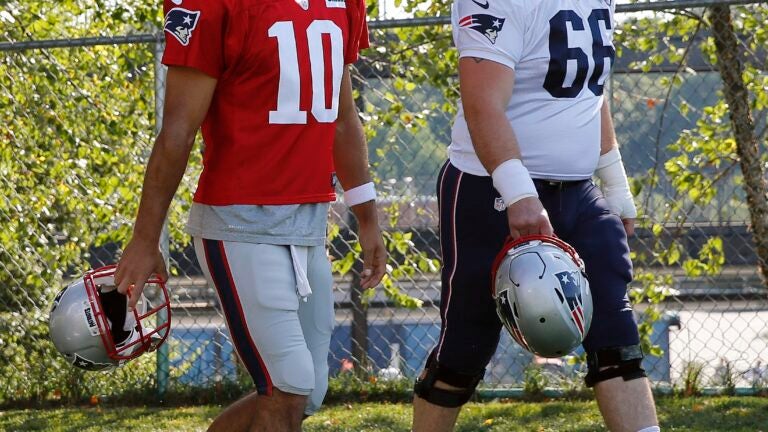 Bryan Stork returned to practice Monday after reportedly suffering a concussion in the first padded practice on July 30. Stork took part in position drills, but did not partake in team drills in a practice where players wore shoulder pads and shorts. If the reports of Stork's concussion are true, it would mean he's suffered four in the last four years.
Safety Duron Harmon attended practice without his red non-contact jersey for the first time this training camp. Via the Boston Herald, Harmon said in July that he had surgery to "clean things up."
Here are some tidbits from practice.
Attendance:
Non Contact Jerseys: Jonathan Freeny, Logan Ryan, Chris Hogan, and quarterbacks Tom Brady, Jimmy Garoppolo, and Jacoby Brissett.
On field but not practicing: D.J. Foster, Keshawn Martin, Tre' Jackson, and Donald Brown.
Notable Absences: Danny Amendola, Dion Lewis, Jonathan Cooper, Sebastian Vollmer, and Bryce Williams.
Via the Providence Journal's Mark Daniels, defensive lineman Frank Kearse left practice, and returned with a cast on his arm.
Observations:
Players were a little slow to get out this morning, and practice started with a number of players still filing onto the field.
There was a walkthrough feel to practice as players weren't in full pads.
Brandon Bolden and Chris Harper got first-team reps in the walkthrough while Julian Edelman got second-team reps.
Edelman applied outstanding focus to keep his feet inbounds during a receiver drill.
Brady and Garoppolo took time to throw to pass-catchers without defenders. During that drill, second-year tight end A.J. Derby had a solid one-handed catch, Clay Harbor snatched a ball at full extension, and Devin Lucien had the drill's lone drop.
Safety Brock Vereen acted as a scout-team running back during a defense-only drill. His brother, Shane Vereen, was an effective running back for the Patriots before signing with the Giants.
Julian Edelman caught punts with rookies Cyrus Jones and V'Angelo Bentley.
During a punting drill, Justin Coleman and Darryl Roberts helped Ryan Allen pin the ball within the 5-yard line.
Chris Hogan took reps as a gunner on punt coverage. It's a reminder that no one is above special teams work.
The Patriots practiced onside kick coverage, which included recoveries from Hogan, Gronk, and Edelman. During that drill, Brady threw passes to Harbor and Martellus Bennett on another field.
The running backs got a high volume of work during 11-on-11 drills. The Patriots ran roughly four runs for every pass.
Tyler Gaffney, LeGarette Blount both got first-team reps during 11-on-11's.
James White had a costly drop during 11-on-11 drills. Brady targeted him deep with Jamie Collins in coverage. Had White caught the ball, he would have nabbed a 40 or 50-yard reception just outside the end zone.
Derby showed up again in 11-on-11 with a nice catch against Patrick Chung.
Kamu Grugier-Hill intercepted Jimmy Garoppolo during the 11-on-11 two-minute drill.
Jacoby Brissett got no 11-on-11 work during practice, but stayed on the field afterward to get some 11-on-11 reps.
The team ran hills after practice.
11-on-11
Brady: 13 of 20.
Garoppolo: 14 of 21 with an interception.