Patriots
Patriots secondary is 'building a brotherhood' ahead of 2016 season
This defensive backfield has been years in the making.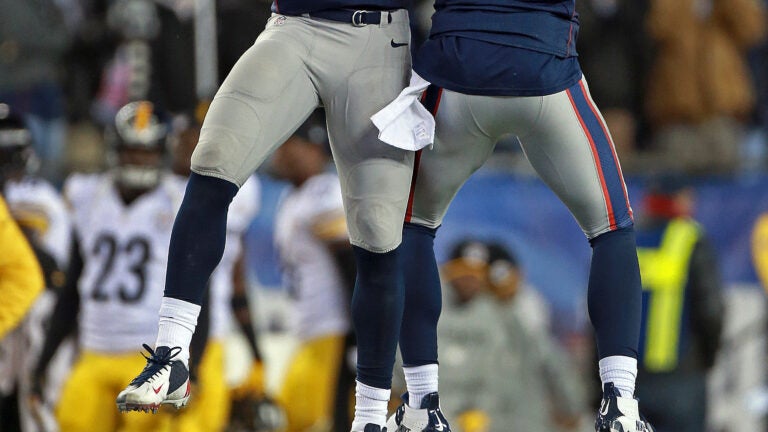 The Patriots' defensive backfield is homegrown: Devin McCourty, Patrick Chung, Jordan Richards and Cyrus Jones all arrived in New England as first- or second-round draft selections. Logan Ryan and Duron Harmon were third-round choices. Malcolm Butler, an undrafted free agent in 2014, has spent his entire professional career with the Patriots.
"It's just nice knowing those guys' personalities, knowing how to talk on and off the field to each other, just building something bigger than football, building a brotherhood," Ryan said Thursday. "I think that's something that great defenses and great teams have. And that's something that you've got to have fun with this stuff. While you're working hard hours, you've got to try to make the most of it and be coachable."
 According to McCourty, this unit solidified during training camp in 2015. Even though the Patriots were coming off a win in Super Bowl XLIX and Deflategate had been making headlines for months, the biggest offseason storyline for the secondary was the departures of starting cornerbacks Darrelle Revis and Brandon Browner.
"We come back in training camp last year, and everyone questioned us," McCourty said Wednesday. "Will we be good? And just seeing guys like Malcolm [Butler], Logan [Ryan], and Duron [Harmon] come in and fill in that spots that opened up next to me and [Patrick] Chung. And fill in and play really well.
"For us, I think there was no doubt it was going to happen, but there were a lot of question marks. And to see them come in, not be phased by the pressure and everyone talking, and just come in and play their game. I think it's helped us build a great bond and a great secondary."
This edition of the Patriots' secondary may still be relatively new; but McCourty, Ryan and Harmon go all the way to college.
They played at Rutgers, with Harmon overlapping with McCourty in 2009 and then with Ryan from 2010 to 2012. The Patriots eventually selected Harmon and Ryan nine picks apart from one another in the third round of the 2013 NFL Draft.
Often the last two players off the field at training camp, McCourty and Harmon tend to head toward the family tent together after practice. Farther away from the field, the entire secondary eats dinner together and hangs out.
"I feel like honestly those are my brothers, on and off the field," Chung said Friday. "They need help on the field? Cool. They need help off the field? No matter what it is, cool. We all hang out together. We all make fun of each other. We're all competitive. So they're like my brothers. If they make a mistake, I'ma get on them. If they make a good play, I'ma get on them."
Even the video games competitions are fierce, according to Harmon. He say he's the king of Madden, McCourty rules at NBA 2K17, and Nate Ebner and Patrick Chung are the top FIFA players.
"We've got a nice little mix of guys. Nobody's best at the same thing," Harmon said of their gaming preferences.
They can be similarly complementary on the field, too. Chung is a physical safety, who spent some time covering tight ends while also providing run support. McCourty, the center fielder of the Patriots' pass defense, played cornerback in college and briefly in the NFL. Harmon is  reliable in both run support and pass defense. Ryan has impressed with ball skills, and Butler is the team's No. 1 shutdown corner.
"The more great players around me, makes my job easier and makes me elevate my game," Ryan said.
Ryan had a breakout year in 2015, starting 14 of the Patriots 16 games. Butler got his first Pro Bowl invite in 2015. Chung, who spent one year with the Eagles in 2013 before returning to the Patriots, tied his career season high with nine pass breakups. As a group, McCourty, Ryan, Chung, Butler and Harmon have accounted for 877 tackles, 46 interceptions, and 161 pass deflections with the Patriots.
They've also made plenty of individual plays that Patriots fans won't soon forget, particularly Butler's Super Bowl-winning interception. Ryan had an impressive interception in the final minute of the Patriots' Week 2 40-32 win over the Bills last year. Harmon nabbed an important interception in the fourth quarter of the Patriots' season-opening win over the Steelers.
"You know how their going to react," Harmon said Monday. "You know what their thinking. You're thinking the same thing. So it just builds a cohesiveness you can't build anywhere else without a brotherhood."
The five players' average age is 26.4, and there's still plenty of room for improvement. Last season, the Patriots ranked 12th in the NFL by allowing 235.6 yards per game, and were tied for 15th with nine interceptions.
Perhaps it's just like Butler said on the first day of training camp: "You can't do nothing but go up."