Patriots
Here's how Jimmy Garoppolo played in the Patriots' preseason opener
Garoppolo was 11 of 18 for 168 yards.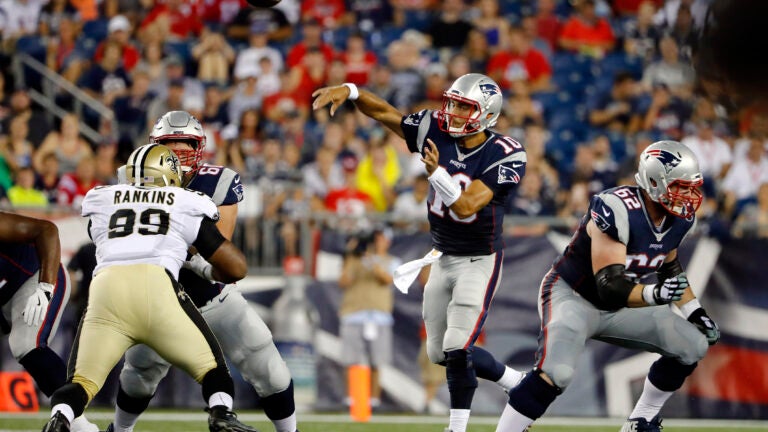 The Patriots were Jimmy Garoppolo's team on Thursday night for a preseason matchup against the New Orleans Saints. He led the team onto the field out of the tunnel at Gillette Stadium on a night where Tom Brady was excused from the game.
Garoppolo went 11 of 18 for 168 yards, and left the game after the first half. He also took two sacks for 20 yards. After a slow start, he completed 8 of 11 passes for 135 yards in the second quarter. He connected with tight end Martellus Bennett on his first three completions, later finding Malcolm Mitchell, James White, Aaron Dobson, and DeAndre Carter.
"It wasn't our best start, no question," Garoppolo said Thursday during a postgame press conference. "We started a little slow, which we never want to do, but that's going to happen sometimes. You're not going to always start the right way and it's just how you react to that. It was a good experience tonightjust being put in a difficult situation and then just seeing how the guys responded, how everyone responded. I think we reacted in the right way."
Garoppolo's longest throw of the game was a screen pass to running back James White for 56 yards early in the first quarter. Despite getting knocked to the turf on the play, the Patriots quarterback found White, who came one yard short of the end zone.
"He made a tremendous play," Garoppolo said. "Actually, a lot of guys made tremendous plays on that. The linemen got downfield, had some nice cut blocks and everything, and it was a well-designed play. I thought he was in, personally, but tough call."
James White is fast…

VERY fast! ?? #NOvsNE https://t.co/uFLPuse2cl

— NFL (@NFL) August 12, 2016
On a 4th-and-2 play later in the second quarter, Garoppolo scrambled, and dove into contact for a first down.
"The scramble play, it didn't make the sideline very happy," Garoppolo said. "But it was fourth down, and I don't know, the football player inside me kicked in, I guess. In the future, I'll hopefully slide in that situation, but I wanted to get the first down."
Once in the red zone on the same drive, he threw a pass into traffic for Mitchell without setting his feet. The ball fell incomplete, and the Patriots settled for a field goal on the drive. Garoppolo called the throw a "bad decision" and an "error" in his postgame press conference.
Garoppolo finished the first half with a 4-and-out series capped by a dropped pass by White in the corner of the end zone. Third-string rookie Jacoby Brissett took over in the second half.