Patriots
Malcolm Butler ejected after fight with Alshon Jeffrey starts big scuffle at Bears-Patriots joint practice
"Sometimes mistakes do happen with tempers," Patriots safety Duron Harmon said.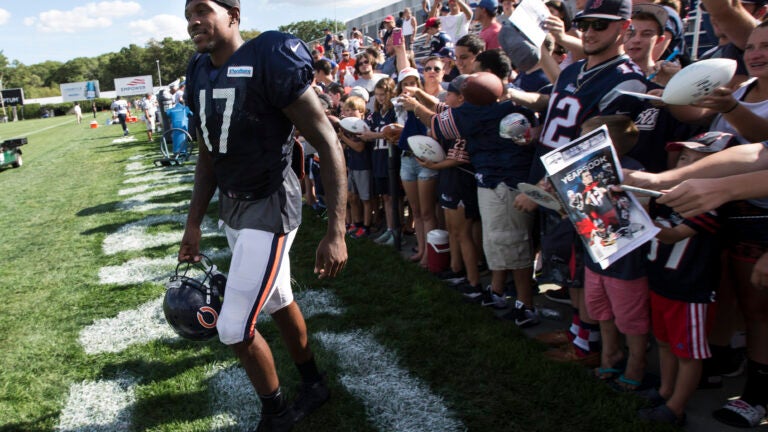 Patriots cornerback Malcolm Butler and Bears receiver Alshon Jeffrey had each other by the face mask after a play in 11-on-11 drills roughly halfway through the teams' joint practice Monday in Foxborough. They began yanking each other around, and slamming into each other.
As they continued to do so, many players on both teams crowded the area. A few players threw punches. When the scuffle finally broke up, there were close to 70 players in the area with roughly 20 at the heart of the altercation. Per coach Bill Belichick's no-fighting rule, Butler was ejected from practice. Jeffrey stayed on the field.
It wasn't the only tussle either. Newly-acquired Patriots tight end Martellus Bennett, formerly of the Bears, and offensive lineman Nate Solder were involved in a smaller skirmish with Bears players later in practice after a field goal drill. That altercation finished quickly with only pushing. They were not ejected from practice.
Neither Butler nor Jeffrey were available to the media Monday.
"Intensity is always high when you're practicing with another squad," Patriots fullback James Develin said after practice. "It's cool to see. You obviously don't want any fights, but the intensity and passion people are out here showing — that's the kind of thing that football is all about. Obviously, I don't want to condone the fighting. But tensions are high, and there's a lot of competition going on."
During the initial scrum, a mass of Patriots secondary members jumped into the fray. Duron Harmon, Logan Ryan, Cyrus Jones, Justin Coleman, Patrick Chung, and Darryl Roberts were all in the mix.
Jimmy Garoppolo seemed to like the fact that so many Patriots backed up Butler.
"It's mixed emotions," the Patriots quarterback said of the fight. "You like to have guys on your team with that kind of mindset. It's football, so it's a physical game. Things are going to happen out there, and you want to have a guy who has your back, and I think our team is full of those guys."
Garoppolo added later: "It's not a good thing to fight in practice by any means, but it's a mindset. I think our team has a really great mindset. I think we just have to do it in a controlled environment."
Butler and Jeffrey had already matched up hours earlier in 1-on-1 drills. Jeffrey jumped over Butler to make a fantastic grab despite tight coverage from the Patriots' No. 1 cornerback.
And that's how it's done. ? pic.twitter.com/1kspsHg0i9

— Chicago Bears (@ChicagoBears) August 15, 2016
"It's just competitive," said Harmon, who had to be ripped out of the scrum by Bears players. "That's going to happen from time to time. All you can do is just move on, and worry about the next play."
Is it easy to move on to the next play?
"Not at all," Harmon said. "But that's just the game. If we were in a game today, that would cause a 15-yard penalty probably for each team. Flags. Fines. All that stuff. … We're football players, but we're humans as well, so sometimes mistakes do happen with tempers. All you can do is just learn from it, and move on."
The remaining two practices and preseason matchup should test the discipline of Patriots and Bears players — Butler and Jeffrey in particular.