Patriots
Julian Edelman shines during his first full-participation practice
Observations from the Patriots' joint practice with the Bears on Tuesday.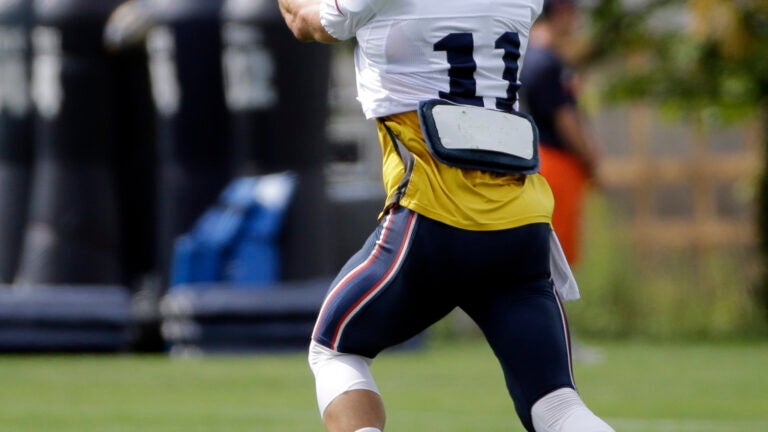 Julian Edelman wasn't participating fully in drills at Patriots training camp until Tuesday. In his first full practice of 2016, he didn't disappoint.
On his first snap of 11-on-11 drills, Edelman caught a pass from quarterback Jimmy Garoppolo. It was one of many standout moments for the receiver at the Bears-Patriots joint practice in Foxborough.
Edelman started training camp on the physically unable to perform list. He returned to practice on Aug. 7 before leaving practice early on Aug. 9 with an injury scare.
On Tuesday, he used double-moves to elude defenders in 1-on-1 drills. On one matchup, Edelman juked Bears cornerback Tracy Porter off his feet. He grabbed two passes in 1-on-1's, and recorded eight catches during team drills.
Edelman also seemed to be having fun. The Patriots' receiver playfully pretended to give the Bears' Deon Bush a shoulder as he ran into the end zone. Afterward, he laughed, and slapped Bush on the butt.
Edelman got some 1-on-1 work with Brady during a quiet moment while the Bears' offense worked against the Patriots' defense.
Attendance
Notable absences: Rob Gronkowski, Brandon Bolden, Jabaal Sheard, Shea McClellin, Dion Lewis and Sebastian Vollmer.
Participated in warm-ups only: Donald Brown, D.J. Foster, Malcolm Mitchell, Keshawn Martin, Bryce Williams and Rob Ninkovich.
At practice but not participating: Nate Ebner, Danny Amendola and Tre' Jackson
Observations
Trey Flowers was wearing a brace on his right arm. Malcolm Mitchell also wore his elbow brace for the second straight day during warmups.
For much of training camp, fullback James Develin has gone through position drills with the tight ends, not the running backs.
Cyrus Jones and Nate Solder briefly saw trainers, but both returned to the field.
Duron Harmon and a Bears player got chippy after a play during punt coverage. Harmon was blocking the Bears player, who served as a gunner.
For a second straight day, Martellus Bennett and Lamarr Houston had words with one another.
Neither Logan Ryan or Malcolm Butler could keep the ball out of the hands of Bears wide receiver Alshon Jeffrey in 1-on-1's, 7-on-7's, and 11-on-11's. Bears second-year receiver Kevin White also beat Butler twice in 7-on-7's and once in 1-on-1's.
Akiem Hicks blocked a Brady pass at the line of scrimmage during 11-on-11 drills. Hicks played with the Patriots last season.
When they're not participating in drills, Bears receivers and tight ends are drilling their ball skills with their coaches. The Patriots pass-catchers don't fill their off time in the same way.
At one point during 11-on-11's, Bill Belichick yelled at the first team defense: "We'll get someone else in here if you can't do it right."
Brandon King and Matthew Slater were the starting gunners for punt coverage. Bubble players like Clay Harbor, A.J. Derby and Tyler Gaffney were in the punt protection unit.
Kamu Grugier-Hill had a productive rep as a gunner, as he ran down for a tag on the punt coverage. On the same play, Jonathan Jones got bowled over.
Slater pummeled Bears punt returner Kieren Duncan. The hit was probably the hardest of the day — and maybe of all of Patriots' training camp. Afterward, the two players slapped each other's shoulder pads as a sign of respect.
Darryl Roberts seemed to give up as a gunner in punt coverage on one play.
Chris Harper got extended work returning punts, including the first reps of the day.
Team drills:
7-on-7:
Garoppolo was 5 of 8.
Brady was 7 of 7.
11-on-11:
Garoppolo was 4 of 9.
Brady was 5 of 8.