Patriots
Here's how Jimmy Garoppolo played in Patriots' preseason game against Bears
The third-year quarterback was 16 of 21 for 181 yards and a touchdown.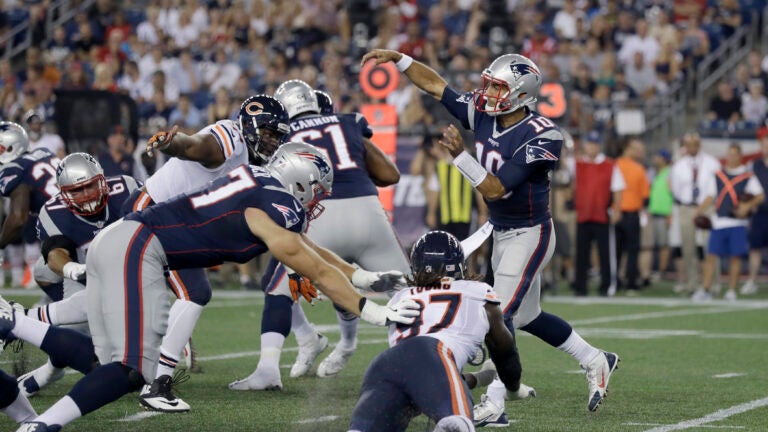 Jimmy Garoppolo found the end zone for the first time in the 2016 preseason during the Patriots' matchup against the Bears Thursday.
Garoppolo started at quarterback on a night when Tom Brady didn't play after reportedly slicing his thumb with scissors prior to the game. Garoppolo was 16 of 21 for 181 yards and a touchdown through six drives. The third-year quarterback played into the third quarter, and left the Patriots with a 20-11 lead.
His strongest drive of the night started with 1 minute and 42 seconds left in the second quarter. Garoppolo led the Patriots for eight points, and accounted for all of the Patriots' yards. On that drive, the 24-year-old quarterback was 5 for 7 with 57 yards. He threw a touchdown to tight end A.J. Derby and a two-point conversion to receiver Chris Hogan.
"Finishing with the touchdown is obviously what we wanted to come away with," Garoppolo said Thursday after the game. "I forget how many seconds exactly, but I think it was like 12 or 13, something like that left on the clock. Taking the last shot, especially in the first half like that is really what we always try to do. We don't want to give them another opportunity to score. It was executed pretty well. It's just something good to build off of."
Garoppolo's final throw of the game may have been his worst. On a 3rd-and-4 in the red zone in the third quarter, Garoppolo nearly threw an interception to Bears linebacker John Timu. The incompletion led to a Stephen Gostkowski field goal on Garoppolo's final drive.
Garoppolo finished the night without being sacked. He showed elusiveness in the pocket by stepping up and delivering a 6-yard pass to running back Tyler Gaffney on a 1st-and-10 in the second quarter. He later displayed that pocket presence again by stepping up to avoid Bears defensive end Leonard Floyd, and delivering a pass to Chris Hogan for 25 yards.
The Patriots attempted zero passes in the red zone during their first two drives, and instead elected to run the ball with Tyler Gaffney, LeGarrette Blount, and Brandon Bolden. In the red zone, Garoppolo finished 2 of 5 with his touchdown to Derby.