Patriots
Anthony Johnson explains why losing weight provided big returns during Thursday's game
"I like to categorize myself as a silverback gorilla, just go out there an be ferocious," Johnson said.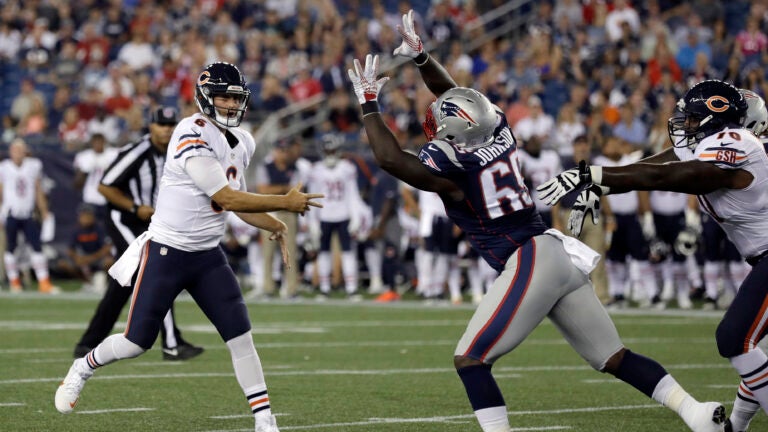 Anthony Johnson said he hasn't been this slim since middle school. That weight change was so significant that Bill Belichick said he didn't recognize the defensive lineman when the Patriots brought him in for a workout in May 2016. Belichick wondered if they'd brought in the right player for the workout.
Johnson credited the weight change for his success during the Patriots' preseason 23-22 win over the Bears Thursday. His quickness helped him disrupt plays in the Bears' backfield.
"I like to categorize myself as a silverback gorilla, just go out there and be ferocious, just play," Johnson said after the game Thursday. "I love to get off the ball. I'm just trying to be the quickest guy out there on the field. I know interior guys hate little [defensive linemen] in the inside that can move around. So that's a part of my game, that's how I'm trying to help my team."
Johnson finished the night with two tackles, a tackle for loss, a half sack, a quarterback hit, and a pass deflection. He played with the first-team defense in passing situations. His half sack on Jay Cutler came on a 3rd-and-5 in the second quarter when the Bears led, 11-0.
His tackle-for-loss came on a 1st-and-10 with 2 minutes and 55 seconds left in the second quarter. Two plays later on third down, he recorded a quarterback pressure on Bears quarterback Brian Hoyer, who was forced throw the ball away. That Bears' 3-and-out, largely caused by Johnson's outstanding play, left enough time for Jimmy Garoppolo to drive down the field, score a touchdown, and take a 17-11 lead at half.
Johnson, a New Orleans-native, credited that quickness to cutting back on jambalaya, jumbo shrimp, and his mom's baked macaroni. He stopped eating complex carbohydrates like wheat. As a result, the former LSU Tiger said he's feeling light on his feet at 280 pounds, as opposed to when he with the Dolphins, who asked him to play at 325 pounds in 2014.
"[He's] a lot different than what we saw at LSU," Belichick said of Johnson Thursday. "He's gone the other direction, from being a big guy to being a really trimming down. And his skills are different. He's faster, he's quicker, he's obviously lighter, he's powerful."
Johnson is significantly smaller than the rest of the Patriots defensive tackles like Malcom Brown (6-2, 320 pounds), Alan Branch (6-6, 350 pounds), Markus Kuhn (6-4, 300 pounds), and Vincent Valentine (6-3 320 pounds).
"A guy that's a lot different than a lot of our interior defensive line," Belichick said. "His skills might complement some of the other players we have, so we'll see how that plays out."
So far, his unique frame has led to a role on third downs. Perhaps his skills and size will be enough to earn a spot on the 53-man roster.