Patriots
Kamu Grugier-Hill could break the mold of linebackers in Patriots defense
The rookie will likely start as a special teams player. But he may have a bright future as a hybrid linebacker.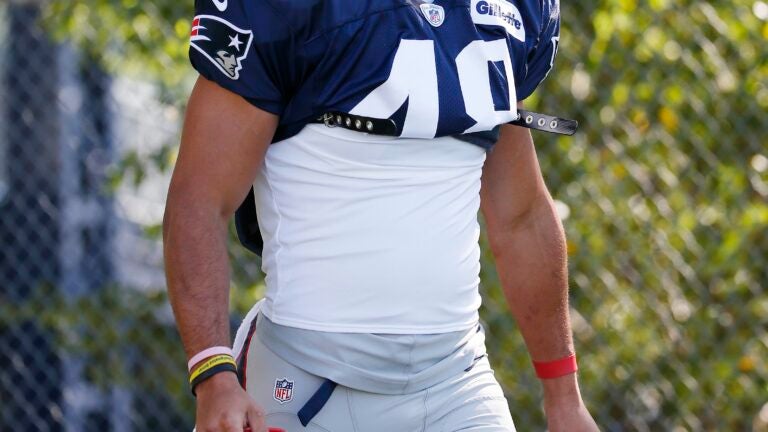 There aren't many linebackers in the NFL that are 6-foot-2, 215 pounds and run a 4.4 40-yard dash. Kamu Grugier-Hill isn't like most linebackers. He looks more like a wide receiver.
During training camp, however, the 2016 sixth-round pick has lined up in the middle of the Patriots defense as a second-team inside linebacker. If Grugier-Hill makes the Patriots' 53-man roster in 2016, he'll likely contribute as a special teams player. But Bill Belichick may have a plan for the athletic linebacker beyond 2016.
Grugier-Hill's former coach at Eastern Illinois Kim Dameron played him as a hybrid safety and linebacker, which involved dropping into coverage against tight ends and running backs.
"Those are the things he's made for, because he can run so well," Dameron said Tuesday. "He's basically doing some things that he used to do a lot of here, and he's very well suited for. … He kind of reminds me of the old position called box safety, where he's a run hitter from the safety position. Whereas now, it looks like to me the way the NFL is going linebacker-wise is they want people who can cover. And so why wouldn't [the Patriots] go ahead and take a kid who's been doing that in college?"
And the Patriots put him to work applying those skills in New England's 34-22 preseason victory over the Saints on Aug. 11. His responsibilities may have been similar, as the rookie linebacker dropped back in coverage often. However, his position as an inside linebacker was foreign. He'd rarely lined up at that position before the Patriots-Saints game, where he was anchoring the middle of the defense, calling the defensive huddle, and relaying the defensive plays. He had a productive game, and finished with five tackles and a pass breakup in the red zone in the fourth quarter. He played in that role again on third downs in the Patriots' preseason 23-22 win over the Bears.
"I like that role," Grugier-Hill said Aug. 11 after the Saints game. "We've obviously got to go hit the film, and practice tomorrow and get better. The only thing we can do is work on communication and try and execute plays better. We've got a lot to work on. … I love where I'm at right now. I love my position I'm in. I love where I am in the defense."
The hybrid linebacker-safety role has become popular in the NFL with the increased emphasis on passing offenses. As teams run less, the players on the offense get lighter, which allows smaller linebackers like Grugier-Hill to provide value. It also allows safeties to play linebacker, as Patrick Chung played in the Patriots' front-seven at times during the 2015 season.
"It's fun. You get to do a lot of different things, and yet it calls on you sometimes to do things outside of your comfort zone," Chung said Wednesday of playing linebacker. "If Bill puts you there, he has a reason. As far as mentally, it's hard to learn. You have to learn a lot of different things. But it's also fun because the defense never knows what you're doing."
Belichick has a record of successfully placing hybrid linebackers in advantageous positions in the Patriots defense. Jamie Collins, a former second-round pick, was thought of as a hybrid player when the Patriots drafted him in 2013. Like Grugier-Hill, Collins played a number of defensive positions at a small college, the University of Southern Mississippi. With the Patriots, Collins also settled at inside linebacker, where he has become one of the best players at his position.
"It's a mindset," Collins said Tuesday of establishing a new position in the Patriots defense. "Whatever you put your mind to, you can do it. At the end of the day, all you gotta do is hit the books, and this shit will come easy. We're all professionals, so it shouldn't be nothing to get to work."
While Collins and Grugier-Hill's histories align, their physical attributes do not. Collins is 35 pounds heavier than Grugier-Hill. The rookie is also three inches taller than Chung. But that won't stop Grugier-Hill from studying Collins, Chung and everyone else on the defense.
"I've just got to learn the way they play, and kind of transition into [the NFL] in my own way," Grugier-Hill said Thursday.
While the rookie could find his way onto the field on third and fourth down, there's always the chance he gets cut. Belichick pumped the breaks on the hype surrounding the young athlete at a press conference on Sunday.
"It's pretty basic when he's out there doing that," Belichick said of the rookie calling defensive plays. "Again, it's building our depth. It's another guy that we'll see how he handles it, see what he can do. Maybe in passing situations he might end up doing that. I don't know."
Belichick will surely continue to tinker and experiment with the young athlete, but Grugier-Hill seems to have the right attitude, athleticism and work ethic that could lead to a unique role on the Patriots defense.