Patriots
Still no idea what to expect from Jimmy Garoppolo, which is probably how Tom Brady likes it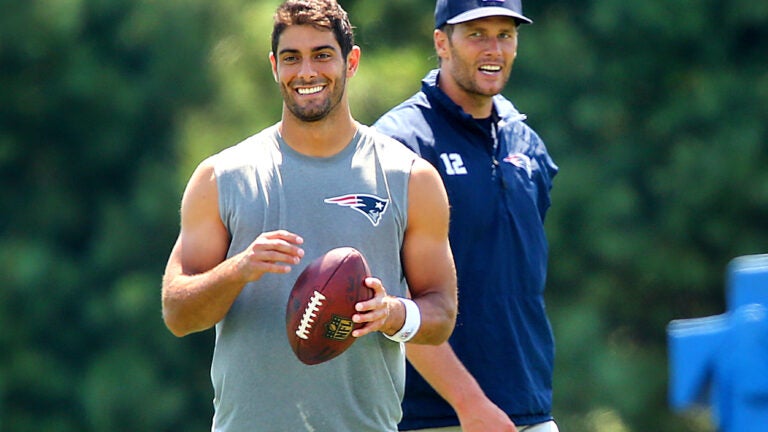 COMMENTARY
Jimmy Garoppolo better be careful and not be too good in Tom Brady's absence.
After watching the de facto Patriots starter during his harried play in exhibition game No. 3 against the Carolina Panthers Friday night, there doesn't appear to be rampant concern about that coming to fruition. Garoppolo completed nine of his 15 passes before and after Brady's unnecessary appearance in the first half, throwing for 57 yards, and survived the oncoming rush about as well as Roy Jr. will next week at Sigma Chi.
The 67.9 quarterback rating was the worst of his preseason with 3-0 New England, and his performance hardly elicited a fraction on the glee that erupted across New England when Brady found Chris Hogan for a nifty touchdown during his second possession of what would be a 19-17 win over the defending NFC champions. After all, Brady fought for that superfluous playing time, itching for a desire to visit the field in some semblance of action, seeing as he won't likely see any more of its kind until October, once his four-game suspension finally expires.
Tony Romo would probably campaign to play in the Dallas Cowboys' final preseason game, that is if he weren't likely to miss at least half of the season with a broken bone in his back, an injury he suffered during a meaningless appearance against the Seattle Seahawks last Thursday night.
No matter how loudly Brady whines about being prepared, the only way Bill Belichick should allow him to see the field this week against the New York Giants is by texting him a picture of it.
There's no doubt that it's been a strange preseason for Brady, forced to sit out the first quarter of the 2016 NFL season for his perceived role in something or other about deflating footballs. After finally deciding to cry "uncle" in his quest to overturn the suspension league demigod Roger Goodell levied upon him last summer, Brady has had to deal with handing the team he's helped lead to four Super Bowl titles to someone else not named Tom Brady.
That all seemed easy enough.
Until last week.
For those who expected to witness the snarl of comeuppance to make its debut during Week 5 against the Cleveland Browns, Brady's first opponent with the Patriots this season, Brady proved he wasn't making reservations for six weeks down the road. The quarterback's competitive juices won't dry out anytime soon, but it's fair to wonder if they're overflowing and ignoring places where they could be of use.
Brady clearly doesn't have any time for a kid like Garoppolo, whether that be because he sees the 24-year-old as more than a four-game replacement or because of what that might ultimately represent. On Friday, Brady seemed like a guy who'd be more interested in going over pass routes with Joey Galloway than one who seemed content to interact and go over the play sheets with Garoppolo. If it shouldn't be classified as a coldness, then there's definitely a competitive edge to their relationship that seeps from the emotion-free undertones of business, without the sharing of ideas.
Even at 38, Brady isn't going anywhere anytime soon. He wants to play until he's 45, and based on his performance the last 2 1/2 seasons, the magic beans utilized in his $200 cookbook must have some validity to them.
But there's also a cold reality that tends to wallop professional athletes at the most inopportune — or, as the case may be in dealings with age, appropriate —  times. What if Garoppolo is good? The Patriots might start the season 4-0, 3-1, or even 2-2, even in the absence of their most indispensable player.
Belichick has already hammered the point that Brady will get the start when his suspension for something about playing with air pressure gauges expires in early October. That seemingly puts Garoppolo  in an impossible position, faced with the pressure of leading the team without Brady, and being good enough that won't miss a beat. Then, the guy who many have thought to be the future of the team after Brady will have to sit and ask about being traded every other day in Brady's shadow.
After all, if Brady really does want to play until he's 45, Garoppolo  will be 31 before he's able to take over the reins as Patriots quarterback. What are the realistic odds that Brady can play at the same level for another seven years? And is Belichick willing to risk what might be a golden nugget in a league thirsting for top-level quarterbacks?
"I'm getting so many opportunities left in my life, so I'd like to take advantage of any opportunity, any and all of them if possible," Brady said last week. "When you see your teammates out there in their uniforms and ready to go, you want to be out there with them."
That's why Brady was out there Friday night against Carolina. It doesn't explain why Belichick allowed it to happen during a preseason in which the top goal was to morph Garoppolo  into an NFL quarterback. I think it's safe to agree that the mission has yet to be accomplished.
That's not what's necessarily best for the Patriots.
It may be what's best for Tom Brady though.
The more Garoppolo  succeeds, the better the chance, however slight, there may be that Belichick pulls a Brady-Bledsoe on the guy who originated the controversy. More likely, but just as threatening, his success would hint at an ability to take over the starting job sooner than Brady would have anticipated, perhaps as soon as 2017 or '18. We'd ultimately have an answer to the question: Is Belichick married to the team or what's best for his guy?
Brady played better than Garoppolo  on Friday night. That's not good.
Neither is an 0-4 mark to start the season, unless Brady has the utmost faith he can play the shining knight upon his return.
Garoppolo better be just good enough. Because the incumbent doesn't seem the slightest bit willing to surrender his throne. Which is as it should be.
But a little help wouldn't hurt either.
Photos: Red Bull Flutag
[bdc-gallery id="1301495″]