Patriots
How Tom Brady's suspension is affecting his fantasy draft position
Across different fantasy platforms, Brady's stock varies widely.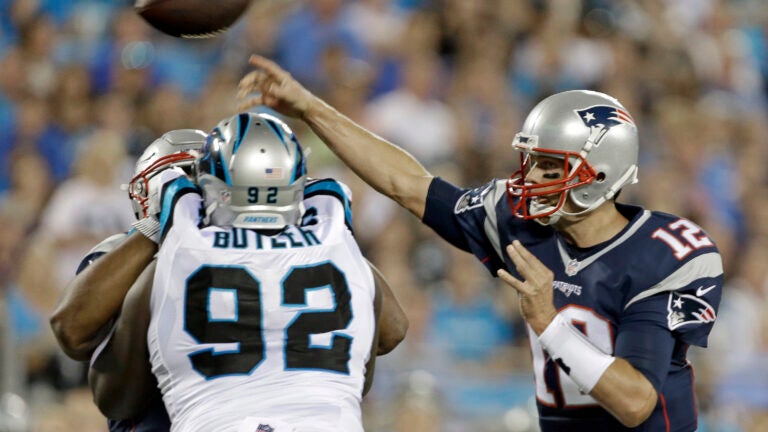 Thinking about exactly where Tom Brady should be drafted in fantasy football has always been a subject for debate, but it's become even more interesting in 2016 given his four-game suspension. While the reinstated Deflategate punishment has massive implications for the Patriots, fantasy owners are also affected.
So far, Brady has seen an average draft position (ADP) that varies depending on the fantasy football platform:
NFL: 51.4 (fifth quarterback taken)
ESPN: 62 (seventh quarterback taken)
Yahoo!: 75.1 (ninth quarterback taken)
In the 2015 season, Brady finished as the second most prolific player in fantasy football, trailing only Cam Newton. Yet the suspension has clearly impacted Brady's value in the eyes of fantasy owners.
Also, historical data points towards another explanation: fantasy owners have been growing less apt to draft Brady early, starting in 2013. Here's data from Fantasy Football Calculator showing which number quarterback Brady was in fantasy drafts, with his statistical fantasy ranking among quarterbacks in parentheses:
2010: 4th (3rd)
2011: 3rd (4th)
2012: 2nd (3rd)
2013: 4th (14)
2014: 6th (8th)
2015: 7th (3rd)
Part of the explanation for Brady's relatively lower stock in 2015 was that he also faced suspension for much of preseason (when many fantasy drafts take place). It wasn't until September 3, 2015 that the suspension was vacated.
For fantasy owners who took a chance on drafting him earlier, the strategy was clearly rewarded. Brady tossed nine touchdowns in the opening month of the 2015 season and was named AFC Player of the Month for the games he was originally scheduled to be suspended for. In 2016, history won't repeat itself, as there will be no reprieve from the suspension. In July, Brady announced that he would no longer fight the verdict.
An entire line of fantasy strategy has developed around how best to cope with Brady's suspension. For some owners, the potential of scooping up a star of Brady's caliber in a lower round is a value pick too tough to pass up. Yet the suspension poses a difficult problem in the season's opening month.
In the many subplots of fantasy football, Brady's situation (given his historical success) remains an intriguing point of discussion.