Patriots
Tom Brady's line of communication to Patriots shouldn't be a problem (Just don't tell the NFL)
"I don't want to give away all my tips."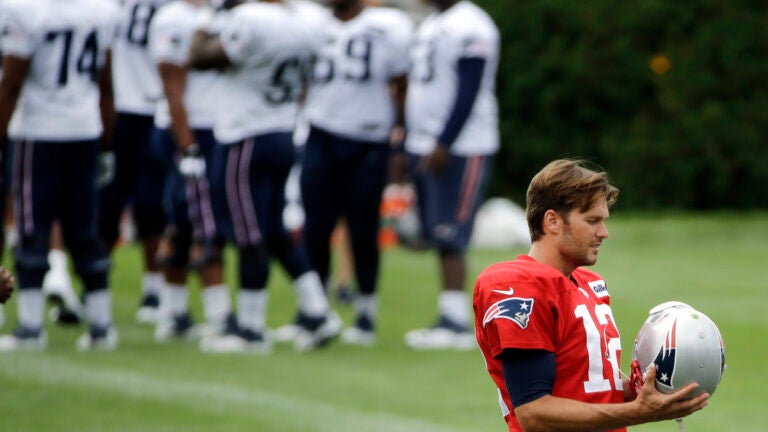 COMMENTARY
Patriots quarterback Tom Brady didn't lend any insight into what he might be doing during his upcoming four-game suspension, which begins Saturday at 4 p.m. A candlelight vigil will presumably be held at Patriot Place.
"In case someone else is in this situation in the future, I don't want to give away all my tips," Brady said at the podium on Tuesday during the final press conference until his return.
In other words, Brady isn't about to provide even whispers about how he intends to remain in contact with the team.
According to the rules of Brady's suspension for something about using playing equipment not up to code for the ideal gas law, the quarterback can not show up at Gillette Stadium until the layoff expires in early October. He can't watch or attend practice, can't have any contact with team personnel, can't attend any games as a fan, or exchange game plans and reviews with the Patriots coaching staff.
Officially, at least.
The NFL will allow Brady to work out with body coach and nutrition guru Alex Guerrero, even if he is involved with other Patriots players and is on the sidelines on game days.
"That's nice of them," Brady said Tuesday with sarcasm that seeped into the media room carpet.
Safe to assume that NFL commissioner Roger Goodell won't be receiving a Shari's Berries delivery in appreciation.
Still, anyone who believes that Guerrero can't be a conduit between head coach Bill Belichick, offensive coordinator Josh McDaniels, and Brady is probably also still of the mind that "deflating" is a popular term for rapid weight loss. Guerrero, after all, is a guy who has been referred to as a "glorified snake oil salesman." Indeed, he might be just the sort of individual the Patriots could use to get relevant information to their star player.
"We've been working together for over 12 years now," Brady said. "He's one of my best friends, so we'll do what we always do. We'll use all these days in the best way that's possible to stay prepared and stay sharp."
He stopped short of hinting that he and McDaniels would use Guerrero as if they were sharing notes in gym class, but NFL enforcers were probably listening anyway.
In lieu of a go-between, perhaps Brady and Belichick could work out some sort of code before Brady takes off for the month. Brady could even plant hidden messages in what might appear to be benign Facebook posts about his new seaweed caramel bars. It might be worth it just for the kick of watching Belichick take a timeout as he's forced to try and navigate Facechatsite on his sideline Surface Pro.
"My goal is to come back and be the best that I can be just like every other year, every other offseason," Brady said. "I'm going to do the best that I can do over these next however many days, 30 days or so, to do the same thing."
What sort of potential mess Brady might return to when he steps on the practice field to prepare for the Cleveland Browns in Week 5 remains a complete mystery. Replacement starter Jimmy Garoppolo hasn't exactly cemented faith in Patriots fans or the coaching staff that he'll be able to manage a game to a satisfactory degree. To expect him to put up Brady-like numbers, even with Rob Gronkowski and Julian Edelman at his disposal, is probably foolhardy. But there shouldn't be any reason that the 24-year-old can't step in and give a little glimpse of what Brady gave the Patriots at the same age in 2001. Nobody was snatching him up for their fantasy team, even as Brady led the Patriots on a Super Bowl run, but his delivery, confidence, and leadership set the tone that would embody his career for the next 15 years.
Garoppolo has shown none of that.
He's hardly had the chance to display any of it, of course, what with only 31 career attempts over his first two seasons in the league, most of which were made in mop-up duty. It's the most worrisome aspect about Garoppolo's play as the team readies to travel to Arizona for next weekend's opener against the Cardinals. Can Garoppolo prove to be a quarterback who won't crumble under the rush? Can he deliver both patience and demands upon his receivers? Can he choose to settle when the door is ajar for more, albeit with much greater risk?
Those aspects of his game are a lot more important for the Patriots in September than Garoppolo earning Player of the Week at some point.
New England could be 4-0 when Brady steps back on the field in Cleveland. They just as easily could be 0-4 or 1-3, but such a record definitively denies the Patriots' talent surrounding the quarterback spot. A dose of realism might have the Patriots at 3-1, opening the year with a mishmash of unpreparedness against the Cardinals before whipping off three straight at home against the Miami Dolphins, Houston Texans, and Buffalo Bills.
"We're totally on different ends of the spectrum," Brady said about Garoppolo taking over. "I love being with Jimmy. I enjoy every day that we've spent with him. I wish him the very best, obviously, for our team, for him personally. When you see people that it means a lot to, you always want them to succeed as well. It'll be tough to watch, but I'll be excited to watch and excited to learn, and then hopefully, when I come back in October, I'll be a better player than I am today."
Alex Guerrero to the rescue.
Blink once for a message from Danny Amendola, twice for a question from Martellus Bennett.
Just hope Brady and Belichick don't get their smoke signals confused.
The best under-25 Red Sox seasons of the past 40 years
[bdc-gallery id="1315242″]