Patriots
Brandon Browner reportedly punched Darrelle Revis in face during Patriots' Super Bowl-winning season
They quickly moved on from the incident.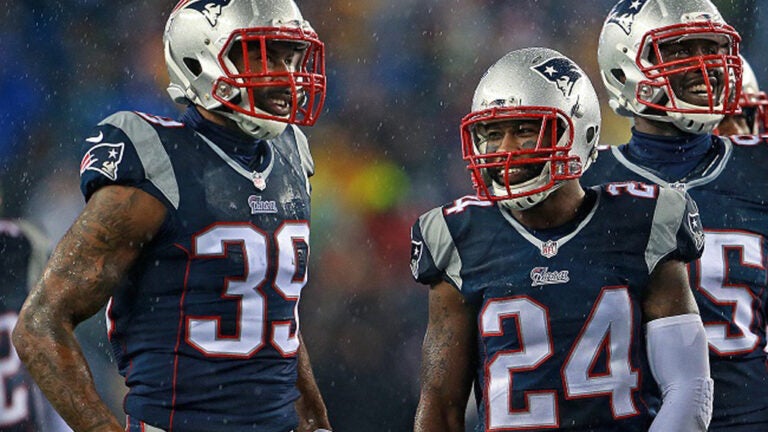 Darrelle Revis and Brandon Browner apparently had a formative moment before they helped the Patriots win Super Bowl XLIX. According to the Boston Herald's Jeff Howe, that moment came after Browner punched Revis in the face.
Howe explained how it went down on his podcast, "Locked on Patriots."
I just wanted to wait for the right moment in order to get this Browner story out there, because it's a pretty funny one, or an interesting one, or however you want to term it. But I also want you to know that I checked this with a couple of people. So this story does come from two people who saw it all go down. So here we go. This is, again, from two witnesses.

The Patriots were walking out to practice at one point during the 2014 season, when Brandon Browner and Darrelle Revis spearheaded that secondary, a Super Bowl-winning defense. And they're kind of jawing back and forth, talking a little trash to each other, I think they had some sort of low-key argument just going on and on and on, and it's lingering. Then they get out to the practice field, they're going through a handful of plays, offense vs. defense, and Browner blows a coverage. So Revis gets on Browner, gets in his face, 'Oh you blew the coverage, this is the play call, you missed the play call.' Browner's going back at him, telling him to get away from him.

And it gets to the point where Browner actually wound up and cold-cocked Revis right in the face, knocks him down to the ground, and those two had to be separated by the rest of their teammates.

So they basically picked themselves up, realize, 'Holy crap, what just happened here? What did we allow this thing to get down to?' And then they decide all right, they shake hands, they get back to practice, and they move on, and it was never a problem.
Listen to the entire story in the podcast below.
[H/T boston.cbslocal.com]
https://audioboom.com/boos/4993686-locked-on-patriots-aug-31-2016-an-untold-story-about-brandon-browner-and-darrelle-revis-and-a-breakdown-of-the-pats-cornerbacks