Patriots
Tom Brady and Odell Beckham Jr. exchange jerseys after Patriots-Giants preseason game
"He's a great player, and I love watching him," Brady said of Beckham.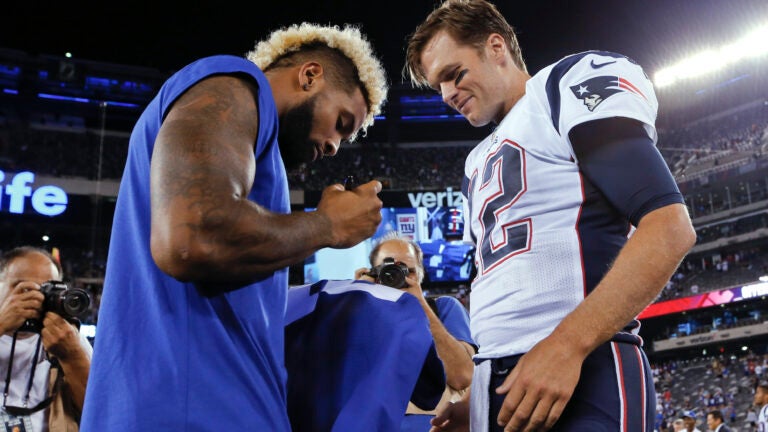 Tom Brady had an outstanding debt to Odell Beckham Jr. The Patriots quarterback owed Beckham his jersey.
Beckham had asked Brady for one in 2015, and Brady finally gave him one after the Giants' 17-9 preseason win over the Patriots on Thursday.
"I promised him a jersey last year, and I forgot," Brady told reporters after the game. "So he came over and gave me his, and we swapped them. … He's a great player, and I love watching him."
Brady was 16-of-26 passes with 166 yards, a touchdown and an interception. Beckham did not play during the preseason finale.
Via ESPN.com, Brady jogged off the field with Beckham's jersey in-hand. He arranged to have his jersey delivered to Beckham later in the evening, as it's a team policy restricted him from doing it on the field. And then after the final whistle blew, they met up to chat.
"I was just talking to him," Beckham said after the game on broadcast, per ESPN.com. "Any time you get a chance to talk to somebody like that, he's made the playoffs for a very long time. It's pretty cool. It's fun to be able to sit out here and watch him. Surprised he's in [for the entire first half], but it's a fun experience."