Patriots
James Develin is trying to keep the fullback position relevant in Patriots offense
"He's kind of a typical Patriot – a dependable, tough, smart football player," Tom Brady said of Develin.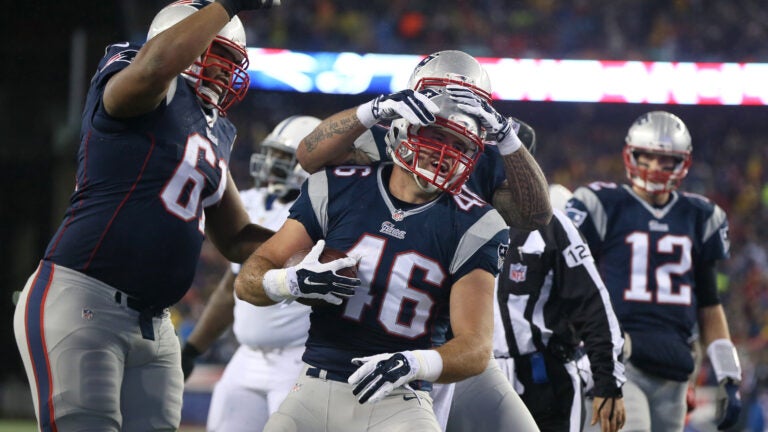 James Develin has to be ready for anything.
The Patriots fullback is expected to block middle linebackers, eliminating them from making a tackle. He must have consistent hands in the passing game, where quarterbacks Tom Brady and Jimmy Garoppolo will occasionally target Develin as a check-down. Develin has to protect his quarterbacks from pass-rushers, and the Patriots expect him to be sure-handed and efficient when carrying the ball, particularly in goal-line situations.
And he's got to be ready to sit on the bench for long stretches of the game until called upon. Develin played just 22 percent of offensive snaps during his last full season in 2014. And yet without him last season, Patriots head coach Bill Belichick said the team lost "a couple hundred plays".
Brady explained how much he missed Develin after the fullback broke his leg during the 2015 preseason, and spent the season on injured reserve.
"That was a tough loss I think just emotionally for the whole team because of what he did the year before and just the toughness that he brings," Brady said in training camp. "In order to be a good football team, you've got to be tough, you've got to be disciplined, you've got to be smart, and he's one of those guys that brings all three to the table for us."
Brady added: "Coach [Bill] Belichick always says, 'Do your job,' and nobody does a better job than James. He embraces his role. Obviously, lead blocking, I think the running backs have a lot of trust in what he does. He does a good job catching the ball. He's really a great leader for our team. He always sets the example, so he's kind of a typical Patriot – a dependable, tough, smart football player."
Develin showed some of that toughness in his only career passing touchdown from Brady. Develin's reception put the Patriots up 14-0 in the Patriots' 2015 AFC Championship Game win over Colts. Linebacker D'Qwell Jackson stopped Develin behind the goal line, but the fullback shed the would-be tackler, and plunged into the end zone. On that play, Develin lined up in the traditional place for a fullback in I-formation.
https://gifs.com/gif/james-develin-td-catch-G6q1Yr
It's one of the hundreds of play Develin brings to the Patriots offense, which Belichick says the team could not perform without him.
"It's somewhere in that ballpark. Again, some of those are situational plays – goal line, short-yardage, four minute at the end of the game – things like that, which we've been in a decent amount of those situations relative to say like two minute, 11 personnel at the end of the game, so some of it is situational. So, it's somewhere in that ballpark," Belichick said of Develin during training camp.
Develin's role on the Patriots is not unlike a reliever for a baseball team, Belichick told the New Hampshire Register in 2014. There are scenarios where he's a necessity, but there are other moments where he's irrelevant. That limited role and his broken leg are the two obstacles he'll have to overcome as he attempts to make the roster. The fullback says he's putting his injury in the past. And his physical play in the 2016 preseason supports that statement.
During the Patriots' preseason win over the Panthers last Friday, Develin helped spring LeGarrette Blount free for a 17-yard run. Develin came in motion and blocked Panthers linebacker Thomas Davis at the line of scrimmage. Develin's block gave Blount space to burst through the Panthers' front-seven for the Patriots' longest rush of the day.
https://gifs.com/gif/OYBmKg
"I don't think I've had a bad experience of following him [through a hole] at all," LeGarrette Blount said of Develin during training camp. "He's one of the better fullbacks in this league. You can categorize him as a all-purpose guy, because he can catch the ball, he can run the ball, he can block. It's always good to have a fullback who can do all those things."
The Patriots offense wasn't as prolific without 28-year-old fullback, but was almost as effective. They rushed for 1,727 yards on 3.9 yards per carry in 2014 before rushing for 1,404 yards on 3.7 yards per carry in 2015. The Patriots managed to maintain that average despite injuries to Develin, Dion Lewis and a number of offensive linemen. Still, the Patriots running backs are apparently benefiting from Develin's return.
"I try to take a lot of pride in opening holes for [Blount], and any of the guys I might be lead blocking for," Develin said. "It's really fun blocking for a guy like LeGarrette. Making a block, and then seeing him run over a safety and breaking tackles down the field."
Develin's also a tough runner with the ball, when he gets a chance. He's got seven attempts for 15 yards on his career. On his only rushing touchdown against the Texans in 2013, Develin got stuffed trying to jump over the pile, but kept running and plowed through a handful of tackles before getting into the end zone. The Patriots could turn to Develin on short-yardage situations, where Blount has struggled last season.
https://gifs.com/gif/james-develin-rushing-touchdown-pY54Vy
But Develin has more receptions than rushes in the NFL. He's had 10 receptions for 105 yards. For a player who makes his money with sheer force, he's got good hands, as he showed in his 31-yard reception against the Browns in 2013. During position drills at 2016 training camp, he practiced with the tight ends, not the running backs. During drills, he's been consistent and sometimes spectacular, as he has made one-handed and diving grabs.
It's likely why the fullback still has a job in the NFL, where traditional lead-blocking fullbacks are becoming sparse. For now, he's in a small fraternity of men who are paid to play at his position. The position survives through fullbacks like Develin, the Saints' John Kuhn, the Chiefs' Anthony Sherman, the Bengals' Ryan Hewitt, and the Raiders' Marcel Reece.
"I think fullbacks are a little more prevalent in the NFL than people give it credit for. You see some of the teams that have had success in the past, it seems like a lot of them use fullbacks," Develin said. "It's an honor to be one of the few, if you want to call it that. Fullback's a fun position, and I hope it never goes away."