Patriots
Not a banner decision to put Jimmy Garoppolo in this kind of shadow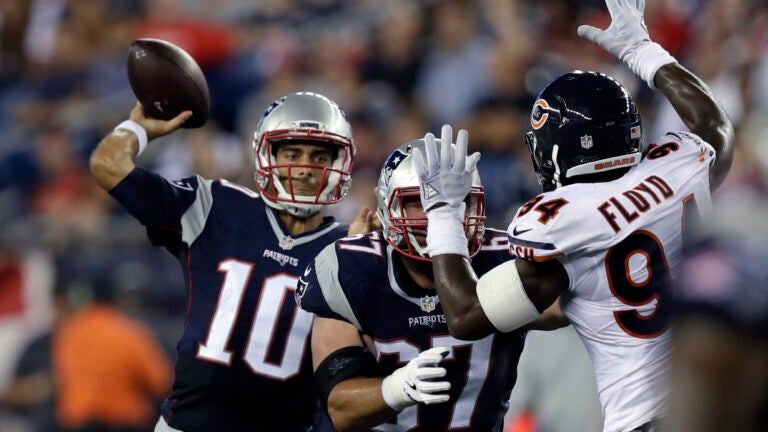 COMMENTARY
Welcome to Foxborough, where, apparently, the all-encompassing "Patriot Way" has surrendered to all things "decorative and marketing."
This was a franchise under coach Bill Belichick that set the modern day standard for Super Bowl introductions, electing to grace the field prior to their upset victory over the St. Louis Rams in 2002 as a single unit, eschewing individual personas. Gillette Stadium became a place where "Do Your Job" became not only a mantra of personal duty, but a mission of support to your fellow teammates.
But the "Patriot Way" has also been perceived as somewhat of a myth, a team concept bred out of selflessness that may be interpreted by some as fallacy that instead promotes a winning culture "by any means necessary."
At its core though, the phrase preaches one body, one mission, one approach.
Unless you're Tom Brady.
The Patriots quarterback began his NFL-mandated suspension at 4 p.m. last Saturday, forced to miss the first four games of the 2016 season for something about informing Baltimore Ravens head coach John Harbaugh that he should learn the rule book. By Sunday morning, the images of Brady hovering over his field of play filtered their way across social media after the Patriots elected to raise their own Touchdown Jesus on the Gillette Stadium lighthouse tower.
— New England Patriots (@Patriots) September 4, 2016
Call it support for their missing star or a way for the Krafts to show the fans they have Brady's back even after lying down on Roger Goodell's sword during all the Deflategate nonsense. Call it pandering, or a way to send a message to their loyal and sometimes irrational fans, a reminder that after the first three games at home everything is going to be fine.
Brady will be back. Soon enough.
Jeez. Jimmy Garoppolo must feel swell.
It's not like Garoppolo doesn't understand what he's in for during his stint as Brady's replacement. He's in a no-win situation as far as being in New England is concerned.
Should he perform beyond expectations, he'll perhaps yield the equivalent of what the panicking and Teddy Bridgewater-less Minnesota Vikings gave the Philadelphia Eagles for Sam Bradford (a first-rounder and a conditional fourth). Should he come up short, he'll simply be lumped in with the succession of every other failed quarterbacking project under Belichick's belt in New England. 
It's difficult to get a litmus test on whether or not the majority of Patriots fans even want the kid to succeed. Few expect the 24-year-old to lead New England to a sparkling, 4-0 record right out of the gate, but if that were something he could help manage, you get the feeling a dent in the Patriots' armor is better for weekly worship than any slight possibility of a quarterback controversy.
Garoppolo may not hear all the criticism, but it will be omnipresent with every play he attempts beginning Sunday night in Arizona. "Brady would have made that completion. Brady would have run for the first down there. Brady has a chemistry with the receivers that Garoppolo can't siphon."
If that weren't unnerving enough, the Patriots went and erected a mammoth banner of Brady in their stadium, looking over Garoppolo's shoulder with every decision he needs to make in the demigod's absence. There's Brady serving as the definitive suggestion that he stands above the rest of his teammates. At least that seems the gesture expressed by the Krafts.
"It's nice," Garoppolo politically said Tuesday morning on WEEI. "It overlooks the whole stadium. It's a nice little reminder of what's going on and it's good to have it there."
It's so cheesy though, especially in the light of this being a fight that team owner Bob Kraft chose not to engage in with ol' pal Roger. But despite the surrender, the team never let Deflategate accusations go, continually updating the embarrassing "Wells Report in Context," a snide harrumph that has culminated in Brady's likeness sending one, final message before the punishment is finally under way.
No big deal? Maybe not.
But Belichick doesn't sound impressed.
"We're really focused on Arizona right now," he said on Tuesday. "That's who we play this week. All the other decorative and marketing things and so forth are not really part of the team's preparation."
Exactly.
But it's hard to imagine Belichick had any say in the banner being erected, seeing as it flies directly in the face of his team-oriented approach. Forget Colin Kaepernick not standing for the flag out in San Francisco, it's going to be another story entirely when receiver Julian Edelman finds he can't stop kneeling before the likeness of missing hero during pregame warmups.
"I'm not going to lie, it's like one of your buddies going to jail," Edelman said over the weekend. We presume he saved the tears for once the cameras cleared out of the locker room.
Ah, but the Patriots didn't exactly erect any banners for Aaron Hernandez, so that analogy hardly works here.
It's no secret that Edelman is wrapped up in the celebrity of his teammate, to such a degree that perhaps it's fair to wonder if he's willing to take the same sorts of sacrificial hits for Garoppolo as he is for Brady. Are the rest of his teammates, with Brady looming as the message that this is all only short-term?
The Patriot Way. With an asterisk.
Decorative and marketing, long after the team surrendered its fight.
The season hasn't even started, and we're already on to Cleveland.
Garoppolo can't win.
2016 Patriots schedule
[bdc-gallery id="1154578″]