Patriots
Larry Fitzgerald's milestone touchdowns not enough to lift Cardinals over Patriots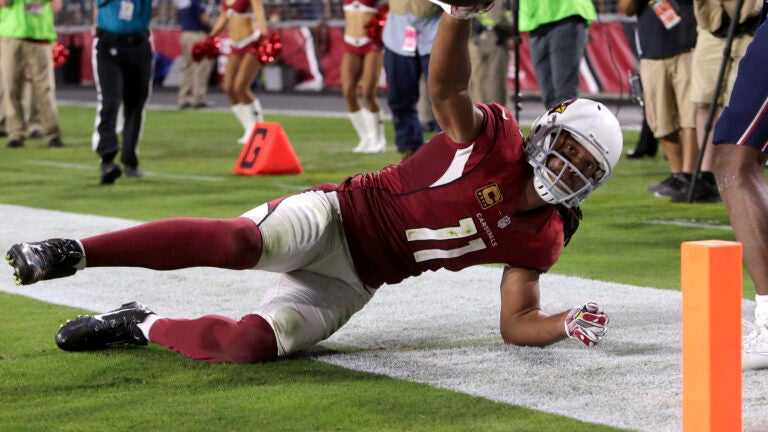 GLENDALE, Ariz. (AP) — Larry Fitzgerald held up his end, moving his name up the record books while proving he's still got it at 33.
It wasn't enough for the Arizona Cardinals in their opener.
Despite a sometimes-spectacular night by Fitzgerald, the Cardinals opened the season with a 23-21 loss to the New England Patriots on Sunday night after Matt Catanzaro missed a 47-yard field goal in the final minute.
8 catches.
81 yards.
2 TDs,

Every catch from @LarryFitzgerald's stellar night. ? #NEvsAZ https://t.co/YpLBENQ7Xp

— NFL (@NFL) September 12, 2016
In his 13th season, Fitzgerald looked as if he was 23 not 33, catching balls in traffic, shedding tacklers to add multiple yards after the catch.
Fitzgerald extended his NFL-record streak to 180 games with a catch on a grab on Arizona's opening drive and kept snaring balls from Carson Palmer.
Fitzgerald moved up to a tie for 11th on the NFL's career touchdown list with a 3-yard score in the second quarter and lit up the highlight reels with an over-the-shoulder 1-yard TD catch in the fourth quarter.
The second TD was the 100th of Fitzgerald's career, moving him into a tie with Steve Largent and Tim Brown for eighth place.
Fitzgerald finished with eight catches for 81 yards, yet it wasn't enough.
Arizona had a shot in the closing minutes, moving into position for a potential game-winning field goal. But a low snap by new long snapper Kameron Canaday and a hooked field goal by Catanzaro left Fitzgerald and the Cardinals dejected after their opener.