Patriots
Decision time on Jimmy Garoppolo is looming for both Bill Belichick and Patriots fans
It's OK to freak out a little bit. This is natural.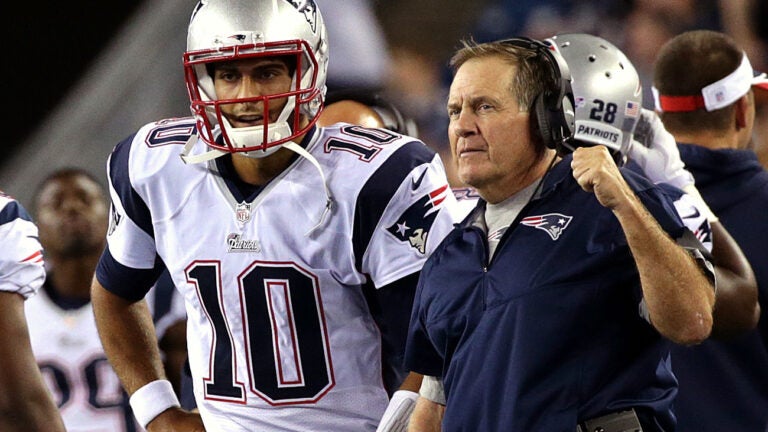 COMMENTARY
After last Sunday's win in Arizona, the Patriots' official website posted a video featuring highlights from the team's post game locker room celebration. This is something they've done before, and it's always pretty cool, and this one started off along the same lines. It began with a few random players trickling in from outside and obviously feeling good. Next there was Bill Belichick and the Krafts walking around to individual lockers, giving out hand shakes and hugs. There was Malcolm Butler chest bumping offensive linemen. There was Belichick sharing a moment with his son. There was Dante Scarnecchia unleashing high fives after the first win of his 31st season on the New England sideline.
It was a real happy scene. It was beautiful, unadulterated Patriots porn.
"Great job, men," Belichick said with the whole team gathered around. "Situational football. Making the plays we had to make at the end. That was a good job."
This was word-for-word the most Belichick speech ever.
"That's the way to come here and get the job done," he continued. "And I'm telling you, we won the game in the meeting room, on the practice field, and in the walk-throughs. It just didn't happen today. It happened all through the week. That was a great job."
It sounds cliché but you know Belichick believes this. He's sure that for all the coverage these games receive — the breakdowns, predictions and constant speculation — wins and losses still come down to three things:
1) Building a game plan.
2) Implementing a game plan.
3) Executing a game plan.
Rinse and repeat for 16 games every season, even though with Belichick it's more like 16 one-game seasons. He lives to live in the moment. Last week doesn't matter. Next week doesn't matter. All that matters is this week and those three steps: Build. Implement. Execute.
Last Sunday was an instance where all the hard work comes together for a truly special performance. And seriously, don't let 15 years of truly special performances cloud what this team accomplished in Week 1. Forget the DeflateGate drama. The Pats were nine-point underdogs in Arizona. Do you know the last time a team was favored by nine-plus-points against the Patriots?
February 3, 2002. Kurt Warner and the Rams. Super Bowl XXXVI.
That's right.
That's crazy.
This video was a celebration of all that, but when Belichick finished his speech, the vibe shifted. The plot evolved into a different brand of Patriots porn. A weirder, messed up reality. The kind of thing where something clicks in your brain like "Hey! Wait a second! What the hell am I watching here?"
In this case the video cuts abruptly to Belichick presenting Jimmy Garoppolo with the game ball. We don't hear what the coach says beforehand, and that's most likely on purpose. The reason is whatever you want it to be. Anyway Belichick and Garoppolo shake hands and hug it out while the rest of team cheers on their quarterback.
"Let's go!" Garoppolo screams. "Bring it up! Bring it up!"
His teammates bring it up.
"Hey! Hey! Hey!" Jimmy yells from the center of the 55-man huddle. "Great team win, men. Now let's build on it for next week. Team on three – one, two, three – TEAM!"
They all go nuts.
Finally the video cuts to Belichick and Garoppolo talking one-on-one in the middle of the room. Robert Kraft lurks a few feet away, grinning ear-to-ear like the father of the bride.
"Great job, man. Great job," Belichick says with his arm around Jimmy's shoulder. "That's a real tough place to play."
The coach steps back and Kraft swoops in for a hug.
"I'm proud of you," he tells Garoppolo. "You stay cool."
**
And that's it. End of video. And if you don't know what I'm talking about in regard to the weirdness you weren't one of the Patriots fans to blow up my phone or e-mail this week when the video went live.
Here's a sampling of what came in:
"Very strange to see BB and Kraft hug a QB like that. Like an ex-gf with her new BF."
"I'm so conflicted. Happy to win. Sad not to see Tom. Very odd."
"Do I secretly hate Jimmy? Why am I feeling this way? Can't understand."
"I just hate what this turns into. Why does Jimmy's success have to be controversy? Why can't we celebrate it for what it is? Or I don't know, maybe I'm just scared of what it is?"
This is a real thing right now for Patriots fans. For a lot of Patriots fans at least. Of course any discussion in the media would be stomped on because emotions are for losers and sissies, but truth is the majority of Boston sports fans between, say 20 and 40 years old, care more about Tom Brady than they've cared (or will care) about any athlete in their lifetime. For an entire generation, especially with David Ortiz about to hang them up, Brady's all that keeps the past in the present. It goes beyond football. If you can't make that connection, in a way you're lucky, in another way you really missed out, but either way this is a confusing time.
On one hand you want the Patriots to succeed. You want Garoppolo to win every single time he takes the field. Forget getting better, if Garoppolo can play about as well these next three weeks as he did in Arizona — against worse teams and in front of his home fans — the Patriots will be 4-0, or at least 3-1. That would be something. That would be a giant middle finger in Roger Goodell's eye and provide Brady with some breathing room. It would be nice for him to come back and not immediately feel like every game has home field advantage on the line.
But with every Garoppolo win comes that conversation and those questions. The team will rally around him. Belichick and Kraft will look at him the way you've only seen them look at one other person these last 15 years. Forget the comparison to an ex with a new boyfriend or girlfriend, watching Kraft and Belichick with Garoppolo is like if your dad was thrown in jail for a month and your mom and grandma started posting sexy Facebook photos with a new younger version of your dad. So you delete your Facebook account. Go cold turkey. But now all your friends and different media outlets are texting screen shots to your phone.
It's OK to freak out a little bit.
This is natural.
This is also a confusing time for the Patriots. This was the curveball to end all curveballs. Belichick might be the smartest guy in the room. He might know more football history and strategy than anyone in the world. Still there's no handbook on what to do when the Commissioner arbitrarily suspends your best player for a quarter of the season. You might ask what a coach is supposed to do, but with Belichick there's only one thing he knows how to do.
Look at the next game.
Right now it's Miami. He's giving it everything he's got. On Sunday night, he's on to Houston. On Thursday night, he's on to Buffalo. Then that next Sunday night, after the Pats host the Bills, Belichick is on to Cleveland and that's when things change. That's when the best coach in NFL history will look at his roster and decide who gives him the best the chance to win: Jimmy Garoppolo or the best quarterback in NFL history?
And to be clear, "best quarterback in NFL history" isn't only a lifetime achievement award for Brady. It's an active title. Last year he led the NFL in both touchdown passes and interception percentage. That's a pretty good combo. He threw seven interceptions in 624 attempts.
Cam Newton may have wrestled away the title of NFL's Best QB (or maybe he just transcended it) but Brady's still coming off one of the best quarterbacking seasons of one of the best quarterbacking careers in NFL history.
Garoppolo's not there yet.
Obviously he's not.
We've got some time before Belichick looks at his roster and prefers Garoppolo to Brady.
But in the meantime, for the next three weeks at least, it won't hurt for Jimmy to think otherwise.