Patriots
Jimmy Garoppolo is the real deal, and other things we've learned from the Patriots' first two games
Before he got hurt, Tom Brady's understudy had shown extraordinary poise and promise.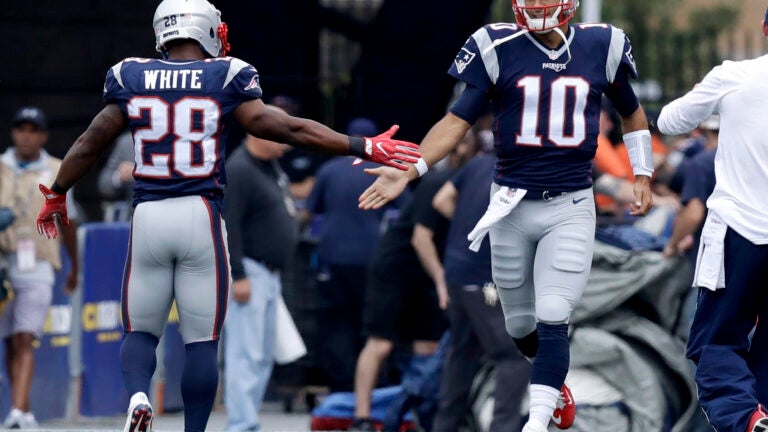 COMMENTARY
The Patriots have temporarily lost another outstanding quarterback, and this time due to the brutal realities of football rather than the egomaniacal whims of the men who run the NFL.
Jimmy Garoppolo is good, man. He's good. It's OK to acknowledge this, to believe it, even though he's played roughly six meaningful quarters of NFL football. That's roughly 1,000 fewer quarters than Tom Brady, his railroaded and banished teammate whose absence has afforded him the opportunity to take his turn at the wheel of the Patriots' high-performance offense.
But it's enough. Six quarters of watching Garoppolo throw with accuracy and zip, watching him stretch out plays by deftly dodging the rush, watching him orchestrate the offense with the confidence of someone who has been doing this for six successful seasons rather than six quarters … yeah, I'm comfortable saying that the Patriots should be thrilled with the concept of Garoppolo as Brady's successor, whenever that transition comes.
It's a bummer that his exceptional performance in the Patriots' 31-24 win over the Dolphins on Sunday was abbreviated by blunt force with four minutes and 57 seconds remaining in the second quarter. Garoppolo was buried by Miami safety/linebacker Kiko Alonso just as he released a completed pass to rookie wide receiver Malcolm Mitchell, his right shoulder bearing all the weight of the defender as they hit the turf. Garoppolo crumpled in obvious pain, and his status for the next couple of weeks is uncertain.
He must deal with the adversity that comes with injury for now. It remains to be seen how Garoppolo will handle significant in-game adversity, and it will come after him some Sunday with the relentlessness of Alonso bearing down from the blindside. But he has all of the mental and physical tools to overcome the frustrating days. We've seen enough of Garoppolo to believe in him. We just wish we could see a little more before Brady returns.
The Patriots have something here, perhaps something special, but don't mistake it for a quarterback quandary or fall for the sports-radio booby-trap of calling it a controversy. This is Brady's team, and it will remain that way until he's spending his Sundays on another roster, in the front office, or on his couch in Brookline. Garoppolo, for his six quarters, emerged as one hell of a caretaker, a confidence-inspiring eventual successor, and perhaps even the most enticing trade chip they've had since Drew Bledsoe in February 2002.
It may seem strange saying this now given that they're one injury away from direct snapping to LeGarrette Blount on first down, but it's the truth. What they have, with Brady, Garoppolo, and rookie Jacoby Brissett, who to his credit did not get the Calvin Schiraldi Memorial Saucer Eyes in his unexpected debut, is the best overall quarterback situation the franchise has ever had, better even than the Brady/ Bledsoe/Damon Huard trio in 2001. The Patriots, off to a 2-0 start, can survive for a week or two with Brissett at the helm.
The Patriots are in a great place at quarterback, too, even if they need to turn to Brissett on Thursday night against the Texans — and hey, Brady's suspension is already half over, right? It's been a remarkable two weeks, really. Brady and Rob Gronkowski — two of the, what, six or seven best players in the league? — haven't played a snap yet. Some offseason acquisitions — Chris Long, Chris Hogan, and Martellus Bennett — have absolutely thrived, especially against the Dolphins. The essential Julian Edelman looks healthy.
Sure, the defense, which didn't earn the save on Sunday's victory until there were two seconds remaining, has been spotty, but the depth and talent is there for rapid improvement. (They are never quite the same when Dont'a Hightower is absent — he's their nerve-center.)
Overall, two games and two wins into the 17th season of the Belichick era, Patriots fans should feel like the franchise is in a great place in general. That, as usual, would be first place, a familiar spot even if there are some different players leading them there.