Patriots
Belichick tight-lipped as Garoppolo returns to practice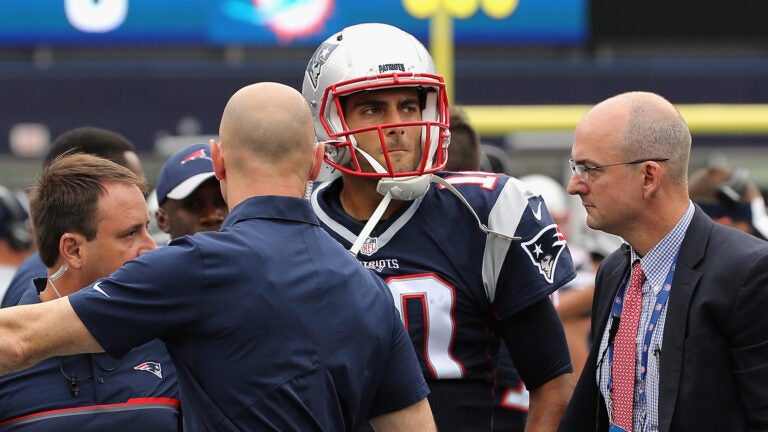 FOXBOROUGH, Mass. (AP) — Bill Belichick isn't ready to rule out injured quarterback Jimmy Garoppolo for Thursday night's game against the Texans.
The Patriots coach also isn't interested in sharing any contingency plans he might have.
Garoppolo was a limited participant in practice Tuesday as he continues to recover from the right shoulder injury he sustained late the first half of New England's win over the Dolphins last week . The third-year quarterback sat out Monday's practice.
The Patriots have yet to add another quarterback to the roster, increasing the possibility that rookie Jacoby Brissett could make his first career start against Houston (2-0) if Garoppolo can't go. In that situation, receiver Julian Edelman would be the emergency option.
It didn't stop an onslaught of Garoppolo-related health questions on Tuesday. It drove Belichick to the point of agitation as he was pressed about Garoppolo's status.
"He has been looked at. He has been treated, like every other player," Belichick said.
As inquiries persisted, he made it clear that whatever is going on with Garoppolo, what was best for his health would take precedence.
"I'm a football coach. I'm not a doctor," Belichick said.
But he does have a reputation of being a master of misdirection.
Texans coach Bill O'Brien has seen Belichick in action up close as a former Patriots assistant from 2007 to 2011.
"I think we have to be ready for their roster," O'Brien said. "We have to understand the skill sets on their roster."
He also has memories of Edelman, a former college quarterback, showing off his skills during Patriots practices. O'Brien was there when they initially drafted Edelman.
"He was a shotgun, wildcat quarterback at Kent State — and really good at it," O'Brien said. "I can remember doing some of those things with him over the couple of years I was with him in practice there. So I know that he can do that stuff."
There are also wild card players than can come into play as well, with O'Brien noting that receiver Danny Amendola "can also throw the ball."
O'Brien also has lots of respect for Brissett, a big load at 6-foot-4, 235 pounds, who he said looked very comfortable in the extended minutes he got during the preseason. It presents yet another preparation challenge for a Houston defense that has held its opponents under 15 points in each of their two victories over Chicago and Kansas City.
Texans quarterback Brock Osweiler has respect for the position that both New England quarterbacks are navigating while trying to seize opportunities afforded to them because of the unavailability of a sure Hall of Fame quarterback.
Osweiler, after all, just left a situation in Denver in which he found himself sharing time with former Broncos quarterback Peyton Manning. It's a setup that required both patience and discipline.
"I do know what Jimmy's going through right now. I've been in those shoes," Osweiler said. "I was in those shoes for three and half years before I really got my opportunity. I say patience because that's a long time to sit and not play."
The approach always must be the same, he said.
"Every single day you need to earn your spot on the roster," Osweiler said. "Just from the way Jimmy's been playing, I can tell he hasn't wasted a single day. Whether I was the backup or I was playing last year, I wanted to show up and get better every single day…There was a coach that told me 'If you're not getting better, you're getting replaced.'"
Notes: Tight end Rob Gronkowski was again a limited practice participant Tuesday as he works his way back from the hamstring injury that caused him to miss the first two games. He initially came out to Tuesday in full pads, but was sent back to the locker room to change his gear for helmets and sweatpants workout. "I haven't been in full pads for a while, so I kind of felt like I wanted to get used to it," he said. "I wasn't allowed to wear them, so I had to take them off." He said he wants to play this week. "It's not just up to me… and it's not Thursday yet." … Linebacker Dont'a Hightower was upgraded to a limited participant on Tuesday, his first practice since sitting all of last week and Monday with a knee injury. Fellow linebacker Jonathan Freeny was an addition to the injury list, limited by a shoulder injury. Defensive lineman Trey Flowers (shoulder) was also a limited participant, along with guard Jonathan Cooper (foot). CB Eric Rowe (ankle) sat out a second consecutive day.
___
AP NFL website: www.pro32.ap.org and http://twitter.com/AP_NFL
___
Follow Kyle Hightower on Twitter at http://www.twitter.com/khightower