Patriots
Patriots-Texans prediction roundup: NFL only has itself to blame for ratings dip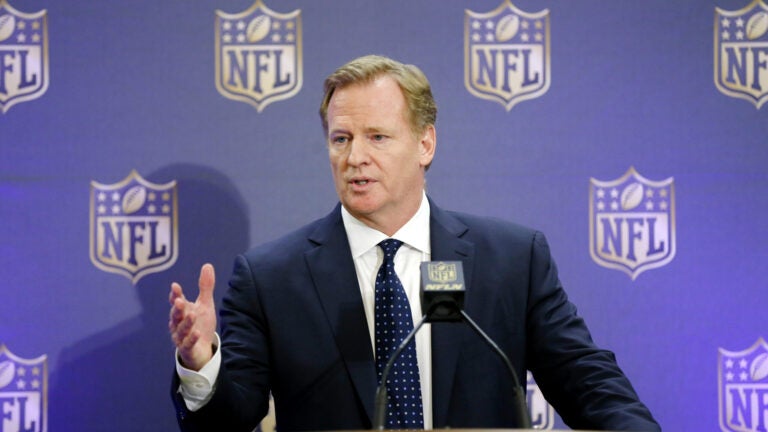 COMMENTARY
Maybe it's just a sign of crappy early-season matchups with second-tier quarterbacks filling in. Perhaps it's because of the compelling baseball pennant races taking the attention away from the sports television landscape.
Then again, are the dipping TV ratings for the NFL indicative of something more?
The  numbers are down, quite significantly, considering Monday's Chicago Bears-Philadelphia Eagles game saw an 11 percent drop in ratings from ESPN's Week 2 coverage one year ago. Don't blame Sean McDonough though; NBC was down 13 percent from last year's Week 2 numbers with its Sunday night matchup between the Green Bay Packers and Minnesota Vikings. Against the Emmys, sure, but when has that been an excuse for the NFL in the past?
Los Angeles just went and got itself a new football team, and wouldn't you know, only 12 percent of households bothered to tune into the Rams' first home game since leaving St. Louis, where they did worse in the ratings only three other times. Nice start.
Yes, the kids are watching Red Zone in order to keep up with their fantasy studs, but that has no impact on the prime-time TV ratings. There is a presidential election going on, but that's an excuse to concern the NFL down the road when it goes against a debate, not during mudslinging season.
Major League Baseball has some compelling wild card races in both the American and National Leagues. That's never been a problem for the NFL's dominance on television.
So, maybe it's a sign of the smoldering disgust the public has brewing for the NFL, commissioner Roger Goodell's omnipotent power, the league's ignorance regarding concussions and CTE, the phoney-baloney pink tribute to breast cancer every October, the swath of punishments it hands down to its players and coaches, with no rhyme nor reason for each duration. Even the court says so.
Ironically, here come the Patriots to save the day. Even though New England's season-opening game against the Arizona Cardinals was down 11 percent from NBC's opener a year ago, it drew a drew a 37.6 household rating in the Boston market, ranked as the second-best opener ever for the franchise.
But with Jacoby Brissett taking the quarterback straw from Jimmy Garoppolo who took it from Tom Brady, against the Houston Texans, it might mean another hit for the league in the national ratings book. People in Idaho might tune in for Brady. Color rush? Phil Simms? A rookie quarterback? No, thanks.
Just remember whose fault that last factor is.
This week's picks:
ESPN.com: Four out of seven pick the Patriots.
Greg Cote, Miami Herald: Patriots 20, Texans 17. "Here is one of only two NFL Week 3 matchups in which both teams are 2-0. And how about this: Winless Dolphins are tied for week's biggest favorite, while unbeaten Patriots are underdogs — at home. WHAT THE HECK IS GOING ON HERE!? Actually, the Miami point spread can be explained in two words: "Cleveland Browns." This betting line is more involved: New England is down to third-string quarterback Jacoby Brissett making his first NFL start, with Tom Brady still suspended and Jimmy Garoppolo's shoulder injured against the Dolphins. J.J. Watt and a defense that hasn't allowed a TD in six quarters are facing a raw QB. Rob Gronkowski (hamstring) might not play again. Plus, this opponent knows the Pats well. Houston coach Bill O'Brien and defensive boss Romeo Crennel both served under Bill Belichick. Texans linebackers coach Mike Vrabel is a longtime ex-Patriot, as is defensive tackle and Old Cane Vince Wilfork. So, OK, fine. I get all that. And I still don't buy NE as a home 'dog, however slight. Because it's still Belichick and the Pats in Foxborough, where they've won 27 of the past 29 games. This team finds a way. It just does."
Pete Prisco, CBS Sports: Patriots 21, Texans 16. "This will put Bill Belichick to the ultimate test: Trying to beat a good team with a third-team passer. Jacoby Brissett will make his first start against a good Texans front. Even so, why do I think the Patriots will find a way? Defense will carry them in this one."
CBS Sports staff: Split (New England + 2 1/2).
FiveThirtyEight: New England with a 70 percent chance of winning.
Bryan Altman, CBS Sports: "Garoppolo, Brissett, O'Donnell, Clinton… I don't care. Pats all the way on Thursday night.
"(Note: Patriots fans, please take this as the compliment it is and not as some weird, backhanded knock on Tom Brady. Don't make me regret praising you guys and your evil empire.)"
Michael Hurley, CBS Boston: Patriots. "Because even if the quarterback is a guy named Fitzy picked out of the stands, the Patriots as an underdog at home is too enticing to pass up. The Patriots are also 4-0 against the Texans since 2012, outscoring Houston 144-79."
Gerry Dulac, Pitsburgh Post-Gazette: Patriots 19, Texans 17. "The Texans are trying to start 3-0 for only the second time in their brief history (2012) and are coming off a victory that ended Kansas City's 12-game regular-season win streak. They might get a break if rookie quarterback Jacoby Brissett has to start for Jimmy Garoppolo for the Patriots, who are 27-2 in past 29 home games."
SB Nation staff: Six out of 10 pick the Texans.
Globe staff: All New England.
<b>It says here: Patriots 17, Texans 10</b>. After bending to the point of breaking during the second half against the Dolphins last week, the Patriots' defense shines against the Texans. With the Patriots' offensive playbook simplified under Brissett, it will probably have to.