Patriots
27 thoughts on Jacoby Brissett, LeGarrette Blount, and the Patriots' rout of the Texans
The Patriots have had countless stirring wins in the Belichick era. But this one, with a third-string rookie QB making his first start, is unlike any other.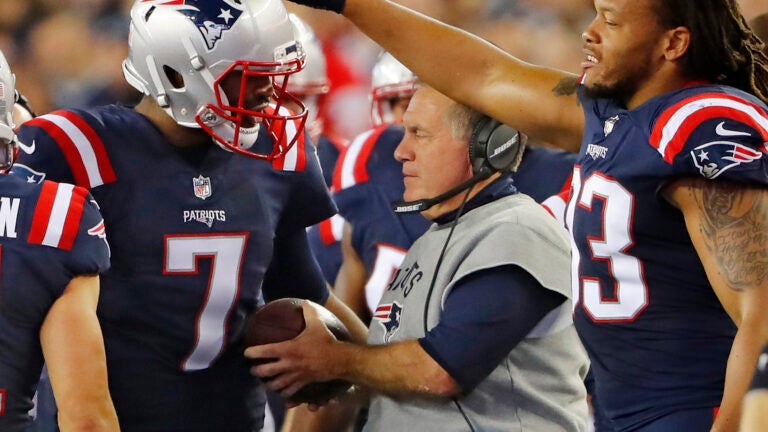 COMMENTARY
One for every Patriots point scored during an extraordinary takedown of the Texans, or for approximately every Houston possession that began inside their own 20 …
1. I suppose this shouldn't come as a surprise since Bill Belichick is arguably the greatest coach in NFL history. But he has to be the greatest unexpected-circumstances coach there has ever been.
2. How many other coaches in the NFL — not just now, but ever — could guide a team to a win three games into a season, in a short week, with a rookie at quarterback, occasionally using a triple-option, against a good team with a coaching staff familiar with his thinking?  I'll grant you Rod Rust. But who else?
3. The Patriots kept the offense so conservative that it's surprising Curt Schilling didn't send out a tasteless, factually inaccurate meme about it.
4. But I don't know how you come away from that game without an appreciation for Jacoby Brissett. He could not possibly have had an expectation — maybe a daydream, yes, but not an expectation — that he'd be starting at quarterback for the Patriots two full games into his career.
5. Yet he made a couple of big plays, channeling 1976 Steve Grogan on a 27-yard scoring run for the Patriots' first touchdown. More important, he didn't make a big mistake. He was prepared. That's a tribute to his coaches, but don't forget it's a tribute to him as well. No wonder the Tuna loves the kid so much.
6. I caught some grief after the Cardinals game when I said, with only a hint of facetiousness, that the Patriots clearly have the two best quarterbacks in the AFC East in Tom Brady and Jimmy Garoppolo. So I'll resist the wise-guy retort that I was wrong and they really have the three best QBs in the division, but only because I kind of like Tyrod Taylor.
7. After his performance last night, I'll hear theories that Brock Osweiler's comeback against the Patriots last year was all a long con by Belichick to get some AFC team or another to hilariously overpay him.
8. The Texans didn't have a single snap on the Patriots' side of the field until there were 16 minutes and 15 seconds left in the game. The expectation entering the Bradyless first quarter of the season was that the defense would have to pick up the slack in his absence. Thursday, they picked up the slack, then dropped it on the Texans like an anvil.
9. Another expectation was that LeGarrette Blount and the running game would have to take on a larger part of the workload. That has happened — or at least it did last night, with Blount surpassing 100 yards and scoring two more touchdowns. That was a Sam "Bam" Cunningham performance right there.
10. Blount now has 20 rushing TDs in his two-plus seasons with the Patriots, putting him one behind his most similar player stylistically in this Patriots era, Antowain Smith. He is the anti-Maroney.
11. Blount's post-touchdown pose with the End Zone Militia is one of the most enjoyable new developments of the season.
12. Don't hear too many concerns about the Patriots' offensive line these days, do we?
13. As it turns out, Rob Gronkowski's presence was just an unnecessary threat of reinforcement in case the Texans decided to show up.
14. Love watching Cyrus Jones with the ball in his hands on punt returns. But it's nerve-racking waiting to see if the ball will actually remain in his hands. Stevan Ridley became an afterthought for less.
15. Nothing specific about Thursday's broadcast brought me to what I'm sure you'll consider an overdue conclusion: I'm beyond my tipping point with Jim Nantz and Phil Simms.
16. Bring on Peyton Manning next year. Better, give me the Gumbel-Green-Erdahl team for the rest of the season on CBS broadcasts.
17. He's in Season 2 with the Texans, but it's still strange seeing Vince Wilfork in another team's size XXXL jersey. Always will be, too. A mustard-colored jacket might look right, though.
18. It's going to be fascinating to see when the rest of the league catches up to Belichick's approach, executed so well by Stephen Gostkowski, to kick off to the goal line rather than drilling the ball through the end zone.  The Texans' return men were picking up the football like they suspected a pin had been pulled from it.
19. As far as cynical money-grabs by the NFL go, the Patriots' color rush uniforms weren't terrible.
20. Trey Flowers, Chris Long, and Jabaal Sheard all seemed to be everywhere all night. Yes, seems like they're going to be all right without Chandler Jones. But you knew that already.
21. Don't remember seeing J.J. Watt in any commercials. Don't remember seeing him in on any tackles, either. If you told me he and DeAndre Hopkins left Gillette at the end of the third quarter to beat traffic, I might buy it.
22. Offensive coordinator Josh McDaniels is making a hell of a case for a second chance as an NFL head coach. Hunch here, however, is that he'll still be on the Patriots' sideline when Belichick is not.
23. Decent four-day stretch for Duron Harmon, who made the game-ending interception against the Dolphins, then recovered a fumble on a kickoff that set up the Patriots' first touchdown against the Texans.
24. Harmon is yet another of those Kiper-bewildering draft picks (third round, 2013) who has turned into a dependable (or better) NFL player in New England. He's also another reminder that pre-draft ratings and post-draft grades are entertaining, but not necessarily insightful.
25. Yeah, that was cool. But can they win with their fourth-string quarterback?
26. Actually, they probably could, if they had one. This has been extraordinary even by Belichick-era Patriots standards, folks. Extraordinary among the extraordinary.
27. That's one decent thing about playing on Thursday night. Win stirringly, and you get to savor it for a few extra days. The Patriots will. They deserve to. And then: You're next, Rex.