Patriots
These Patriots have been — and will continue to be — Bill Belichick's team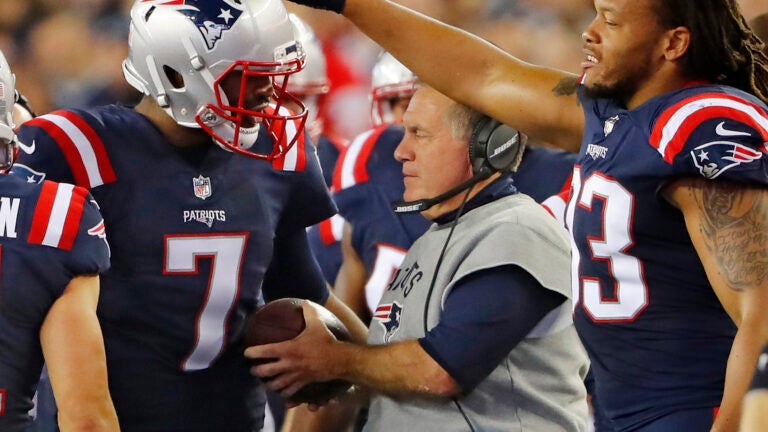 COMMENTARY
Here are a few inspired words about the head coach of the New England Patriots after Thursday's 27-0 win over the Texans:
Bill Belichick is pretty good.
Bill Belichick is kind of smart.
Bill Belichick knows a lot about football.
He's now won as many NFL games as the great Curley Lambeau, and more than all but three coaches in history. This is a big deal. At this point, everything the guy does is in the vicinity of something that's never been done before. We've run out of ways to describe it.
After Thursday's win there was a lot of talk about how it had been proved once and for all that Belichick is one of the all-time great coaches in any sport. But we already knew that. This has been true since, I don't know, his first Super Bowl win? The 21 straight wins? The back-to-back Lombardis? The undefeated regular season? The time he cured polio? The year he won 11 games with a starting quarterback who hadn't thrown a pass since high school? The fourth Super Bowl ring? When he taught those Jamaican sprinters how to bobsled and they taught him how to love? The five straight AFC Championship games?
Somewhere in there he became the best, but if you've watched Belichick closely these last 17 years, you know this season feels a little different. It's a lot different. It's also a little familiar; but there's no precedent for the level of distraction and layers of unnecessary garbage the Patriots have waded through these first three games. They lost Tom Brady, then Rob Gronkowski, then Dont'a Hightower, then Jimmy Garoppolo. They've played three games in 11 days when it's not even safe to play one game in 11 days. They had a 24-year-old second-year quarterback make his first start on the road, in prime time, against one of the best teams in the NFC. They then had a 23-year-old rookie quarterback make his first start on a short week, in prime time against one of the supposed best teams in the AFC. Yet here are the Patriots, 3-0. They might be the best team in the NFL but simultaneously nowhere close to their own best. It makes no sense.
It's funny to think about all this right now — exactly today. If you're reading this on Friday it's the 15th anniversary of the hit that nearly killed Drew Bledsoe and changed the NFL forever. One thing you might remember about that first season with Brady is that he wasn't that good. He wasn't even Tom Brady until the Snow Bowl. He wasn't REALLY Tom Brady until New Orleans. Even then he was only OK. He threw multiple touchdowns in only five of his 14 starts. He had five starts with zero touchdown passes. He had only one 300-yard passing day and his next highest total was 258.
Back then the Patriots weren't Tom Brady's team, they were just a team with Brady on it. They were as much about Bruschi and Vrabel and Seymour and McGinest as they were about the quarterback. This only became Tom's team when he was the only one left, but as these last few weeks have reminded us, that's not even true. They weren't Tom's team then and they're not his now. They're not the Kraft's team. They're not the NFL's team. They're not a random assortment of talented players thrown into a big sweaty stew, but instead intricate pieces in Bill Belichick's insane puzzle.
Take some of the biggest plays from Thursday's win, like the fumble on the punt return that led to the Pats' first touchdown. That fumble was caused by Brandon Bolden, an undrafted running back who battled fumblitis, a PED suspension and has run for a total of 300 yards in the last two-plus seasons. He shows up every August on the projected roster bubble. Some people still wonder what he adds.
Houston's second special teams fumble wasn't caused by a football player. Nate Ebner didn't even attend training camp this summer because he was playing Olympic rugby in Brazil. He didn't play football in high school or his first two years at Ohio State. Those last two years he only played special teams. So naturally Belichick drafted him in the sixth round and four seasons later he's still here.
These are the guys Belichick looks for. This is who he keeps around. Not necessarily stars but single beams of light that together can illuminate the big picture. It doesn't matter who a guy was before. He picked up Alan Branch after he was released after a DUI arrest. He picked up LeGarrette Blount after he was released for walking off the field early during a game. It doesn't matter where a guy was before: He picked up Jabaal Sheard, Chris Long and Barkevious Mingo from NFL bottom feeders.
He's not building Madden rosters, he's building a real team; an organism that needs to work as one and adapt on the fly and be ready for everything in a world where you're never ready for everything — for instance, when the NFL Commissioner randomly steals your best player for the first four games. Then you defy him by throwing out a backup who somehow looks just as good. But when the backup separates his shoulder and you're left with a rookie and a wide receiver on your quarterback depth chart – what do you do then?
If you're Bill Belichick, you do the same thing you did 15 years ago, the last time a kid was thrown into the mix before he was ready for the training wheels to be taken off. You count on your superior defense and special teams. You lean on field position and time of possession. You wait and you watch and you seize the moment when it presents itself. In this case, you wait for first and 15 from your opponents 27-yard-line and call a bootleg for your rookie QB. You watch him turn the corner, sprint for the pylon, stop on a dime at the five, let one defender run by while another gets driven out of bounds and then fall into the end zone. It's his first career touchdown and six points the opponent won't recover from.
"Jacoby Brissett getting it done with his legs," CBS's Tracy Wolfson (kind of) asked Texans coach Bill O'Brien going into halftime. "How do you adjust there?"
"We made some adjustments after that one touchdown," O'Brien said. "That was a good call by them. They caught us in something. But we're going to regroup at halftime and come out with a better half."
Translation: We were outcoached. We got had.
In a way you almost feel bad for Jacoby Brissett, who reportedly suffered a thumb injury in the win. Not really, but at the same time it's hard to overstate the challenge he had in front of him this week, a short week. Making his first start on national TV against a defensive line that features three-time Defensive Player of the Year JJ Watt, future Hall of Famer Vince Wilfork and former No. 1 overall pick Jadeveon Clowney. If you look back, he was far from perfect. He definitely left some points on the field. But he was good. He was certainly good enough. No matter what happens next week or in any week after that, Brissett has left his fingerprints on the Patriots' dynasty and Tom Brady's career. New England will always remember Jacoby Brissett. For everything that went into New England's ridiculous win, that 27-yard-touchdown was the turning point. That was a big-time NFL play. It was something only a handful QBs could pull off or even attempt. Brissett deserves some time in the spotlight for what he did.
But, still, the story is Bill Belichick
And based on what Brissett did with the ball after his touchdown run, there's a pretty good chance he agrees.