Patriots
Loss to the Bills won't exactly haunt the Patriots for long
Come Monday morning, our long, national nightmare of Deflategate will officially be over.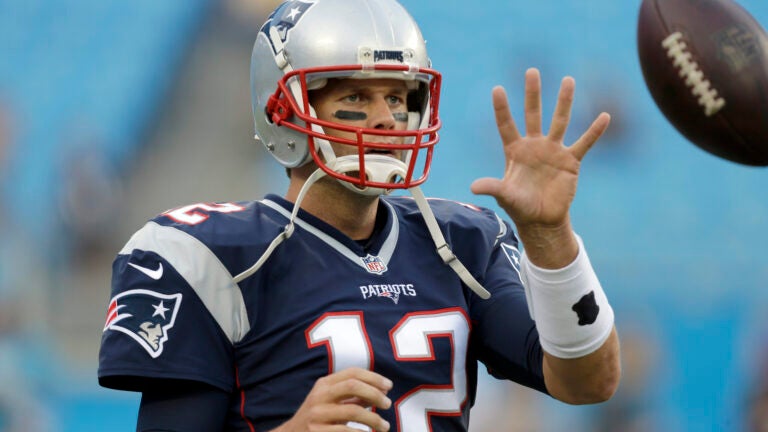 COMMENTARY
This one will linger.
For a day.
Maybe.
Oh, it just might be the worst loss in the history of Gillette Stadium, a 16-0 drubbing at the hands of the Buffalo Bills Sunday afternoon. Buffalo coach Rex Ryan may crow about this one for as long as the franchise elects to save his job. But it really doesn't mean anything.
Not a damned thing.
Congratulations to Buffalo for winning the finale of what the New England Patriots might consider their second exhibition season, a quartet of regular-season contests played with second-and-third string quarterbacks, replacement players that were decent enough to lead their team to a 3-1 record without its most integral player and leader anywhere on the field, locker room, or practice facility. Rex and brother Rob were able to beat rookie Jacoby Brissett, making his second-ever NFL start.
Neat.
From Brissett's rookie mistakes to Cyrus Jones' indecisions in the return game to Bill Belichick's abuse of a Microsoft Surface to the disappearance of Rob Gronkowski, Sunday's loss to the Bills was about as ugly as anyone born post-Orthwein can ever remember it being along Route One. Ten days after Belichick and company put on a coaching clinic against the Houston Texans, it all unraveled in a systematic breakdown of all three phases of the game. If last week was a game film Belichick might have liked to romance, then this week's is getting dumped via text.
"We just didn't have a very good day today," Belichick said. "I think we're a better team than we showed today. But we just didn't do anything well enough today."
It was the first shutout loss for the Patriots at Gillette Stadium, which opened in 2002. There were no bright spots.
"Nothing was good enough today," Belichick said.
Nothing.
Nor does it matter.
Come Monday morning, our long, national nightmare of Deflategate will officially be over, except in the prideful minds of the NFL's head honchos who stuck to their guns even as the rest of the world mocked them for their witch hunt of Tom Brady and the Patriots. Brady has finished with his four-game suspension, and as of this week, can once again haunt the halls of Patriot Place, attend team meetings, and practice with teammates he hasn't seen (wink, wink) for about a month now.
The Patriots are in Cleveland for his return next Sunday. The following week, they host the Bengals. Think they'll still be kicking themselves over a loss to the Bills come mid-October?
New England went 3-1 without its four-time Super Bowl winner and future Hall of Fame quarterback. Maybe with a healthy Jimmy Garoppolo, a perfect record could have been in the Patriots' grasp. But is there any guarantee the Jimmy we saw against the Miami Dolphins in the first half two weeks ago would be the same one that would take the field against the Bills? I mean, I know the kid sealed the league's MVP Award during the final minutes before he injured his shoulder, but let's not make assumptions based on five-and-a-half quarters.
Brady will take 3-1, particularly with any lingering demand for Garoppolo to keep playing in front of him filtering into silence. Brissett may go on injured reserve for all we know, leaving Brady and Garoppolo as the main cogs in the quarterbacking lineup. Barring any season-altering moments, Garoppolo will get his next start next season at the earliest. Maybe here. Maybe elsewhere.
"I mean, 3-1 is not a bad start at all," Gronkowski said, "but when you lose you've got to see what you did wrong, correct it, go back to the practice field and get back on the right track."
Brady is back. That's a start.
Belichick is thrilled.
"Right now my thoughts are on the Buffalo game," he said when asked about Brady's impending return during his post-game press conference.
But the coach should probably also spend a scant of exhaustion breaking down where his team made mistakes against the Bills. He should hope for better interaction between Brady and Gronkowski, expect more consistency in Edelman's game with his Boy Wonder behind center. Cyrus Jones is going to be doing some laps this week. But that's about all Belichick is going to get from the game film. At least all that matters.
"Every week is a challenge in this league," Belichick said. "We all know that. We just have to perform better. We have to coach better. We have to play better in all three phases of the game. It's like that every week in the National Football League. If you don't perform well, you don't do well."
New England did neither on Sunday against Buffalo. The result was predictable.
They're not perfect. They're not striving for 19-0.
Oh well.
On Monday, Tom Brady will walk past the Gillette lighthouse, and into the Patriots locker room for the first time in four weeks. He'll take the field with his teammates during the week, hold his weekly press conferenceon Wednesday, and fly to Cleveland over the weekend for his first real action since last January's AFC Championship game.
Welcome to the beginning of the 2016 NFL season.
The Patriots lost to the Buffalo Bills.
On Oct. 2.
It'll be pretty easy to forget this one soon enough.
"You've got to give hats off to Jacoby today going out there," Gronkowski said. "Much respect to him going out there and doing what he did today as a rookie, so hats off to our quarterbacks. They did a tremendous job the first four weeks and obviously it's exciting to get Tom back tomorrow."