Patriots
5 reasons the Patriots lost to the Bills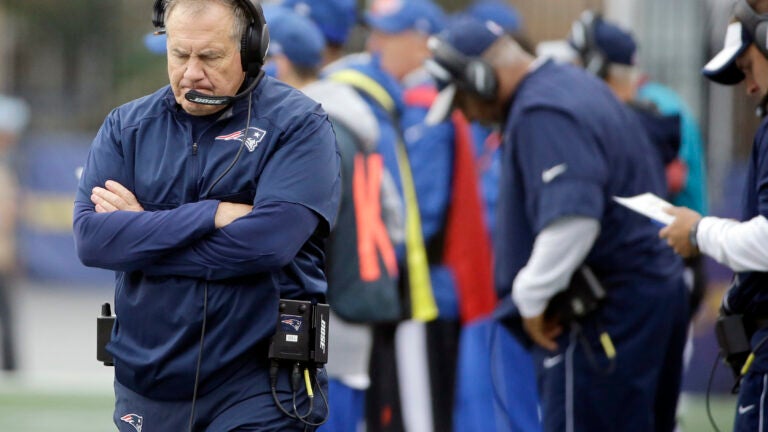 COMMENTARY
As incomparably good as the Patriots have been this century, there seems to be one game pretty much every season in which everything goes unexpectedly — and most uncharacteristically — wrong. The Eagles game last year. The Chiefs game the year before that. Losses to the Cardinals, Browns, and Dolphins in the years before those. And so now the 2016 Patriots are hoping that becomes the legacy of Sunday's loss to the Bills, too. Because if it's instead an indicator of what type of team they are, New England is in some trouble.
When the afternoon opens with an opposing player shoving your rookie quarterback as he's running up the sideline during pre-game warmups, spark shouldn't be difficult to find. Yet, even after Bills safety Robert Blanton set off a skirmish by bumping Jacoby Brissett, the Patriots came out flat, stayed flat, and never sprung to life. They were within two scores all afternoon, but never seemed to legitimately be in the game, and were so outclassed by Buffalo on every level that Rex Ryan should have license to say or do whatever the heck he wants leading up to the rematch between these teams later this month.
Beyond that listlessness, here are five reasons for the Pats' 16-0 setback:
A brutal start:  It set the tone. After dominating their first three opponents in the opening quarter — by an aggregate count of 34-0 — this week it was the Patriots who appeared to be ill prepared. Consider the opening sequence, which began with the Pats facing poor field position after Cyrus Jones decided to take the opening kickoff out of the end zone (he got to the nine-yard line). That start was then compounded by wide receiver Chris Hogan's offensive pass interference penalty that negated a 90-yard reception. New England then didn't take any chances with Brissett backed up against the goal line, conservatively calling three run plays and punting. The Bills then took their first possession and marched 65 yards in 12 plays. That turned out to be the game's only touchdown, but the Patriots never recovered. The coaching staff's lack of confidence in Brissett was evident in its play selection: New England's first five offensive drives lasted four plays or fewer. Meanwhile, a Buffalo offense that entered averaging just 4.8 plays per series — third-worst in the NFL — opened with drives of 12, 10, 12, and eight plays. By then they had a 13-0 lead, and a firmer grip on the game than the scoreboard even said.
Early third downs were a killer: The Patriots kept the Bills out of the end zone over the final 50 minutes of play. That fact was hardly illustrative of the defensive effort from the home team, especially on third down. On Buffalo's touchdown drive, it converted a pair of third-and-7 chances in the red zone, the second of which was running back LeSean McCoy's scoring grab. A 13-yard pickup on third-and-21 made Buffalo's first field goal a much easier kick. Moving the chains on third-and-4 extended the drive that resulted in Dan Carpenter's second successful kick. That was particularly disappointing for Patriots fans because the Bills arrived in Foxborough with the league's 30th-ranked third-down offense. They came in at 28 percent, then opened 4 of 6 (67 percent) before finishing 7 of 15 (47 percent). As a result, a Buffalo attack that was averaging just 14.3 first downs per entire game had achieved 16 of those before halftime. In the end, the Bills' 24 first downs enabled them to keep the ball for 36 minutes and 11 seconds of the game, and dictate field position throughout a game where the Patriots' defense forced just one three-and-out drives (that coming on the opening drive of the second half).
New England's offensive game-plan: It doesn't much matter whether it's Brissett's lack of capabilities, or simply the coaches' perception that he lacks the capabilities. Whatever the reason, the Patriots took an ultra-conservative offensive approach on Sunday. Within that strategy, they weren't able to string together enough plays to score — let alone challenge a Bills defense that was allowed to play without an ounce of fear. New England threw the ball just three times in the first half, opposed to 13 runs. The conservative nature was never more evident than on third down. The first three times they faced that predicament they kept the ball on the ground, including an inside toss to running back James White on third-and-15 from their own 30. Before the level of desperation increased in the second half, even when they did pass, they asked Brissett to make short throws on plays beginning with some element of misdirection. The extent of exotic strategies was using wide receiver Julian Edelman as a wildcat quarterback a couple of times. But with the Bills hardly needing to fear the passing game anyway, those plays went nowhere. At no point did New England's offense appear to be in rhythm, or even urgent. Tom Brady's return couldn't come at a better time.
Too many mistakes at critical points: As bad as it was overall, there were potential turning points in this one. Yet, the Patriots failed to seize those fleeting opportunities. Third down is always crucial, and on top of the defense's difficulties, New England's offense went one for 12. It did hit on a fourth down early in the third quarter to extend a drive that lasted 11 plays, but that ended with kicker Stephen Gostkowski letting a 48-yard field goal try leak wide to the right. The only other time the Pats were in scoring position over the first 55 minutes of play, they gave the ball away before they could even get it to Gostkowski's foot. A 58-yard catch and run by tight end Martellus Bennett took New England into the red zone, then they had a manageable third-and-1 at the Buffalo eight-yard line. However, David Andrews was whistled for holding, and Brissett fumbled when he left the ball exposed while scrambling on the subsequent snap. It's sequences like those that result in a team being shut out for the first time in a decade.
Putting it plainly … everything: It was the Bills who came in with the reputation for being undisciplined and with doubts about their ability to focus and prepare. But Buffalo had the advantage Sunday on offense, on defense, on special teams, and even in coaching. Bill Belichick's club was beat in every facet of the game, even helping to beat itself with nine accepted penalties. "We just didn't do anything well enough," surmised the coach, who didn't seem in much of a mood to answer questions afterward. "I think we're a better team than we showed today," Belichick said. Time will tell if he's right.