Patriots
Patriots coordinators ready to get key players back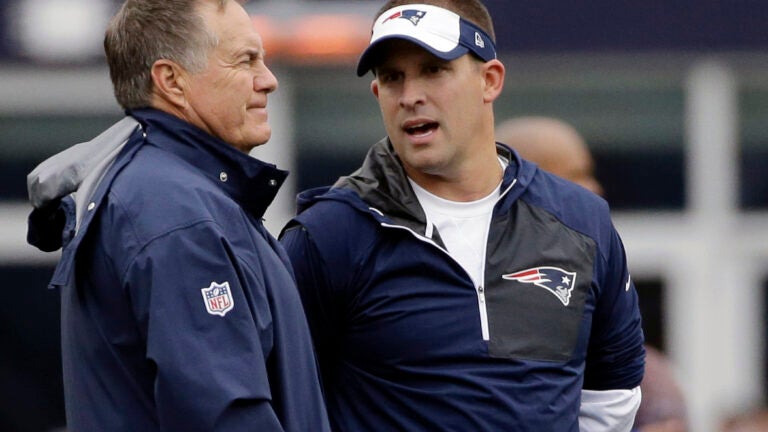 FOXBOROUGH, Mass. (AP) — The New England Patriots' offensive and defensive coordinators are ready to get key players back as Tom Brady and Rob Ninkovich return from suspensions for Sunday's game at Cleveland.
Both rejoined the team Monday after serving four-game suspensions — Brady for "Deflategate" and Ninkovich for violating the NFL's policy on performance-enhancing substances.
Both, not just Brady, are keys to their respective units.
"It was four weeks and it felt like it went fast and Tommy is ready to go and looks ready to go," offensive coordinator Josh McDaniels said on a conference call Tuesday.
"We'll see how everything goes tomorrow at practice and kind of just build one day at a time as we go through the week."
While all the focus has been on Brady, who returns to a 3-1 team with Jimmy Garoppolo and Jacoby Brissett both starting two games and both getting hurt, Ninkovich is important to the defense.
The Patriots traded sack leader Chandler Jones and just got linebacker Dont'a Hightower back from a two-plus-game absence with a knee injury.
Ninkovich, a hybrid defensive end/linebacker who started all 16 games for five consecutive seasons, had 6½ sacks and seven passes defended last season.
"I think Rob has had some really good productive years here through his career," defensive coordinator Matt Patricia said.
"He's done a great job for us just from being a guy that's come in the building as a true professional and a guy that really kind of embodies everything that we're looking for from a point of work ethic and trying to improve — trying to get better and trying to do his job out on the field.
"It's always good to have everybody in the room, ready to go as much as they can be, so I'm excited to have all of those guys."
McDaniels applauded the work the young quarterbacks put in during Brady's absence.
But neither is Brady — and he returns from an in-season absence for the first time (in 2008, he was lost for the season early in the first game).
"It's going to be as normal as it could be," McDaniels said of the star's first week back.
"The biggest thing is to go through our preparation as we normally do to prepare for the opponent and to prepare for what our game plan is and how we want to execute it, and go out there and use our opportunities on the field to execute and to get back into playing football.
"And being around his teammates and running our offense and doing the things that we ask the quarterback to do here. I don't see it being much different in terms of a normal game week.
"We'll try to do all the right things in terms of preparing and getting ready to play a team that we know very well and are hard to get familiar with and go there and play a game on the road in a tough place to play."
McDaniels said of Garoppolo and Brissett: "I think they did as much as they could to prepare themselves for the opportunity that was ahead of them and went out there and tried to execute the game plan as they could.
"There are a lot of things that they learned and a lot of things that we learned that we'll work on moving forward and we're going to do that.
"Their preparation won't change. They're going to continue to work as hard as they can to prepare themselves to play each week and be ready to go if they're called upon."
___
AP NFL website: http://www.pro32.ap.org and AP NFL coverage on Twitter: http://www.twitter.com/AP_NFL