Patriots
33 thoughts on the Patriots' victory over the Browns (and the return of you-know-who)
Tom Brady is back, and his performance was brilliant even by his usual high standards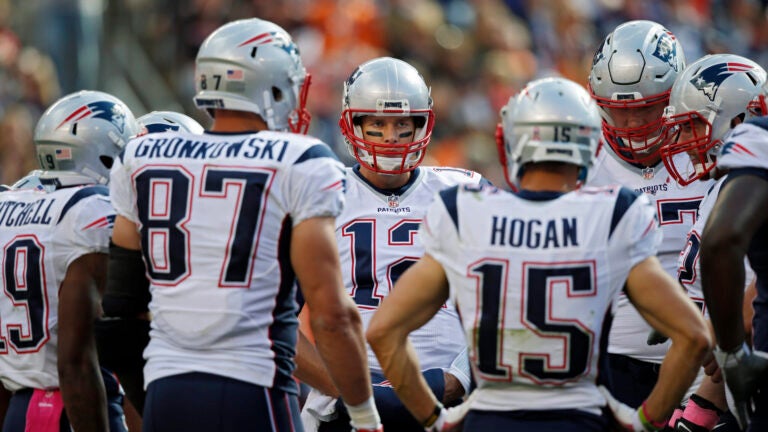 COMMENTARY
1. I didn't know it was still possible to be surprised by what Tom Brady achieves on a football field. He's pulled off so many improbable feats that his truly extraordinary efforts — like, say, driving the Patriots to a comeback victory over a superb Seahawks defense in Super Bowl XLIX, for instance — are considered par for the course. But what he did Sunday — throwing for 406 yards and leading the Patriots to a touchdown on their first three possessions against the Browns despite not having played a meaningful snap since January — was a step beyond brilliant. I don't know if there's another quarterback in history — especially one in the range of his age — who could pull that off. He makes it look so easy that you have to remind yourself that it is not, that it cannot ever be taken for granted.
2. When Brady says "I could do better in a lot of areas," the amazing thing is that he honestly believes it. He seemed like the happiest guy in America during his postgame press conference Sunday — his most engaging in a long time, understandably, on all counts — but I bet there are a half-dozen plays the Patriots left on the field Sunday that are driving him nuts today. It's why he is who he is.
3. Actually, Brady might have been the second-happiest guy in America yesterday, behind Rob Gronkowski. He seemed downright giddy not just to have Brady back but also to see his fellow tight end Martellus Bennett have a monster day. There's some symmetry in Gronk returning to full powers (six catches, 120 yards) the same day Brady returns.
4. Martellus Bennett has played five games for the Patriots, and I've already been dramatically wrong about him four times.
5. I thought, based on his 8.0 yards per reception average with the Bears last year that he wouldn't nearly be the threat in the open field that he has been this season (15.0 ypr, and he can move).
6. I thought there was a chance that he would be one of the surprise cuts in training camp, based on the thin assumption that there are almost always surprise cuts and, well, he seemed to talk an awful lot, maybe more than Belichick would prefer.
7. I thought he would not be content with aiding the offensive line in the blocking game. He was downright ferocious as a blocker in Week 1 against the Cardinals, and he's probably better at it than Gronk is. And Gronk is very, very good.
8. And I thought his season was over Sunday when he was writhing around on the turf with what looked like a major ankle or knee injury. Three touchdowns later …
9. So I figure I should keep saying stupid things about him and he'll continue to look like one of the Patriots' best offseason pickups in years. It's a deal I'm willing to make.
10. One of the more important encouraging twists Sunday was how quick Brady was to connect with two of the newcomers, Bennett (6 catches, 67 yards, and the aforementioned 3 TDs) and Chris Hogan (117 yards, with catches of 63 and 43 yards).
11. We know the old standbys like Gronk and Julian Edelman would reconnect with Brady like no time had passed. But if the new guys are on Brady's wavelength already, this offense is going to be as unstoppable as any they have had since the first half of the 2007 season.
12. Hogan looks like a revelation, at least to those of us who weren't terribly familiar with him in Buffalo. The presumption was that he was another slot guy in the Edelman/Welker/Amendola mold, in part because he averaged just 11 yards per catch during his three seasons with the Bills.
13. But he's much bigger than they are (6-foot-1, 220 pounds) and much more of a threat vertically: He's averaging 19.7 yards per catch this year, and that includes his 1-catch, 3-yard performance against the Texans. Take that out and he's averaging a Stanley Morgan-like 21.2 yards per catch.
14. While I'm admitting things I was wrong about: I'm ashamed I didn't recognize Brady's sideline celebration after "scampering" for a first down as a mimic of Usain Bolt's routine after winning a race. I was one of the middle-aged nitwits who thought it was a failed dab.
15. His return was overlooked, which is probably fitting given his career arc, but Rob Ninkovich was back after his four-game suspension. He made one tackle, but you know how it goes: He'll be both essential and unsung all season long.
16. Stephen Gostkowski has made 87 percent of his field goal attempts during his 11 seasons with the Patriots. He's off to a slow start this year; he's made just 7 of 10 after making 1 of 2 against the Browns. It's a minuscule concern, I suppose, but if any kicker not named Adam Vinatieri deserves a deep benefit of the doubt, it's Gostkowski. He'll be fine.
17. Not that kickers have evolved or anything, but percentage-wise, Gostkowski has been a slight upgrade on Vinatieri (who made 81.9 percent of his kicks, and roughly 100 percent of his huge ones). Third on the Patriots' field goals made list is Gino Cappelletti, who made 176 — but hit just 52.9 percent of his attempts. And behind him is John Smith, who hit 67 percent in his 10-year career.
18. Amazing that the Patriots have required just three kickers in the last 21 years – Vinatieri, Gostkowski, and Shayne Graham, who scored 71 points in eight games in 2010 after Gostkowski suffered a quadriceps injury. You remembered Shayne Graham, right?
19. I suppose it would be easy to dismiss the Browns, who entered the game 0-4 and ended it with a suspenseless fifth loss. But I got the impression Brady and Belichick both have respect for coach Hue Jackson and the way he runs the operation.  The problem is that they lack high-end talent on the roster beyond Joe Haden, Joe Thomas and one or two others, and aren't too deep in decent players, either.
20. We'll see if Browns owner Jimmy Haslem has the patience to let Jackson build an actual program. But they were about as impressive of a winless team in a 20-point home loss — I know, faint praise — as I can imagine seeing. Now if they can just do better than to punt away first-round draft picks on the likes of Johnny Manziel and Justin Gilbert, they might be headed somewhere.
21. Charlie Whitehurst must have wanted out of that game. Otherwise, wouldn't he have healed his own injury?
22. Imagine how the Patriots might have utilized Terrelle Pryor — now an effective and incredibly versatile performer for the Browns — had they signed him last September after bringing him in for a workout.
23. They kept him around Foxborough for a couple of days before deciding not to sign him and instead traded for Keyshawn Martin. Pryor was dealing with a hamstring injury at the time, but what a find he might have been.
24. When did Devin McCourty start looking like Mel Blount?
25. I've hedged on this more than I should based on the latter's decent statistics, but after seeing the highlights of the Titans' win over the Dolphins, I'm going to say it, and I mean it: Jimmy Garoppolo is already a better, smarter and more reliable quarterback than Ryan Tannehill.
26. It took Patrick Chung's second act with the Patriots for some of us to recognize it, but the February 2009 deal that sent Matt Cassel and Mike Vrable to the Chiefs — for a second-round pick eventually used on Chung — was a much better swap than it seemed at the time.
27. Chung, who had the Patriots' lone interception Sunday, has been a much better player in his three years with the Patriots since returning from his one year (2013) hiatus with the Eagles. He doesn't often get the recognition for it, but he is a core member of their defense, in part because he's now playing to his strengths: He's a terrific tackler with the skill-set of a fast linebacker — rather than as a conventional safety.
28. File this one under The Best Is Yet To Come:
Today is the first game the Patriots will have Brady, Edelman, Solder & Gronkowski all in the lineup together since Week 4 of last season.

— Christopher Price (@cpriceNFL) October 9, 2016
29. One of the more amusing moments of the day came during the CSN postgame show. It's a decent, thorough show — I'm always interested in hearing what Dan Koppen and Troy Brown have to say, because they have institutional knowledge of how the Patriots operation works but can still be critical when the situation calls for it.
30. But there's also an element to the program that serves as a test-run for the contrived, negative hot-takes host Michael Felger will kick  around with Tony Massarotti on their afternoon drive show on the 98.5 the Sports Hub on Monday.
31. So it was fairly hilarious when Felger turned to co-host Albert Breer and asked which coaching decision he would second guess. It's standard segment on the show. It did not get a standard answer this time.
32. Breer talked in circles for a few seconds before admitting he couldn't think of one. Felger turned back to him a short time later for a do-over, and Breer had come up with a criticism: the defensive backs didn't play well, or something along those lines. It might have been a fair gripe, but its effectiveness had been lost in the interim required to cook it up.
33. The CBS cameras briefly caught Brady and Garoppolo laughing together on the sideline late in the game after Brady had been pulled for a curtain call with a little more than six minutes remaining.  Sure are compiling a lot of evidence against stupid fake narratives these days.