Patriots
The NFL and Microsoft are standing by the Surface tablet, even if Bill Belichick is not
The Patriots coach says he is "done" using them on the sidelines.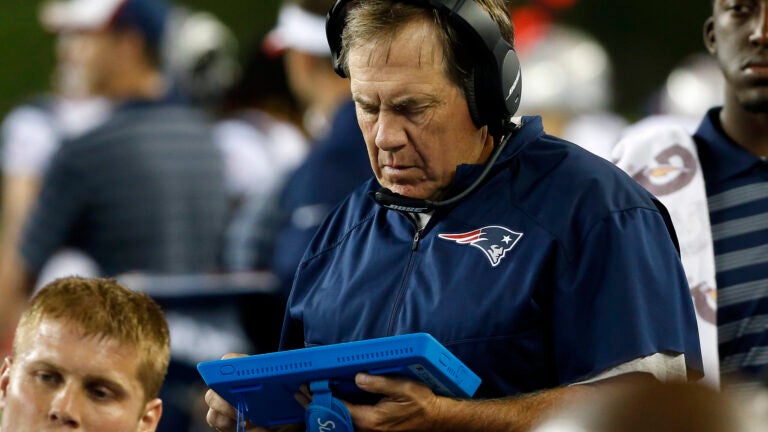 Despite Bill Belichick's verbal and physical bashing of Microsoft's Surface tablet, the technology giant and the NFL are standing by the piece of sideline hardware.
Following Belichick's lengthy denunciation Tuesday of the tablet's reliability, both Microsoft and the NFL, which are corporate partners, put out statements in response to the Patriots coach.
Per ESPN's Mike Reiss, Microsoft said Tuesday they "respect" Belichick's decision to ditch using the Surface on the Patriots sidelines, but that they stand by the tablet's dependability.
"We continue to receive positive feedback on having Surface devices on the sidelines from coaches, players and team personnel across the league," said the NFL's statement Tuesday. "In the instances where sideline issues are reported in NFL games, we work closely with the NFL to quickly address and resolve."
In a separate statement provided Tuesday afternoon to ESPN's Darren Rovell, the NFL said that multiple factors "related to or outside Microsoft's technology" can cause issues within their communications system.
NFL statement on Bill Belichick's comments about the Surface tablet, which Microsoft pays the NFL $80M a year to use pic.twitter.com/jEZxluxXes

— Darren Rovell (@darrenrovell) October 18, 2016
For his part, Belichick said earlier Tuesday that he is "done" with the tablets, which he called "too undependable," citing previous problems that he and team experienced with them on the sidelines.
"I'll use the paper pictures from here on because I've given it my best shot," he said.