Patriots
13 thoughts on the Patriots' stunning decision to trade Jamie Collins to the Browns
Trying to make sense of Bill Belichick's blindside-hit of a deal.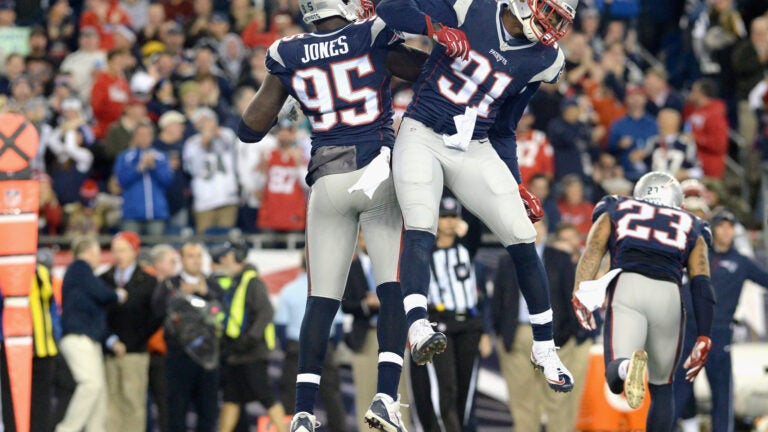 COMMENTARY
Thirteen thoughts, I should say, right after I refresh Adam Schefter's Twitter feed for a 27th time just to be sure again that the staggering news of the Jamie Collins trade didn't come from a fake account …
1. I can't think of an NFL coach/general manager who has made as many shocking decisions with publicly perceived top-end talent as Bill Belichick. I can't think of anyone who has come close, including Jimmy Johnson early in his Dallas years.
Belichick cut popular captain Lawyer Milloy in 2003 in the week before the season opener. He traded Mike Vrabel and quarterback Matt Cassel for a second-round pick after the 2008 season. He traded Richard Seymour, the best defensive lineman in franchise history, to the Raiders in 2009 for a first-round pick. He traded Chandler Jones this offseason … well, you get the gist.
But no transaction was as shocking in real-time as the decision to trade Collins, a young, physically imposing linebacker who seemed — seemed — like he'd be a core player for years, to the Browns for nothing more than a third-round compensation pick that may end up as a fourth-rounder. Belichick blindsided us harder than Collins did any quarterback this year.
2. I don't understand why they did this now. Does anyone outside of 1 Patriot Place? Yes, a third-round comp pick — or a fourth-rounder, even — is a useful asset for the future.
Per source, best Pats get for Jamie Collins is Browns 3rd round comp pick. IF Browns aren't awarded a 3d round pick, Pats get 4th regular.

— Tony Grossi (@TonyGrossi) October 31, 2016
But the Patriots are the best team in the league at the midway point. This isn't about the future — or, the return on the deal isn't enough to make it about the future right now, I should say. The primary focus must be on the present. They have a deep, talent-rich roster and a very real chance to win a fifth Super Bowl in the Tom Brady/Bill Belichick Era.
But their defense is still something of a work in progress. Unless Collins was a malcontent behind the scenes, or they decided he wasn't helping in the present, there's no reason to trade a useful player — can we agree he was at least that? — for nothing that will help this season. This appears to weaken them in a season in which history can be theirs.
3. As baffling as this is, Collins was somewhat overrated by the populace. This is the kind of thing we always admit after the fact, of course. But let's admit we at least had the fleeting thought, especially recently, when his snap count dropped and he was barely noticeable on the field when he was out there. I can't recall seeing him Sunday on anything but third-down situations.
4. Boy, he was fun to watch at his best. But for all of his crazy athleticism — not even peak Andre Tippett could move like Collins does — he gave up as many big plays as he made. For every leap over the Colts' offensive line to power-slam an extra-point attempt, there he was getting toasted — twice — by pokey Broncos tight end Owen Daniels in the AFC Championship Game. The dazzling stuff was something to behold. But the subtle stuff that you and I wouldn't notice must have driven the coaches crazy.
5. So basically, and in sum, the Patriots have traded Collins and a fifth-round pick to the Browns for Barkevious Mingo and a third-round comp pick (that might be a fourth!). Would have looked like a hell of a deal during the 2013 NFL Draft, when Mingo went sixth overall to Cleveland and Collins was stolen — or so it seemed right up until lunchtime today — by the Patriots with the 52nd pick. Weird. Hell, if you'd told me they were making a trade with the Browns today, I would have asked you how much the Patriots had to give up to acquire Joe Haden.
6. Rookie linebacker Elandon Roberts has looked like a find, but he'd better be the linebacker version of Malcolm Butler now, a discovery who quickly becomes a cornerstone. There's so much natural attrition at linebacker that I wonder if there's another deal in the making. At the least, they need to add further depth there now, even if they believe they have something in Van Noy.
7. Collins's contract status was obviously a factor here. ESPN's Schefter  noted that he'd heard Collins was looking for a $100 million-plus deal, which was not happening.
With Jamie Collins contract coming up, he was at one point asking for what one league source described as "Von Miller money." Von: 6-$114.5M

— Adam Schefter (@AdamSchefter) October 31, 2016
8. Rather than let him walk, they got something for him now, which I get to some degree. But you'd think they could have received more than a third-rounder for a player with his highlight reel. Can't you see a sudden contender like the Raiders coveting Collins? Or the Cowboys? Strange. All of it is strange.
9. However … it should be noted that Belichick was right about Milloy … and right about Vrabel/Cassell … and right about keeping Wilfork over Seymour … and while the jury is still out on the Jones deal, the Patriots turned him into Joe Thuney and Malcolm Mitchell. It seems improbable that he could be right about this trade. But Belichick has a damned good won-lost record against the improbable.
10. I suspect much of fans' bewilderment (and perhaps anger — remind me to keep my radio silent from 2-6 p.m.) would be stemmed if the Patriots announced a long-term deal for Dont'a Hightower in the next couple of days, if not hours. Just as with Vince Wilfork and Seymour in '09, the Patriots knew they had a choice to make. They kept the right player then, even as Seymour had a couple of fine seasons with the Raiders. I think most of us would have preferred to keep Hightower — who with Devin McCourty is the brain-stem of that defense — over Collins. Locking up the free-agent-to-be now would make puzzled Patriots fans feel better about what went down Monday
11. Collins goes from a team with one loss to one that will be fortunate to get one win this season. If that makes him happy, it's pretty telling.
From what I can tell, this Jamie Collins trade is something both sides — #Patriots and Collins — are pleased with. It was time to move on.

— Ian Rapoport (@RapSheet) October 31, 2016
12. Does trading Collins hurt his chances of getting a big deal in free agency? To have Belichick trade him away at this point, for so little, should be alarming to teams — at least those with any consistency and discipline — that might consider giving him huge money.
13. Oh, my goodness, I think I just stumbled into what will happen. It's destiny. Jamie Collins is going to end up with the Jets.