Patriots
Bill Belichick should have explained why he violated his own no-distractions policy
The Patriots coach's letter to Donald Trump is bewildering given his all-football focus during the season ... among other reasons.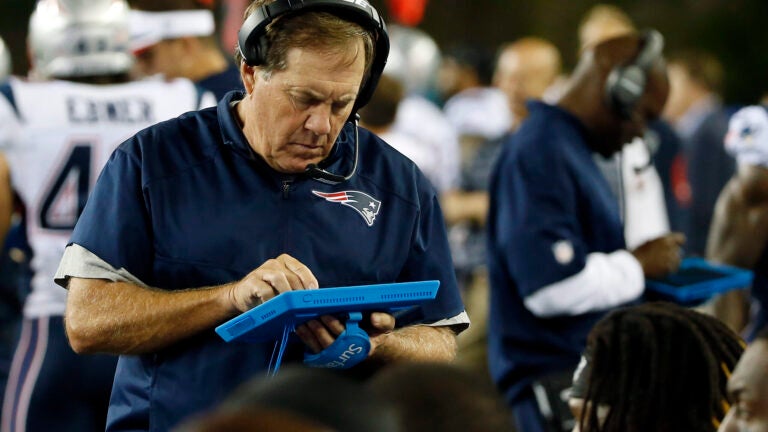 COMMENTARY
In the quest to eradicate the ache from my stomach and find levity on a gloomy day for so many of us, here is a theoretical transcript of how Bill Belichick's morning press conference might have gone under different circumstances …
Belichick: All right, big week for us. [Snort.]  … Seahawks coming to town … Always a tough game … Pete will have them ready, always does … Coming in from Seattle … Long way to travel … Been out there several times, though not recently … Emerald City … Starbucks gets the attention, but film shows there's a Peet's on every corner … [gargle]  … Dylan at Pike Place has good accuracy, timing on throwing salmon. Josh likes what he sees … In my opinion, the Space Needle is [grumble] a cliched symbol of all the grunge rockers who OD'd … Rains 155 days a year [septum deviates again]. … So you could say weathermen aren't always wrong there … Matchup in 12s favors us …
[Breaks into a 317-word soliloquy on Chuck Knox's innovations in the running game in 1983.]
No, as a matter of fact, I do not have any idea why he'd talk about Seattle so much when the game's here. Humor me, all right? Tell me you laughed once. A chuckle? A Belichickian snort, even?
I'll take anything you've got today. The ache remains relentless.
Oh, if only that's how Belichick's podium visit could have gone. But it did not. There were larger questions to be asked of him on the morning after the most divisive election of our lifetime, one that Belichick either inadvertently or disingenuously inserted himself into when he sent a letter of support to Donald Trump, a "most beautiful" note that the now president-elect read to a crowd in New Hampshire on the eve of the election.
Instead, we got a 317-word intro from Belichick Wednesday morning on his respect for the Seahawks ("[They're] one of the best teams, one of the best organizations that I've gone up against in my coaching career").
Then he tried to preempt the inevitable queries when he acknowledged that he indeed sent the letter with a vague and incomplete explanation.
"I've received a number of inquiries relative to a note that I wrote to Donald on Monday," said Belichick. "Our friendship goes back many years and I think anybody that's spent more than five minutes with me knows I'm not a political person. My comments aren't politically motivated."
Then he portrayed it as no big deal, just one friend offering support to another. You know, famous rich white guy to famous rich white guy.
"I have a friendship and a loyalty to Donald. A couple of weeks ago we had Secretary of State [John] Kerry in our locker room. He's another friend of mine. I can't imagine two people with more different political views than those two, but to me friendship and loyalty is just about that. It's not about political or religious views.
Then he introduced us to Belichick the Scribe, a man of letters who must buy stamps in bulk.
"I write hundreds of letters and notes every month. It doesn't mean I agree with every single thing that every person thinks about politics, religion or other subjects. But I have multiple friendships that are important to me and that's what that was about. It's not about politics. It's about football."
That reply, if you're still keeping score about such things, required 158 words, very few of them illuminating. It had already been reported that Belichick wrote the letter. The statement obviously was intended to prevent any further questions from the assembled media.
When a few reporters pressed him, he offered an even more condensed version of his famous "We're on to Cincinnati" parry, saying repeatedly, "Seattle."
It was entertaining, absurd, and not nearly enough. Belichick should have answered further questions, and not because of his still-curious association with the president-elect. (Belichick has always had an eclectic assortment of famous friends — he calls Robert Ritchie, a.k.a. Kid Rock, "Bobby," like they were bros at Uncle Kracker Junior College way back when.)
His decision to put the letter in the hands of the most controversial presidential candidate of our times, for use (with or without expressed written consent), was wholly contrary to his strict no-distractions, it's-about-football-and-football-only policy that's been in place to great effect in Foxborough for 16 years now.
Two weeks ago he traded linebacker Jamie Collins — an erratic but dynamic player — in part because of the possibility that he'd become a — yep, you guessed it — distraction if his playing time were to be reduced. Collins was banished to Cleveland to nip a problem that may or may not have yet existed. And then Belichick goes and does this?
After shattering his own no-distractions policy — Trump says Belichick signed off on the public reading of the letter — he ought to take a time-out from another standard policy of his and actually explain something besides football history and philosophy in detail.
He's done it before under different circumstances: once when his tight end was accused of murder, and once when he name-dropped Mona Lisa Vito. He should have done it today. The letter was not about football, and he knows it. It became political the moment Trump unfurled it on stage in his tiny hands. (Whoops, I meant massive, presidential, Rondo-like hands. This watching-what-we-say thing is going to take some getting used to.)
Instead, he dodged the questions that were asked with his Seattle, Seattle, Seattle refrain, and left us with many more.
I don't care how he voted (and he did not divulge that either), though it's tough to reconcile that a man of Belichick's intellect colored in the same oval as America's preeminent tasteless meme curator, Curt Schilling. That's his right, and it deserves respect. I'm more curious about the circumstances around the letter.
Belichick said he writes hundreds of letters a week, which is pretty cool — I presumed the phrase "HC of the NYJ" was featured in the last letter he put pen to paper for.
But does he write them coherently? The one to Trump suggests he's not about to be celebrated by Letters of Note anytime soon.
It was full of exclamation points and Trump-approved adjectives from his limited public vocabulary (two uses of "tremendous," an "amazing," but not a sole bigly). If Belichick had hand-drawn a poop emoji next to his shots at the biased media, it wouldn't surprise me at this point.
And remember: This was the revision, according to Trump. What did the original look like? Because in Trump's reading, it was an eighth-grade-reading-level fan letter.
I'm sure some of you are saying it doesn't matter, move on. I will, and, God, I hope to soon. I cannot wait for the ache to fade, for normalcy to return, for it to actually be about football again. And worry not, your favorite team, with a locker room full of adults that are more unified than our general populace, will continue to excel. They're probably more ticked that Collins is gone.
But right now, it matters, man. It matters. It's just politics? Everything is politics right now. Bill Belichick endorsed Trump with his actions if not his awkward words. He was complicit in a minor but bewildering role in our seismic national shift, and the questions as to why need to be asked.
He may be filibustering about Seattle, in dialogue real and imagined. But us, as a nation? We're on to who-the-hell-knows where, and it's his friend who is taking us there.