Patriots
5 takeaways from the Patriots' 31-24 loss to the Seahawks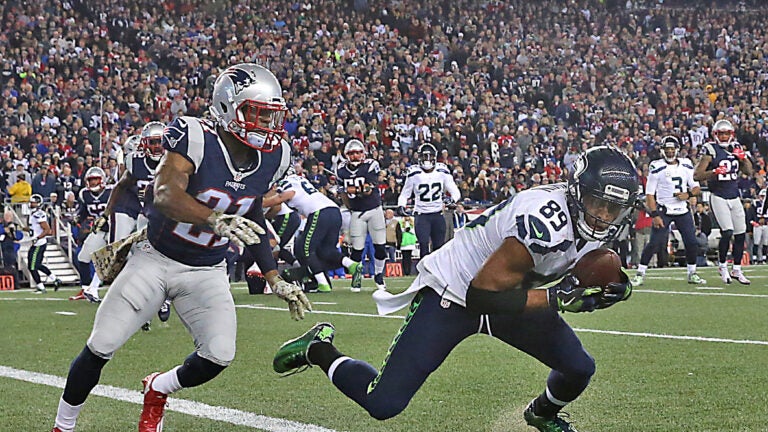 COMMENTARY
Five takeaways from the Patriots' 31-24 loss to the Seahawks, which was a Super Bowl rematch right down to another questionable decision to ignore a brutish running back with goal-to-go and the game in the balance — and likely left pure football fans hoping it proves to have been a Super Bowl preview, too:
1. This is on the defense
It's impossible to fairly make any declarations about the trade of Jamie Collins after only one performance, but in their first contest since dealing their Pro Bowl linebacker the blame for Sunday's defeat fell squarely on the Patriots' defense. Entering this week, only four NFL teams were averaging fewer plays per series than Seattle (5.3), yet the Seahawks ran at least seven plays on seven of their nine legitimate possessions, and scored on each of those seven drives.
New England's defense did manage to keep Seattle out of the end zone on four of seven trips to the red zone, and in doing so gave Tom Brady's offense a chance to pull even late. It also blocked a point-after attempt, and thwarted a two-point conversion try when Pete Carroll tried to put the dagger into the Pats with less than five minutes remaining. But the group was gashed by a below-average running game early. It got little pressure on Russell Wilson throughout the night. And, inexcusably, it seemed to lose track of Doug Baldwin on the second of his three touchdown catches.
Yes, they held Jimmy Graham in check. But overall it simply wasn't good enough. Or good, period.
2. Offense had a good night
The Patriots failed to score at least 25 points for the first time since Tom Brady's return, and just the second time since the season opener, though given the quality of Seattle's defense New England's offense had a decent night.
The Pats racked up 25 first downs, which tied for their second-most of the season. They averaged 8.9 yards per pass attempt, which is a full three yards more than the Seahawks had been allowing. They converted six of 10 third-down attempts, and scored touchdowns on three of five red-zone trips. Martellus Bennett (102 yards) caught all seven of the passes thrown his way, while Julian Edelman (99 yards) caught seven of nine balls in his direction, and LeGarrette Blount ran for three touchdowns.
New England punted only twice in the game, both of which came in the first quarter. And, in fact, that might've factored into Carroll's decision to eschew the extra-point with 4:24 to go. Despite arguably having the league's best defense on his side, the Seahawks coach didn't seem to trust that group to stop Brady and Co. from marching the field, then converting the two-pointer. That's how well the Patriots had it rolling offensively as the game wore on.
3. The final series was flawed
Don't like the play call on the final series – Blount once – 3 TDs, including one where he carried several defenders. The referees got the call right on the final play from the Patriots' offense. The wrong calls were those coming in from the Patriots' sideline on the final sequence.
To review, the Patriots had first and goal from the Seattle 2 with 43 seconds remaining in regulation, and here is how it went: on first down, Brady sneaked for a yard; on second down, Blount leapt for the goal line, but came up inches short; on third down, Brady was going to attempt another sneak, but fumbled; then on fourth down, after motioning out of their initial set, they tried to throw to take advantage of single coverage on Rob Gronkowski, but the throw missed its connection.
The frustration is that earlier in the night, Blount had dragged much of the Seattle defense down the line before powering his way to paydirt. He scored three times on the night, and now has 12 touchdowns on the season. He is not Marshawn Lynch, but in that situation he is arguably as useful as Lynch would've been in the waning seconds of Super Bowl XLIX. To give Blount only one chance to get in from the 2 was a wasted opportunity that might've cost the Patriots the game.
4. Turnovers, and lack thereof, are concerning
With two giveaways and no takeaways, Sunday marked the fourth time this season the Patriots came out negative in turnover margin. That's more than they've had in either of the past two seasons, and – with seven games remaining – is tied for the most they've had in any season since 2008. That's also the last time New England finished with a season-long turnover margin as low as the plus-1 it's sporting now.
Belichick said his team was "lucky" it didn't give the ball away more than it did, and he's right. Gronkowski had a fumble overturned, and rookie Cyrus Jones lost a kick return that was recovered by teammate Nate Ebner. Those easily could've joined Brady's ill-conceived interception and Edelman's fourth-quarter fumble.
More troubling, though, is the lack of turnovers created by the defense. The Pats have only one takeaway in their last four games, and seven of the season's nine takeaways came in a two-week stretch against the Dolphins and Texans in September. Comparatively, from 2006-15, the Patriots had at least one takeaway in 156 of 180 games. No single season over that stretch saw more than four games without a takeaway for New England. Yet Sunday's was the Patriots' fifth takeaway-free game, and marked the first time since 2005 that they've failed to force a turnover in consecutive contests.
5. The biggest threat to the Patriots is a team with an excellent QB
Ultimately, Sunday's setback may prove to be a blessing for the Patriots. Losses to NFC teams matter a little bit less than defeats suffered within the conference, so New England is still the favorite to finish as the top seed in the AFC. They figure to need at least a couple more hookups to play themselves out of what already is presumed to be a first-round bye. So, without a great deal of consequence, this team has at least now had the experience of playing a tight game against a quality opponent and drawing from the lessons learned therein.
Meanwhile, for those viewing things with a perspective from outside Gillette Stadium's home locker room, and looking more toward January or February than next Sunday in northern California, the loss might've changed some mindsets. Russell Wilson was outstanding Sunday, and if he had been anything short of that the Patriots would've won. In years past, the biggest obstacles have been teams with a loaded pass rush, or speed on defense, or an ability to disrupt Brady. At this point it appears the bigger threat will be the team with someone capable of going toe to toe with him.