Patriots
Patriots get outmuscled by physical Seahawks defense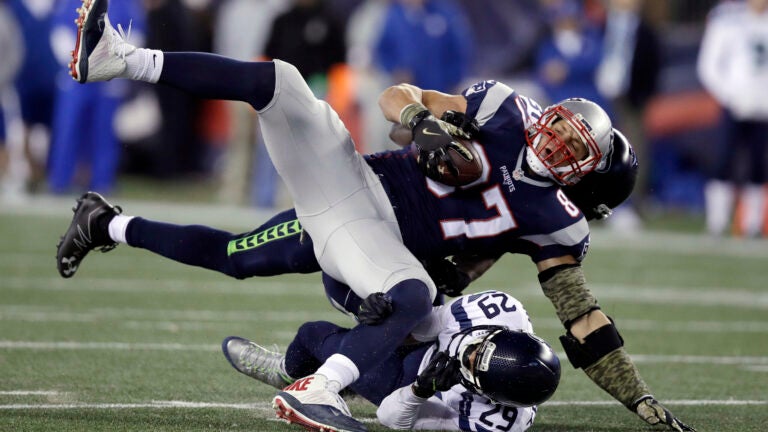 FOXBOROUGH, Mass. (AP) — For most of this season the Patriots have been able to dominate with a quick strike offense that also pushed around opponents in the trenches.
In Sunday night's 31-23 loss to the Seahawks, they ran into a Seattle team that reminded them what true physical football is all about.
After struggling at times early this season, the Seahawks' defense rediscovered the hard-hitting calling card that has made it one of the NFL's most imposing units the past few years.
Seattle gave up three rushing touchdowns to LeGarrette Blount, but held Tom Brady without a passing touchdown for the first time this season. It also kept Brady uncomfortable all night, and had a barrage of bruising hits on several of his teammates, including Rob Gronkowski, who was briefly staggered in the second quarter after a hard hit by Earl Thomas.
Gronk finished with three catches for 56 yards.
"That was a big hit for sure, probably one of the hardest I got hit in my career," he said. "By a good fast player who hits like a missile. It was a good hit. I just got the wind knocked out of me. It was a little tough to breathe, once it comes back you are good.
"I have no problem with it. He hit me fair and square. It's football. You are going to get laid up eventually."
Brady himself was walking a little gingerly after a sneak attempt on the Patriots' final drive, but said it didn't have an impact on his final pass to Gronkowski that sailed over his head in the end zone.
"A lot of guys are playing through pain out there," he said.
The Seahawks also made game-saving plays on back-to-back series in the fourth quarter.
First, with his team nursing a one-point lead, Kam Chancellor thwarted a Patriots drive when he forced Julian Edelman's fumble inside the Seattle 40 to set up the Seahawks' final touchdown.
Then, on New England's ensuing series, the defense denied the Patriots fourth straight times inside the 2. It included that fourth-and-1 pass from Brady to Gronkowski that was defended by Chancellor as both players crashed to the turf.
"Honestly, we always try to hit. It's football," Seahawks cornerback Richard Sherman said. "Any time you can put your pads on, you try to hit. And having Kam out there makes a big difference. Kam put some hits on guys … and Earl also put some huge hits on guys. … That's how we play.
"It's a physical sport. This isn't a finesse sport. So you hit him as much as you can and see who wins."
Chancellor said the exact same scenario played out earlier this week in practice, with scout team player Marcus Lucas playing the role of Gronk.
"He did the same exact route and we both fell and hit the ground," Chancellor said. "I actually got my hand on the ball that time — but he didn't push me. It was just a little different."
Patriots coach Bill Belichick said that there must be improvement in all phases going forward. But the Patriots won't have much time to recover, with a cross-country trip to San Francisco up next.
"We talked about it the last two weeks, how this game was going to go all the way down to the last play. We knew it was going to be similar to the last game," safety Devin McCourty said.
"We knew both teams were going to fight, no matter what happened in the game. They were going to just keep fighting and go blow for blow. We were prepared for it. But they just made a couple of more plays than us and that's what decided the game."