Patriots
Tom Brady is homecoming king and the NFL's MVP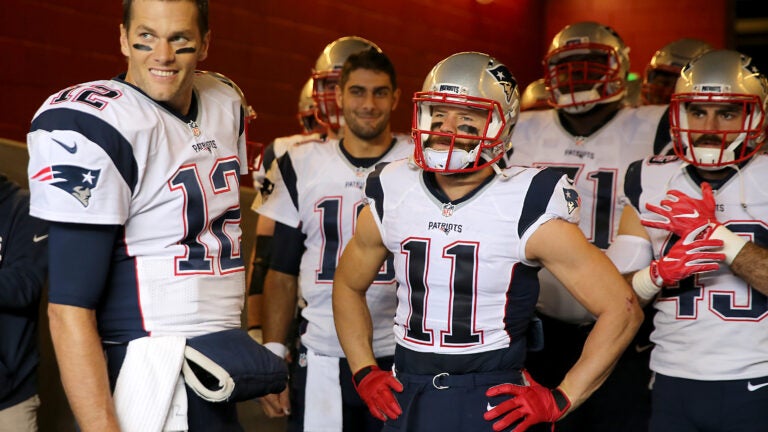 COMMENTARY
With all apologies to Dak Prescott, Ezekiel Elliot, or whatever other candidate you want to add to the mix, the race to be named the NFL's Most Valuable Player is over.
There's really little argument that after 11 weeks of the NFL season, Tom Brady is in line for his third career MVP trophy, even if the first quarter of the schedule was spent with the Patriots' quarterback flashing his derriere for the paparazzi in Italy.
Derek Carr? Matt Ryan? Drew Brees?
Please.
It now seems foolish to even add anyone else to the argument.
What Brady managed in his first-ever professional road appearance against his hometown team — a 30-17 victory over the terrible San Francisco 49ers, a game that proved to be more tense than it should have been — might not go down in NFL annals as one of the best games of his Hall of Fame career. But in throwing for 280 yards and four touchdowns for his 199th career victory, Brady was an elusive presence, perhaps more so than anyone can remember him ever being.
He connected with Julian Edelman on a beautiful corner touchdown in the first half. He found Danny Amendola in the end zone for a fourth-quarter score while falling to the ground. He stepped up in the pocket and launched a missile to rookie Malcolm Mitchell for a 55-yard score. It might have been one of the most impressive touchdowns he's ever thrown.
Safe to say, the homecoming was a success, complete with Levi's Stadium erupting into chants of "Bra-dy. Bra-dy."
But what else should you have expected?
"It was very cool," Brady said, with a host of guests awaiting his arrival postgame. "It doesn't get any better than that."
Brady now has 16 touchdown passes and one interception over six games this season. He's on pace for 32 touchdowns, or four fewer than he threw when he last won the MVP award in 2010.
He's also on pace for half as many interceptions as that season.
Not bad.
"That's what good quarterbacks do," Patriots head coach Bill Belichick said. "They have good vision, they know when they don't have it, and our receivers did a good job of finding space. Tom did a good job finding them."
On an afternoon when it seemed that the Patriots' porous defense might hand a second-straight game over to an NFC West opponent, Brady took the reigns in the second half and made the offense click again, made it resemble the machine we're normally used to watching him operate, one that did not repeat the confusing output of the first half, which ended with his team clinging to a three-point lead. We've seen Brady have days like this, of course, without Rob Gronkowski, who was out with a chest injury. There's sometimes a period of adjustment without the tight end in uniform that Brady never seems to manage with ease.
"Some penalties got us off track and they played some good defense," Brady said. "I wish we'd score every time, but they made it tough too."
Unfortunately for the 49ers, any apparent adjustment period didn't last long.
Let's be clear, this is a game the Patriots should have won, by a wide margin, even as some first-half jitters may have had a host of Patriot fans fearing their team might lose a second-straight to Chip Kelly and co. This wasn't a game that puts the Patriots in the driver's seat for the Super Bowl, particularly after watching the New England defense lay out the red carpet for Colin Kaepernik and the 49ers' offense for a 90-yard touchdown drive in the second quarter. In garbage time, Shaun Draughn reminded everybody that Elandon Roberts isn't quite Jamie Collins, adding to the unanswered mystery that is Belichick subtracting from an already troubled defensive unit.
They'll take the results though, especially now that the Patriots are all alone with the best record in the AFC at 8-2. The Kansas City Chiefs fell to 7-3 after losing to the Tampa Bay Buccaneers on Sunday, while New England will have to wait for Monday's Oakland-Houston tilt to discover if the Raiders can keep pace. If the season ended today, Bill Belichick's team would have earned the first-round bye and home-field advantage.
But for one afternoon, Brady found home-field in Santa Clara, Calif., not far from where the soon-to-be three-time MVP grew up learning the game from 49er greats who can now look to him as the best to ever play the game.
"They inspired a lot of kids here in the Bay Area in my time growing up, and I was one of them," Brady said. "To see Tom Rathman before the game, I mean, I idolized him. Dwight Clark and Joe Montana, and to see Steve Young at halftime, it's a pretty great day for me.
"I've always loved the team and organization until 2000 when I loved another team and another organization."
There is always that lingering thought that Brady might suit up for the 49ers at the tail end of his career. Maybe for a season. Perhaps at the age of 45.
But there are more rings to address in New England before that becomes anything close to a reality, even if that's a discovery still nearly three months in the making.
Not the MVP award though. It belongs to Tom Brady.
That debate might as well be over.