Patriots
5 takeaways from the Patriots' 30-17 win over the 49ers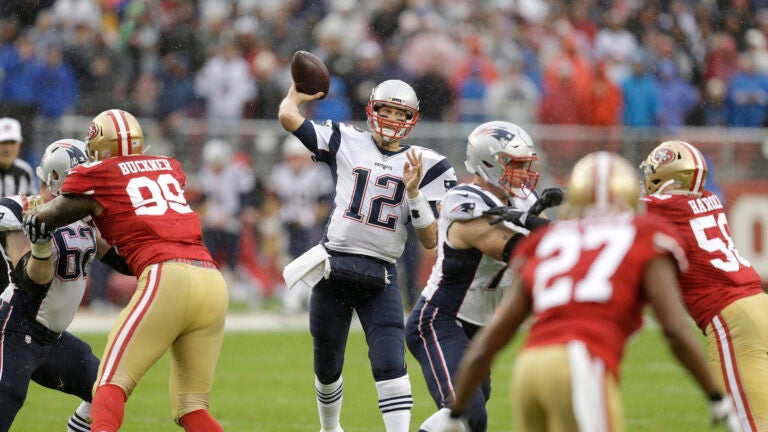 COMMENTARY
A week after the Patriots tested themselves against another member of the NFL elite, they traveled west to take on one of the league's dregs — and got on track after some early struggles. Here are five takeaways from New England's 30-17 win over San Francisco, which elevated them to 8-2, kept them atop the AFC, and lifted the franchise to its 16th straight .500-or-better season.
Brady goes home, looks like a kid
With Tom Brady's homecoming being a central storyline of his team's visit to the Bay Area, it was only appropriate that with the Patriots' lead looking somewhat precarious in the late stages of the third quarter, the quarterback put the game out of reach with a sequence of plays where he flashed a spryness more fitting of a kid coming out of Junipero Serra High School than a 39-year-old in his 17th NFL season.
New England led 13-10, and had punted on four of its previous five possessions. (The fifth ended with the second quarter.) But then Brady took over. After hitting a third-and-nine throw to Malcolm Mitchell, he danced all around the pocket before stepping up and drilling a throw to James White for 15 yards along the sideline. His elusiveness paid off again later in the drive, when he slid to his left to buy just enough time to hit Danny Amendola for a huge touchdown. Two series later, he slid the other way, escaping to his right, and firing a strike that Mitchell caught and carried 56 yards for the Patriots' fourth touchdown toss of the day.
Not a bad display of agility for a guy who entered with some lingering concerns about an achy quad — and who's old enough to now be one win away from tying the NFL's all-time record for victories.
Mitchell and Lewis make their marks
Mitchell had shown up over the early weeks of the season, though since Brady returned from his four-game suspension the fourth-round rookie has been a non-factor: He was inactive one week, went without a target in another, and then totaled three catches for 20 yards. But with Rob Gronkowski and Chris Hogan out with injuries, Mitchell seized his opportunities, showing signs that he does have the trust of the team's starting quarterback.
Mitchell caught four balls (on five targets), covering 98 yards. He had the 56-yard scoot and score, and it's worth noting that the catch came on third down. He also had a 21-yard third-down pick up on an earlier scoring drive, which suggests Brady wasn't shy about looking in his direction on crucial downs.
Also worth noting is the way the Patriots used Dion Lewis in his return to action for the first time since tearing his ACL a year ago. Lewis caught three passes for 26 yards, though he also carried the ball five times for 23 more. By comparison, James White did more as a receiver (six catches, 63 yards and a touchdown), though he didn't attempt to run the ball. He's had just four carries in the past four games. While White may be a weapon out of the backfield in the passing game, it may be that only with Lewis' return do New England's coaches really believe they have a dual-purpose option in that role.
An uneven performance defensively
There were times when Colin Kaepernick and the 49ers moved the ball effectively against the Patriots, including a 12-play drive for a field goal and a 92-yard march for a touchdown in the first half. At that point, with its lead tightened to three, New England forced San Francisco to punt on six consecutive possessions, including four three-and-outs and two other drives that lasted just 2:41 and no more than six plays. After he went 8-for-9 in the first half, Kaepernick went 8-for-21 after intermission.
The Patriots also sacked the 49ers' quarterback five times, which is impressive after the team managed just 16 over the season's first nine contests. Of course, it should be noted that San Francisco entered averaging a sack in 6.9 percent of pass attempts, the eighth-highest rate in the NFL. Kaepernick, too, has historically been an easy target. He was sacked 52 times in 2014, the last time he was a full-time starter.
All told, it was the sixth time in 10 games the Patriots have held their opponent to 17 points or less, and (at 299) the third time they limited the enemy offense to less than 300 total yards. The Niners' final TD came in garbage time. On top of the five sacks, the Pats had five other tackles for loss, and Logan Ryan looked to bounce back a bit with two breakups when the 49ers went after him. But given the level of competition, and the sequences where San Francisco seemed far too effective, it's hard to really know if Sunday constitutes progress for a group with plenty still to prove.
Turnovers still not there
From 2006-15, the Patriots never went consecutive contests without coming up with a turnover on defense. That streak ended last week — and reached three straight games when the Pats failed to take the ball away from the 49ers on Sunday. There were chances in this one, because San Francisco fumbled five times, but the Niners recovered each of them. The Patriots now have just one takeaway in their past five games. San Francisco, meanwhile, now has its first game of the season without giving the ball away at least once.
The Pats have created nine turnovers in 10 games, but thanks to the efficiency of their offense they actually own a plus-1 margin. A game like Sunday's is a good example of the edge they're living on in that regard. If the Pats had come up with one or two of those loose balls, or picked Kaepernick, this thing could've been over early. Thankfully, the 49ers' league-worst defense wasn't much of a threat for Brady and Co., but against a better defense that may be able to force a turnover or two, the Pats are walking a fine line.
Pre-half drive raises concerns
Ultimately, it didn't come back to bite them, but in the bigger picture the Patriots' handling of the final drive before halftime didn't suggest the coaching staff has great confidence in its group at this point.
The weather must be acknowledged: It was raining, and slick. But against a 49ers team that was 1-8, and ranked 32nd (of 32) in both points and yards allowed, and with Brady at quarterback, the Patriots decided to play things frustratingly safe. Danny Amendola slid up to field a short punt at the 27-yard line just after the two-minute warning. The Pats then got five free yards via penalty. From there, it was run, run, screen pass. That brought the ball out to the 40, at which point Lewis scampered for 12 yards — but by the time New England got into plus territory there were only 21 seconds left in the half.
The Pats' ultra-conservative calls left them without enough time to make a legitimate attempt at getting to scoring range. From there, they threw a short pass to Edelman, spiked the ball, and threw to White in the flat. But never threw long enough to even try to get into field goal range. And from the 41, didn't bother attempting a Hail Mary on the final play before halftime. It was the same confounding approach that surfaced a few times toward the end of last season, when it looked as though Belichick might've lost faith in his defense. And until the Patriots start getting more aggressive in situations like the one they faced Sunday, it's fair to wonder the same about his trust in this team, too.